Chaos as motorists scramble for fuel in Embu town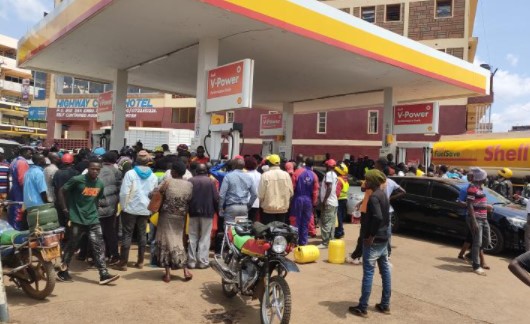 A fistfight ensued at a gas station in Embu when motorists physically engaged each other after some tried to jump queues to get fuel.
Oblivious of the dangers, motorists were embroiled in a push and pull for close to 10 minutes.
After word went round on Monday night that a tanker was en route to the station, motorists camped as early as 4 am on Tuesday.
Michael Nyaga, a boda boda operator, said he had not worked for more than three days after his motorbike ran out of fuel.
"I came here at 4 am when I heard that a tanker was coming but it has taken me close to 10 hours to get any fuel. I have not been able to provide for my family as I depend on the bike for my earnings," Nyaga said.
When the fuel tanker arrived at around 11 am hundreds of motorists who had gathered at the station cheered.
"When I reported to work this morning, I found people queueing despite not having fuel," on station attendant said.
It took police intervention to man the vehicles and human traffic that had built up at the station.
A commotion ensued when one of the attendants was heard complaining that the fuel received was too little.
Brian Njagi, a motorist said he had travelled more than 70 Kms in search of fuel.
A spot check across the county showed that only one station had enough fuel, with petrol retailing at Sh200 per liter at select stations out of Embu town.
Motorists drove from as far as Kirinyaga to score some fuel.