Families' agony as peace yet to return despite police presence in Baringo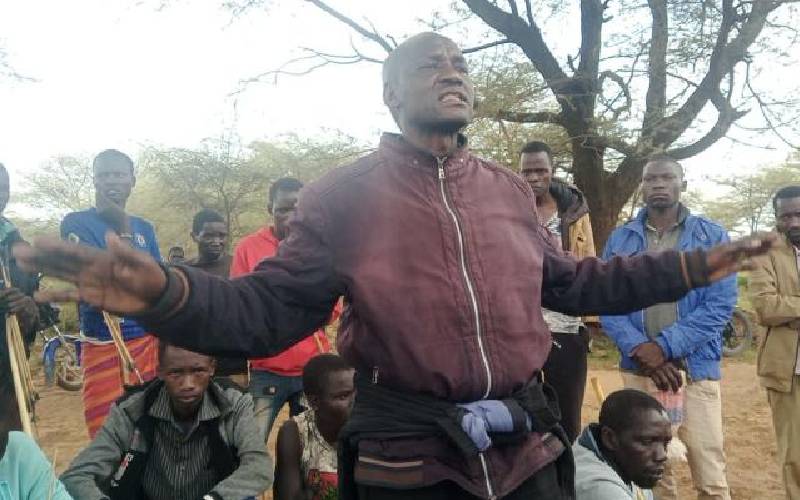 For the past few weeks since the year began, Mochongoi ward in Baringo South Sub-county has been a hotbed of conflict.
Apart from the perennial clashes between farmers and herdsmen, there are other teething security challenges like cattle rustling perpetrated by bandits from neighbouring communities.
These bandit attacks remain, arguably, Baringo's biggest security threat.
The bandits also pose a significant threat to the neighbouring counties of Samburu and Laikipia, resulting in grave economic, social, and humanitarian consequences.
Recently, bandits killed five people in Arabal area and stole 40 animals.
One of the victims, 22-year-old Nanai Lekuroito, was shot in the head while grazing animals near the seasonal Arabal River in Marigat.
This was followed by another attack at Kasiela village, where two brothers-Mackvine Chepsat, 33, and David Chepsat, 29, were killed and three others injured after they were ambushed while herding livestock.
The bandits drove away 356 goats, 10 sheep and 136 heads of cattle from Kasiela village. According to Baringo County Commissioner Abdirizack Jaldesa, the bandits killed two persons during the evening attack.
Jaldesa said the body of one victim was found in the river, while another was at the homestead where they lived.
"It is unfortunate the two were brothers. One of the victim's hands was missing, and we believe that the bandits took it," Jaldesa said.
Jaldesa visited the scene with members of the county security team and was among the officials who organised to have the bodies ferried to the morgue.
A visit by The Standard team to volatile areas of Chemoron, Kasiela and Lamaiwe painted the picture of people who are devastated, not knowing when the enemy will attack next.
Mary Targok, a resident at Kasiela, said they have nothing to smile about.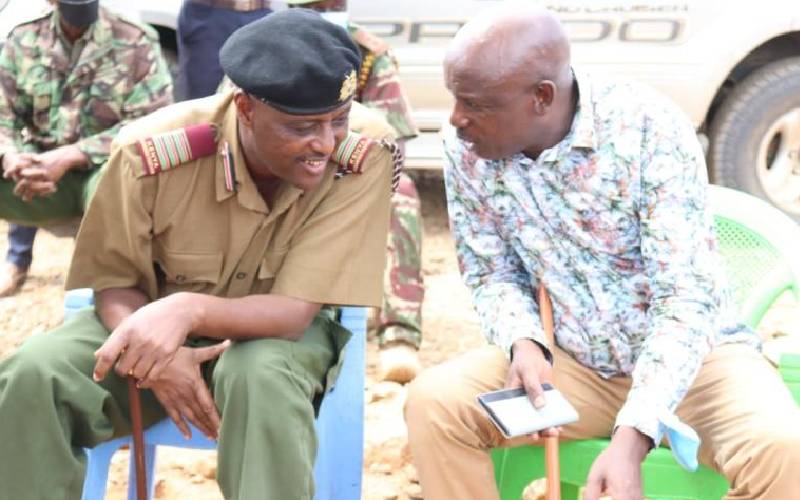 "I have never imagined in my life that I would be leaving my own birthplace; not because of war, but because of fear of losing life to banditry," Targok said as she wiped a tear from her face.
The mother of five, born and married within Kasiela, explained that so far the only remaining cows they had were driven off on Tuesday by the suspected bandits.
Armed bandits
Initially, the family had over 50 cattle but they were stolen by bandits, leaving behind 17 cows. However, during the Tuesday attack, their only remaining cows were also stolen.
Targok recalled how on the fateful day, the heavily armed bandits entered their homestead while she was preparing dinner for her family.
"I was cooking when suddenly I heard a voice signalling that the armed bandits were around. I called out to my children who were within the compound to go into hiding, because I knew they would kill us," said Targok.
The woman said she often has a place to hide in case of an attack, but on this day, she did not have a chance to hide. Fearing for her life and for her children, she played dead to the bandits who were already in he compound.
From her helpless position, Targok saw the bandits driving away her only remaining cattle.
Elsewhere in Kasiela Primary School, the compound has been deserted after residents fled the area in search for safety after a bandit attack claimed the lives of three people.
At Chemeron, Kandie Ruto, a resident said it is now almost 11 years of pain and misery for residents of the area as they continue to suffer in the hands of the bandits.
Kandie requested the government to intervene and rescue them from the hands of their oppressors, who steal cattle, kill people and capture their homes, rendering them homeless.
"We need National Police Reservists (NPR) to assist the community. We cannot afford to lose more lives, and we will not accept to live in poverty yet God did not create us poor," he said.
Kandie, who is also a village elder at Kapindasium, said he cannot go back to his homeland as bandits had captured and occupied the place.
"We have more than 20 schools which have been closed, what will we do? How can our children compete with the rest of the world?" Ruto posed.
Stephen Chepngetich, another resident, said it was unfortunate that Kasiela Primary school, which is adjacent to the Rapid Deployment Unit (RDU) had to be closed down.
"I am speaking with a heavy heart. My friends were killed. If you don't help us, we will all perish. It will be so unfortunate that next time when you visit the place you will get no one," Chepngetich said.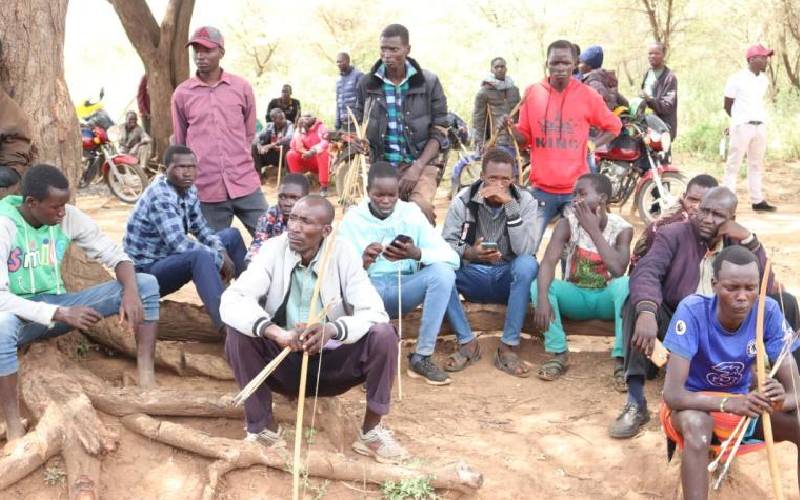 Paul Kandie fled Ngelecha in 2013 and settled at Lamaiwe. However, he has now been displaced again, and his hope is to have the place branded as 'disturbed area' and a disarmament exercise to be carried out.
"We need roads to be opened. We are IDPs, where will we get money to take our children to school?" he asked.
Kandie noted that over 1,000 households have been displaced in the area by suspecting bandits, leaving them stranded with nothing to hold on to.
Baringo South Member of Parliament (MP) Charles Kamuren said they need National Police Reservists in the region to help the security personnel in tackling banditry.
"We request the government to open a security road network as a way of fighting this banditry. Now that schools are closed, where are children supposed to learn from?" Kamuren asked.
County Commissioner Jaldesa regretted that schools were closed despite the presence of a security team.
"There are officers in those schools, but the parents have run away. We need to reassure them to go back. We have been encouraging them to return since the schools have security," he said.
Jaldesa noted that there are General Service Unit (GSU) officers, as well as officers from the RDU among other security personnel along the belt which has been paralysed by insecurity.
Jaldesa agreed that the bandits were taking advantage of the rugged terrain to attack people, insisting that the government is working to have the problem solved once and for all.