First-timers join Nyeri governor race as Kahiga touts his record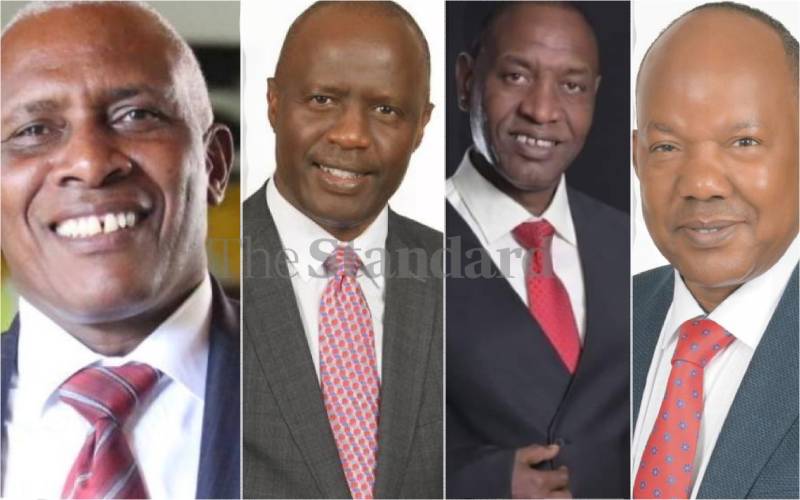 The Nyeri governorship race is gradually taking shape with four aspirants declaring their interest in unseating Governor Mutahi Kahiga.
They are banker Peter Munyiri, policy and planning expert Gachara Kamanga, engineer Wahome Mwangi (Wamatinga) and industrialist Thuo Mathenge.
Apart from Mathenge, who is the party leader for The New Democrats, the rest will be seeking an elective position for the first time in next year's General Election.
Mathenge ran for the governorship in 2013 and came third. In 2017, he was barred by Independent Electoral and Boundaries Commission (IEBC) from contesting over questionable academic credentials. He believes he was robbed of his right to seek an elective position but now says he has put everything to order.
"They denied me my right to contest in 2017 and denied Nyeri people their right to vote for me but this time around, they will not bar me because I have put everything in order," he said.
Thuo runs a multi-million shilling business empire which includes the Brade Gate Poultry Industries and Chicken Stand.
Terming himself an agent of change, Mathenge believes his business acumen would help Nyeri County prosper economically.
"When I talk of creating opportunities for the youth, I know what to do because right now, I'm doing it. When I talk of cottage industries, I know how to do it and when I talk about value-addition, I have already done it. I'm a practical leader," Mathenge says.
Munyiri who prides himself in his past accomplishments in the financial sector where he said he had a sterling track record. He says he has the skills to grow Nyeri's economy.
He has worked at KCB as deputy group CEO in charge of bank business divisions, branches, treasury and subsidiaries in South Sudan, Tanzania, Uganda Rwanda and Burundi.
General manager
Munyiri also worked as the general manager at Cooperative Bank and as senior manager at Standard Chartered Bank and Barclays Bank.
"I also worked as managing director of Family Bank and turned it into a fast-growing bank and created its new business model anchored on key growth pillars. That exposure gave me the much-needed experience that I can use to run Nyeri County," Munyiri said.
He said he decided to get into politics due to what he describes as change of priority by the current administration after the death of Governor Wahome Gakuru.
"During voting, the electorate focus more on the governor on the basis of his capability and vision and this is what led to the election of Gakuru. After his death, his vision and priorities were abandoned and that is the gap I'm seeking to fill," Munyiri said.
He asked voters not to dwell so much on which political party an aspirant is running but rather his vision and manifesto.
"I'm a believer of multi-party democracy. Small parties should be allowed to thrive. I don't support the suit system of voting and that is why I beseech the electorate to evaluate a candidate based on what he promises and not whether they are in a big party," he said.
Assisted Kibaki
Kamanga, alias Uncle G, believes the county needs a technocrat and not a politician. He also believes having worked with Dr Gakuru in designing Vision 2030 where he helped in monitoring and evaluation of the projects, he thinks he is best-placed to succeed Kahiga.
A former director at USAid in Kenya, Uganda, Liberia and South Sudan who assisted President Mwai Kibaki to set up the monitoring and evaluation department in the Ministry of Planning, Kamanga said he is the only aspirant who can manage Nyeri County.
Like Munyiri, Kamanga urged the electorate not to look for a governor who is a politician since the Constitution has anchored measures that do not require a county chief to have a political dependency on the powers that be. Mathira CDF chairman Wahome Mwangi alias Wamatinga seeks to ride on Deputy President William Ruto's popularity to clinch the governorship position, having used his closeness with his boss Rigathi Gachagua to become the United Democratic Alliance coordinator in the county.
Industrial parks
He said one of his priority would be the revival of industrial parks and establishment of cottage industries to create employment opportunities.
Meanwhile, Nyeri Senator Ephraim Maina has been meeting with grassroots leaders ahead of next year's polls and has turned out to be Kahiga's harshest critic.
The former Mathira MP is banking on his political experience and his war-chest to run his campaign.
Governor Kahiga, who has the advantage of the incumbency, has exuded confidence that he would trounce his challengers and has paraded a list of achievements for the time he has served as governor.
But Kahiga's opponents say he has performed dismally, accusing him of running down the health sector.
Kahiga's flagship projects include the Sh600 million Nyeri Town main transport terminus and the Sh335 million Naro Moru Level 4 Hospital in Kieni.
"As we focus on re-election, we will face the electorate with confidence because we gave it our best shot. We were focused committed. We delivered and we have results to show for it," said the governor.