Petrol tanker accident victims to be buried on Friday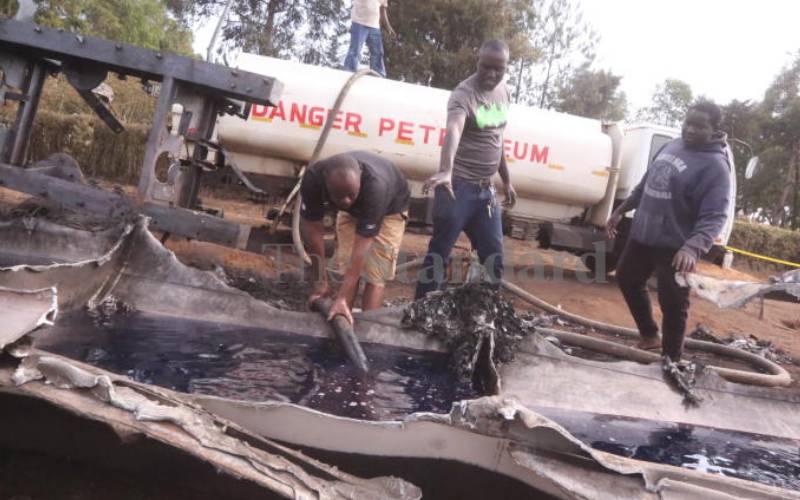 Twenty people who died in a petrol tanker explosion in Malanga will be buried tomorrow (Friday).
Twenty-one people perished in the inferno as locals rushed to scoop fuel after two trucks collided.
One family has already picked the body of their loved one.
Families that lost their kin are expected to be at the various morgues where the bodies are being preserved by 6am on Friday. The bodies will be taken for an interdenominational mass before families pick them for burial.
The DNA results of the 21 people who died from the accident are out.
Gem OCPD Moreso Chacha confirmed that the families had started preparing for the burials.
He said that postmortem on 19 of the victims was done yesterday (Wednesday) and showed they succumbed to burns. Post-mortem on another victim of the fire is to be done today.
"We have the DNA results of all the victims and families are going on with the burial preparations. The bodies are at the county referral hospital and Yala sub-county hospital morgues," he said.
Gem MP Elisha Odhiambo said he has organised an interdenominational funeral mass.
He said the mass will be held in Yala town at the chief's camp. "We are done with the DNA and results are out. Initially, three results had issues but the concerned officials were working on them," said the MP.
Thirteen people died on the spot while eight others died while receiving treatment at the county referral hospital.
The victims had gone to siphon petrol before the tanker exploded.
Governor Cornel Rasanga said his government had waived hospital bills for the accident victims.
He further added that his administration together with other stakeholders would support the families with burial expenses and arrangements.
Sixteen patients injured in the tanker accident are being treated at the referral hospital.
Siaya Health Executive Dismas Wakla said 26 people from the tanker accident were attended to in various hospitals and they had been discharged.
"Thirteen bodies were retrieved from the scene of the fire tragedy and taken to Yala sub-county hospital mortuary," added Wakla.