Form 2 student among suspects arrested over Southern Bypass robberies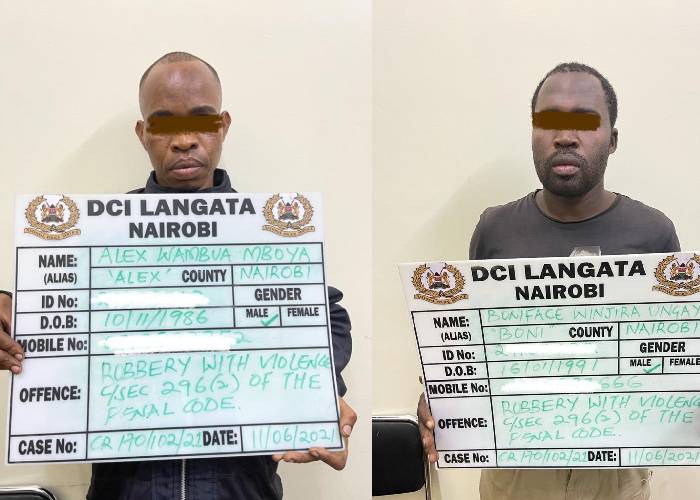 Detectives on June 12 arrested three suspects among them a secondary student in connection with a spate of robberies targeting motorists along Southern Bypass road.
According to DCI, the three were arrested in Kibra, Nairobi following a detailed analysis and investigations which involved the use of Cyber and forensic analysis techniques, to identify the suspects.
During the swoop, 16-year-old Langata Secondary School student, Bonface Winjira, 30 and Alex Mboya, 35, were arrested at a mobile shop in Lindi Kibra.
According to the sleuths, mobile phones robbed from victims along the busy highway found their way to Basement Crew Mobile Shop in Lindi operated by Winjira who police say is the key suspect.
"Phones robbed from motorists along the highway are sold cheaply to locals in Lindi, Kibra," said detectives.
Southern Bypass has been on the spot over increased cases of insecurity, with road users reporting incidences of robbery with violence.
During the raid conducted by detectives from the Directorate of Criminal Investigation and Police Serve, over 100 stolen phones were recovered.
According to Langata police boss Benjamin Mwanthi, they have resorted to using sophisticated methods to trace the thugs.
Mwathi said police are now using the stolen phones to trace suspects.
He told motorists plying the highway to be vigilant and report any incidences of robbery to the police for swift action to be taken.
"We are now using technology and other ways to trace the thugs, let them be warned," he said.
On June 3, police disguised as joggers shot dead two suspects who attempted to mug them along the highway
The robbers are said to be targeting motorists whose vehicles have mechanical problems along the highway.
Police have in the recent past increased their patrol along the highway due to rising cases of robberies which have seen motorists mugged mostly at night.
Five suspects linked to robberies along the same road were last month arrested and arraigned in a continuous effort by the security forces to curb crime along the highway.