Suspected cover up arson in the murder of teacher, son and maid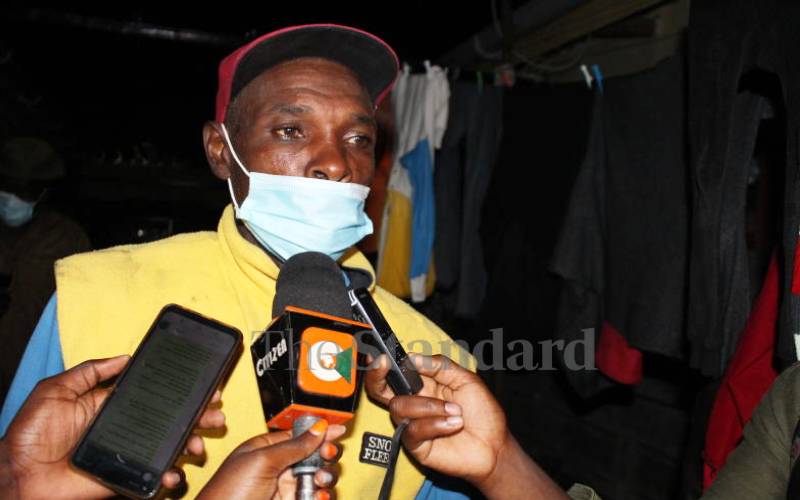 Detectives are investigating the brutal murder of a secondary school teacher and two others who were stabbed and bodies set on fire at Mzee Wa Nyama, in Nakuru County.
In the Wednesday night fire that shocked residents, only a one-year-old baby was rescued. The baby was in tears as he struggled to free himself from the body of his five-year-old brother that had been placed on top of him by the killers who set the house on fire.
Her mother's body, Alice Njeri, was lying on an extensively burnt couch with a stab wound on the chest. On the next couch lay the body of her five-year-old son who had been strangled with a scarf, according to the police.
In the kitchen, the third body of Ann Wangari, their house help lay on the floor. She had a stab wound in her abdomen and an injury on her face inflicted using a blunt object.
Nakuru County Deputy Police Commander Joseph Tanui said the child who was rescued is in stable condition and being monitored at a local hospital as detectives seek to unravel mystery behind the murders.
"This was a gruesome murder which appears to have been executed by a person who may have sought to conceal evidence by setting the house on fire. A child, the only survivor is in hospital. He might have inhaled a lot of smoke," said Tanui.
It is an incident that has left the residents in shock. The victims had only lived in the rented house for 11 days after Njeri was employed as a teacher at Maria Veronica High School.
She had moved into the house on May 15 and reported to her new workstation on May 18.
"The murder was well planned. The killer appears to have monitored her movement and time. They were attacked just after she got home from work," said Eric Won, a resident.
Won said that they moved to the scene after they noticed dark smoke billowing from the compound which had only three tenants.
"We fought the fire to save the youngest child whom we could hear crying not knowing that people had been murdered inside. We found the child struggling beneath the body of his strangled brother," said Won.
Wangari's husband, Simon Kimani said he received a phone call from a friend informing him that he was needed at home urgently.
"We had bid each other goodbye in the morning as usual. However, we didn't keep in touch during the day. I couldn't believe my eyes when I saw her body," Kimani said.
Kimani said that her death was a big blow to him since they just got married this year.
"I loved her and her three children. We got married in February with a great plan for our future. All the dreams have been shattered," said Kimani.
Wangari's brother whose name was not immediately established was inconsolable as he cried over the body of his sister.
"They have taken away my only sister. I have no one else in this world. Why did it have to be you," cried the brother.