Unbowed: Safarilink refuses to be intimidated by Governor Joho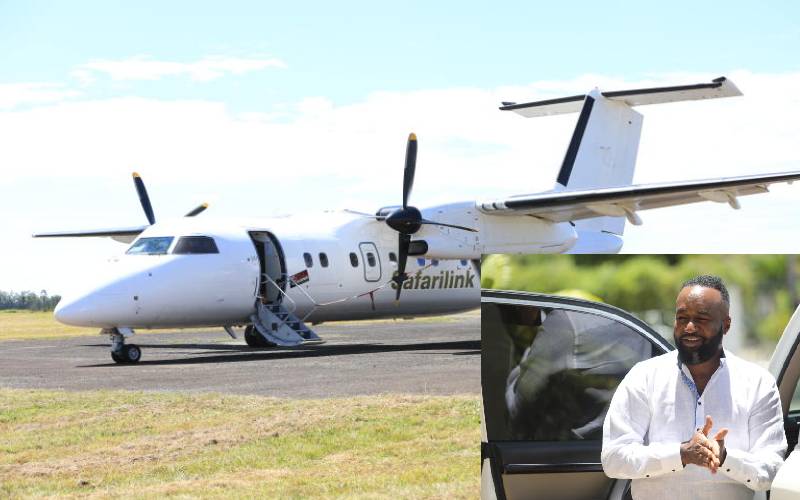 Safarilink Airline has defended itself against accusations by Mombasa Governor Hassan Joho of incompetence and poor services after he was stopped from boarding a flight on Friday.
In a statement seen by Standard on Saturday, May 22, the airline explained that Governor Joho could not board the plane for showing up late to the check-in counter.
"We understand you arrived at Vipingo Airstrip at 4:04 pm which is part of the departure time. As a premier airline, we offer an on-time service for all our flights. We also need to respect our other customers who were on time and onboard," the airline responded.
The airline said despite Joho failing to register his complaint with them; they were willing to re-book him on a different flight.
"It is unfortunate that you could not make our flight on time but we are happy to re-book your ticket to another date without penalties," the airline service noted.
Governor Joho on Friday caused a stir online after hitting out at the airline for uncouth behaviour and poor services after he missed his flight.
Joho took to his official Twitter account to express his dissatisfaction with the airline's service after he was unable to get a flight to Nairobi.
"In this ever increasingly competitive world, the aviation industry has no place for such unprofessional, unreliable and uncouth behaviour as exhibited by Safarilink," tweeted the governor.
Passengers on domestic flights are required to produce some acceptable form of identification at check-in.
They are required to check-in at least one and a half hours (irrespective of Class of travel). Counters close 30 minutes to departure.
Passengers can also check-in online with an e-ticket from 30 hours until 1 hour before departure.
Jump the long queues at selected airports and choose your preferred seat then print out your boarding pass at your own convenience.
At the airport, drop off your luggage at the dedicated online check-in drop off point and proceed to the boarding gate.
At the airport, one only needs to drop off their luggage at the dedicated online check-in drop-off point and proceed to the boarding gate.
Pre-boarding is for passengers who require extra assistance for example wheelchair users and those with children under two years.
If one wishes to use the pre-boarding service, they should contact the boarding gate staff in advance but the service may not be available in some cases depending on flight status or for other reasons.