Hunger in the North amid plenty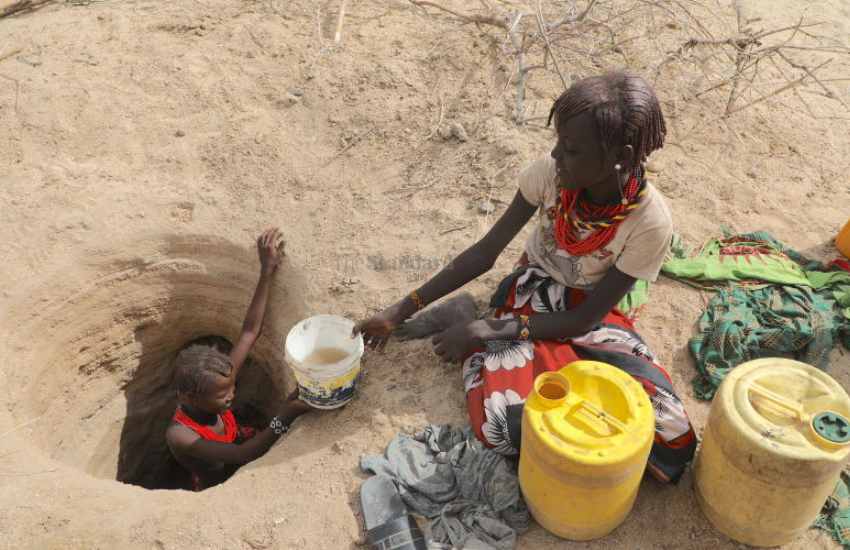 As Kenya grapples to contain the coronavirus pandemic, residents of Marsabit County are struggling with the ravages of drought and with it, starvation and hunger.
More than 100,000 people in the area need food supplies for the next six months and the same could befall the 1.4 million people in the larger northern Kenya, according to the Kenya Food Security Steering Group (KFSSG).
Water is a constant challenge. Seresipeni village, for instance, has more than 50 homesteads whose residents use donkeys to access water from wells (laga), which are seven to 10 kilometres away. The donkeys can only carry small jerrycans due to the distance and "we have to decide whether to give the water to animals or drink it ourselves". So they drink and leave animals with no water, says a resident of Serisipeni where people go for weeks without bathing as "our skin is not used to the water" since it is a luxury.
In Serisepeni the livestock is taken to the next village as early as 3am for water before grazing starts. But most succumb to hunger, which is evident from goat carcasses that welcome one in Bubisa, Turbi ward.
Market demands
"We haven't received rain for almost six months now. All the animals have shifted from this area in search of pasture. Last month we lost hundreds of sheep and goats to drought," laments Bubisa assistant chief Huka Damballa.
The thriving livestock market is gone as most animals weigh less than market demands thus fetching measly income, if at all. That residents have low uptake of animal insurance cover does not help matters. Their beef stems from the lengthy-time insurance companies take to settle claims and some do not pay at all.
The drought, in the end, precipitates inter-community wars as drought-ravaged villagers invade neighbouring areas with pasture, brewing conflicts.
Areas such as North Horr and Laisamis experience large livestock migration due to prolonged drought and poor pasture which affects pastoralism.
Take Deraso Tao. She and her children survive on the goodwill of neighbours for food and water. They have to buy basic food like beans, rice, and maize flour but "most of the time we don't have money. We survive on debts. We go to the Laisamis market and buy food on credit but most of the time we are unable to pay, which has made many shops to blacklist us," explains Deraso.
Their children's health status is worrying considering "we drink water and porridge and pray to God for food. If I have money, I buy half a kilogramme of rice which is not even enough for the kids," laments Deraso.
For pregnant women, boiled herbs come in handy so that they don't go on an empty stomach the whole day. Those who drive camels to watering points have to milk them before mixing the raw milk with water to drink for the energy needed to drive them back to the village.
"We appeal for help as our people are suffering from hunger, the animals that we depend on are not around and most of them are dying," says Damballa, adding that drought comes with outbreak of diseases like malaria, Kala-azar and Rift Valley Fever.
Diko Galgallo, a resident of Bubisa says "children have become so thin and cry endlessly as there is nothing their mothers can give them". Malnutrition rates in the county have skyrocketed.
Global Acute Malnutrition (GAM) rates for Elmolo, Loiyangalani, and Illeret are 50.5 per cent, 50.6 per cent, and 55.4 per cent respectively, an indication of an extremely critical state. According to Sabdio Galgallo, the Kenya Red Cross county coordinator in Marsabit, mass screening depicted a worsening nutritional situation of children below five years. The GAM rates have tripled to above the global threshold of 15 per cent.
"Even last week we lost a child in Illerete due to malnutrition. The situation is not looking good and I fear if the drought persists more children will die," says Sabdio.
The proportion of children who are severely malnourished in the three areas of Illeret, Loiyangalani, and Elmolo oscillates between 18.5 per cent to 18.6 per cent, which is quite alarming. Many children are at risk of mortality.
According to KFSSG, 400,000 children aged between six months and five years are acutely malnourished and in need of treatment and nutritional support.
Donors like the Kenya Red Cross Society have tried to salvage the situation in some areas, but it is still a long way to go, as residents of Marsabit County need immediate food assistance and provision of emergency health services.
The Covid-19 pandemic has only made matters worse. Marsabit's healthcare services are in a sorry state. Critical patients have to seek help from neighbouring counties as the Marsabit County Referral Hospital runs short of essential supplies.
"Marsabit people are spending almost Sh30,000 to take patients to Nanyuki and Meru," says Said Umar.
Another resident, Ann Wambui, says "there are no basic drugs in the facility leave alone drugs needed to treat Covid-19 patients". In a dispensary in Lontolio village, residents buy medicine out of pocket and despite a looming malaria outbreak in the area, the health facility has a shortage of antimalarials and malaria testing kits.
Pending bills that the county has not cleared with Kenya Medical Supplies Authority (Kemsa) is said to contribute to the reluctance by the supplies agency to provide the county with medicines.
"We had an issue with our supplementary bill which delayed a bit but it was passed last week but one, and that pending bill will be paid. It's not unique to Marsabit County," explains Marsabit Governor, Mohamed Mohamud.
And it is not just the medicines. The county has no functional intensive care unit. The governor blames this on the lack of human resources as an ICU and oxygen plants were put in place but "we did not have ICU professionals but we have advertised the positions. The interviews were concluded last week, and the persons will be deployed," says Mohamud. Other counties which have been warned to prepare for the forthcoming drought are Baringo, Isiolo, Kajiado and Kilifi.