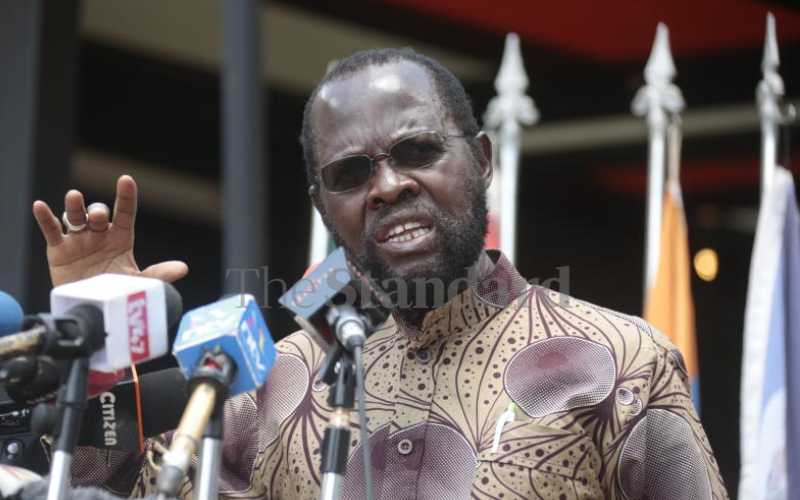 Counties have raised concern about increased cases of gender violence occasioned by Covid-19 restrictions.
Council of Governors Health committee chairman Anyang Nyong'o (pictured) on Tuesday said violence has become a major concern for women and girls.
The restrictions imposed in response to the Covid-19 pandemic continue to elevate the violence risk as victims are unable to access timely assistance.
As a response measure to protect women and girls against violence during this crisis, West Pokot, Makueni, Migori, Vihiga, Bungoma and Meru counties partnered with the national government to set up rescue centres.
Further, Nyong'o, who is also the Kisumu governor, said counties in collaboration with the national government have established GBV working groups comprising of the police, healthcare workers, social workers and other key partners.
In the recent weeks, Nakuru, Kakamega, Meru, Uasin Gishu, Murang'a, Nyeri and Kisumu have reported increased Covid-19 infections.
"There is also an emerging trend where some individuals who have been vaccinated are no longer observing the Covid-19 measures."
Nyong'o attributed this to a misguided notion that the vaccine guarantees immunity of contracting the virus.
"This will defeat the effort by both levels of government and we call upon all Kenyans to social distance, wear masks and cover both nose and mouth and wash hands regularly," he said.
In this regard, county governments will work to enlighten citizens on the need for those who are more vulnerable to take the Covid-19 vaccine.
Nyong'o said counties will also start issuing weekly situational reports on the status of the caseload, measures taken, gaps, and interventions.
This comes as Kenyans will wait a little bit longer than the eight-week period to get their second dose of the Oxford/AstraZeneca vaccine after a global shortage occasioned by a surge in Covid-19 cases in India, the main manufacturer of the jab.
Speaking at a past media briefing, Health Cabinet Secretary Mutahi Kagwe revealed that the delivery date for the next consignment of the vaccine may go beyond May, but experts hope that the second dose will be in on time before the 12-week maximum period between the first and second dose.
The CS says that the government plans to acquire two million doses of Pfizer-BioNTech and Johnson & Johnson vaccines.
Johnson & Johnson vaccine is a one-dose prescription while Pfizer-BioNTech is in two doses, just like Oxford/AstraZeneca.
Kagwe said Pfizer-BioNTech and Johnson & Johnson will be acquired through the African Union (AU) and once the negotiations are done, they will be delivered.
Timelines for their delivery were, however, not given.
"Once we have concluded our deal, we expect one million doses for Pfizer-BioNTech and maybe another one million for Johnson & Johnson once production is ramped up," said Kagwe. "That combined with what we can get from Covax facility (in this case AstraZeneca) should be able to allow us to continue with the vaccination process."
He said these doses are essential to back up and support what the country will be expecting from Covax.