Six counties are unable to handle their waste - Report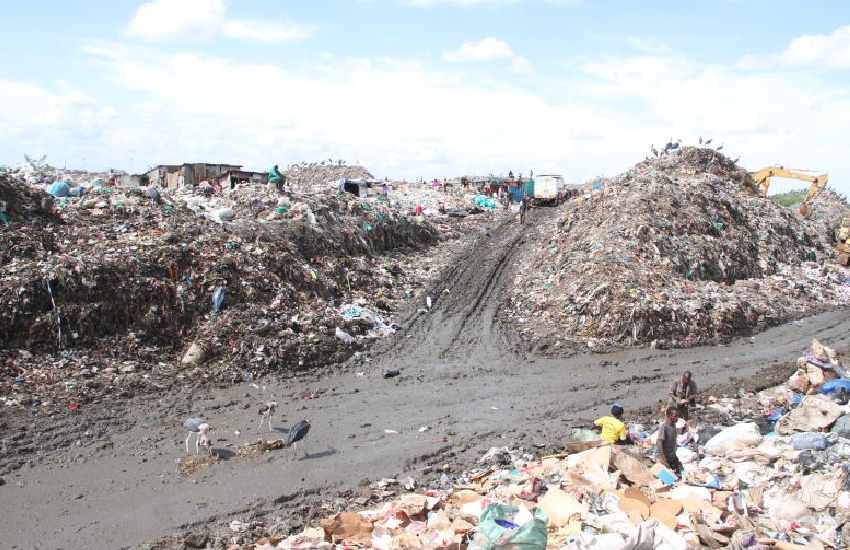 The management of 5,990 tonnes of waste generated daily in six counties remains a major challenge.
Kisii, Busia, Nakuru, Mombasa, Nairobi, Kiambu, Kisumu and Uasin Gishu counties are grappling with waste management, according to an investigative report that has flagged sugar factories as the major environmental polluters. National Environmental and Complaints Committee (NECC), in a report, said the six counties cumulatively generate 5,990 tonnes, with Nairobi and Mombasa being the lead generators.
Nairobi and Mombasa contribute 4,600 tonnes of waste translating to 76 per cent of the waste generated across the six counties.
"Disposal of waste in the country remains a major challenge as most of the counties lack proper and adequate disposal sites. The few towns that have designated sites practice open dumping of mixed waste as they lack appropriate technologies and disposal facilities," NECC stated.
In Busia County, the committee noted that waste generated from urban areas is all put together in receptacles, some of which are filled to capacity and end up spilling over. The situation has been exacerbated by infrequency in garbage collection.
"Busia County, just like in other counties, was experiencing a shortage of personnel and equipment for the management of solid waste," the report stated.
In Kisii County, challenges of proper waste management have been linked to lack of proper disposal sites and personnel.
"Nyakoe dumpsite is not a designated site as per the National Environment Management Authority regulations. It is open and unfenced, posing a risk to residents. It is located next to a stream, and adjacent to the Kisii Level 5 Hospital as well as a residential building," noted the report.
Waste collection
The report further reveals that the counties face a challenge in waste collection. For instance, Nairobi collects only 80 per cent of the waste generated daily. The remaining waste is disposed of either at the Dandora dumpsite, illegally dumped on roadsides and waterways, or burned.
Nakuru County is estimated to generate 250 tonnes of waste and only 45 per cent is collected while in Kisumu County, out of 400 tonnes estimated to be generated daily, only 20 per cent is collected.
In Mombasa County, out of 2,200 tonnes of waste generated daily, only 65 per cent is collected and in Uasin Gishu County, Eldoret town collects 55 per cent of the 600 tonnes generated. In Kiambu County, on the other hand, Thika town generates 140 tonnes of waste and only 60 per cent of this is collected.
NECC Secretary John Chumo said the challenges of waste management are almost similar in all the six counties, with most of them using overflowed dumpsites.
"Waste management in counties remains a major challenge where counties lack the capacity and financial muscle to fully collect and even recycle the waste," Dr Chumo said.
As the counties are grappling with managing waste, the report flagged sugar factories as the main environmental polluters with the majority not being able to handle their waste.
Sugar companies including Kibos Sugar and Allied Industries Limited, Butali Sugar Mills Company Limited, Western Kenya Sugar Company Limited, Transmara Sugar Company Limited and Kwale International Sugar Company Limited were found to be having challenges in managing their waste.
"During the manufacture of sugar, a large volume of waste is generated. The effluent contains a huge quantity of pollution load, particularly in terms of suspended solids, organic matter, and mud. It also contains chemicals used in the industry mainly for coagulation of impurities and refining of end products," the report notes.