Gideon Moi holds talks with US envoy, praises cordial ties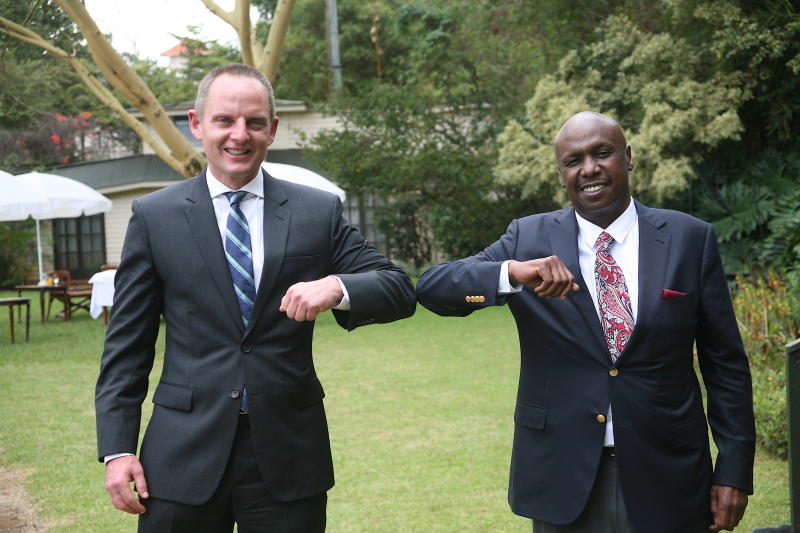 The interim US ambassador to Kenya Eric Kneedler yesterday paid a courtesy call on KANU chair Gideon Moi in Nairobi.
The two discussed a wide range of issues geared towards strengthening bilateral ties between Kenya and the United States.
The issues discussed include trade, security, climate change and the coronavirus pandemic.
"The US and Kenya have common challenges and we have got a number of new ways we can work together to improve commercial relations, people ties...," said Kneedler.
The United States and Kenya have enjoyed cordial relations with longstanding mutual interests in economic and security issues in the region.
The US envoy, who doubles up as the Chargé d' Affairs at the US Embassy in Nairobi, was accompanied by the embassy's political counsellor Christopher Carver, while Gideon was accompanied by Senate Majority Leader Samuel Poghisio and nominated Senator Halake Abshiro.
The Kanu chair and Baringo senator reiterated the importance of Kenya furthering the US-Kenya relations, adding that US assistance to Kenya has contributed greatly to health, security and trade among other sectors.
"I thank the ambassador for the discussion we had on the cordial relationship between Kenya and the US and we are looking forward to enhancing the relations," said Gideon.
The senator, who also chairs the Committee on Information Communication Technology in the Senate, said they also discussed the help the US government is giving Kenya in the fight against coronavirus pandemic.
Kenyan goods
"We must appreciate the collaboration between us in terms of coronavirus vaccine. There is a need to strengthen the ties for the people-centered objective," he said.
The ties have influenced economic growth of Kenya, with an increasing number of American companies establishing their Africa headquarters in Nairobi.
Kenya's products have also gained access to US market, with statistics indicating that US consumers bought Sh26.9 billion worth of Kenyan goods in 2019.
Last year, US Trade representative Robert Lighthizer and Kenya's Trade Cabinet Secretary Betty Maina launched a free trade agreement to deepen trade and investment between the two nations.
On security, the US collaborates with Kenya to professionalise Kenyan military forces, increase border security capabilities to counter terrorism as well as improve peace-keeping capabilities.
Meanwhile, the fight against Covid-19 in Baringo County received a boost after Mozzart Betting Company donated Intensive Care Unit beds and personal protective equipment worth Sh2.5 million.
The equipment was presented to Senator Gideon at Kabarnet Gardens in Nairobi.