Jubilee writes to registrar of political parties, dissolves agreement with Ruto party UDA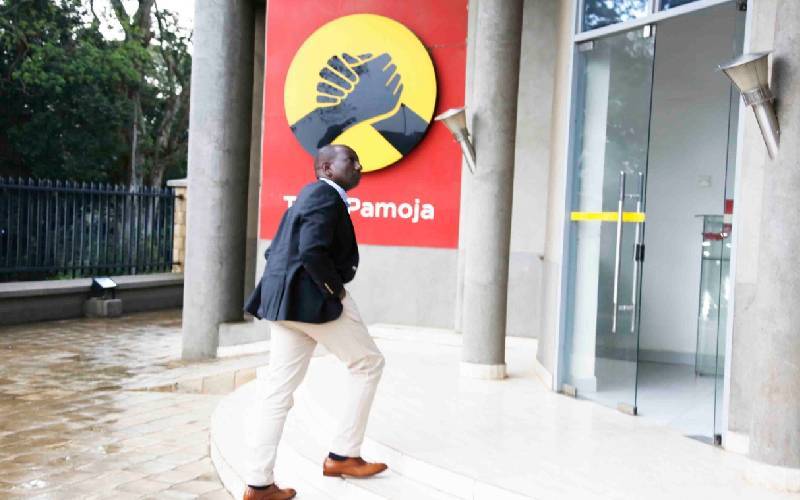 The Jubilee party has written to the registrar of political Parties Anne Nderitu seeking to dissolve its coalition agreement with PDR now UDA.
In a letter by Secretary-General Raphael Tuju, Jubilee says the move comes after consideration of the prevailing political and legal hurdles facing the proposed coalition.
According to Tuju, the party's National Management Committee has found it improper and untenable to complete the formulation of the Coalition.
He said the committee has considered that all PDR officials that were engaged in coalition discussions have been changed and the new officials have exhibited hostility by actively fielding candidates in areas outside the original areas covered by cooperation.
"There being no harmonisation of our policy and vision we have found ourselves as strange bedfellows especially with the UDA use of their identity as "hustlers" which has a negative dictionary meaning and connotation," read part of the letter.
Tuju said this is also at complete variance with Jubilee's motto of 'Tuko Pamoja' that seeks to unite Kenyans and not divide them along ethnic or class lines.
The United Democratic Alliance came into the Kenyan limelight in January 2021 and is linked to politicians allied to Deputy President William Ruto.
The party has so far fielded candidates in various by-elections for elective positions and won one seat for MP and another one for an MCA.
A wheelbarrow is the party's symbol and former Machakos Senator Johnstone Muthama its chairman.
"Apart from fielding candidates against Jubilee candidates some of their members have continued to refer to Jubilee Party in derogatory terms even in the public domain making it impossible to engage in any coalition-building discourse," Tuju said.
"The Party has therefore decided to pull out of any further negotiations intended to complete the coalition process as is envisaged by the Political Parties Act and to cease any further engagement and association with the PDR whose officials, symbols and name has metamorphosed beyond recognition in comparison to the PDR we worked with previously. However, and without prejudice, all members of the dissolved coalition holding leadership positions in the Assemblies shall continue serving as such," he said.
Tuju said in the run-up to the 2017 elections, Jubilee entered an arrangement of cooperation with PDR in the Counties of West Pokot, Wajir, Isiolo, Garissa and Mandera where it had experienced the challenge of clan guided democracy.
He said that cooperation did not include any other County out of the specifically mentioned counties.
"We lodged a proposed Coalition Agreement with PDR in 2018 based on those specific objectives as captured in Article 3 of the agreement," he said.
He further said under the requirements of the Political Parties (Registration) Regulations 2019 and the Political Parties Act at schedule 3 (3), the members of the coalition were to deposit a formally signed agreement, coalition Nomination rules, coalition election rules, coalition organs and their functions as well as provisions for dissolution and dispute resolution.
"Whereas a working relationship has subsisted in the few Counties that the parties intended, the members did not move or have not met these requirements as is expected by both Statute and the regulations," he said.
"This is to request that you take note of the content of this letter and to put on record our revocation of the provisional coalition agreement lodged in your offices on the 6th of May 2018 that was never completed," Tuju said.