DP defends Russian Jab as PPB affirms it meets safety standards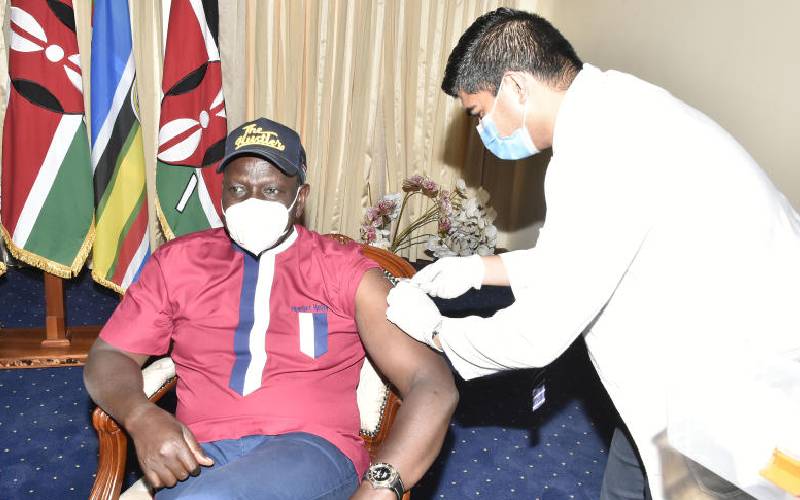 Deputy President William Ruto has said he was not invited to the State House to receive the Oxford/AstraZeneca vaccine for Covid-19.
At the same time, the DP also faulted the ban on the Russian Sputnik V vaccine saying it was approved by the Pharmacy and Poisons Board (PPB).
Ruto has come under sharp criticism for going for the Sh7,000 dose instead of the free jab imported by the government.
"I don't want to blame anybody... maybe the secretary forgot to inform me," he said.
He spoke just days after it emerged that Sputnik V vaccine would be shipped out of Kenya.
Dinlas Pharma EPZ Limited imported 75,000 doses of Sputnik V vaccine on March 22 and according to PPB 527 people received the first round of the jab.
"It is not time for us to choose this vaccine or that, the most important thing in the world which countries are doing is to get the vaccines.
"Germany has registered Sputnik, Oxford/AstraZeneca, Johnson and Johnson and others," said the DP during an interview on Citizen TV.
Ruto said when the Cabinet convened to discuss the importation of the vaccines, there was opposition.
"The debate was introduced by people who are petty, saying there is a better vaccine. So these people who are saying, the government bought a cheaper vaccine, are they saying the government bought a lower quality vaccine?" he posed.
"What are they saying, they are actually insulting us in government."
In response to a question raised by Rarieda MP Otiende Amollo on Sputnik V, PPB affirmed that it approved the vaccine under the Covid-19 material on March 12 giving the license to the importer Dinlas Pharma EPZ Limited.
Dr Ahmed Mohammed of PPB, responding to the lawmaker on behalf of the CEO Fred Siyoi, he said the importer, is an authoriSed wholesale dealer in pharmaceuticals.
"The approval of the import permit was done on March 12 in line with the established timelines for the Covid-19 related products as per the board's specifications," stated Dr Mohammed in a response to Amollo dated April 12.