GSU officer kills wife then turns gun on himself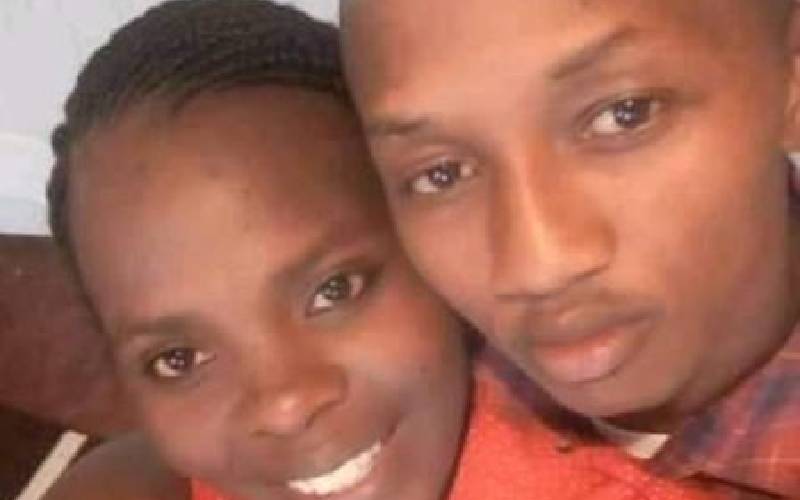 A decision to end a seven-year-old relationship acted like a trigger and created two orphans. The decision had been followed by five tumultuous days peppered with infidelity claims.
During this period, two police constables who had sworn their undying love for each other now realised they had irreconcilable differences.
And just like that, the life of Hudson Wakise, the GSU officer who was trained to protect the lives of VIPs and had put his life on the line battling terrorists, brutally came to an end.
According to police initial investigations, Wakise also killed his wife, Pauline Wakasa, with whom he had two children.
Apparently, Wakise's wife of seven years – a police officer in the traffic department – had decided to separate with him and move out of their matrimonial home.
Wakasa, together with her two daughters, had even moved to a new house at Nairobi's Drive-Inn estate.
On the fateful Tuesday night at around 9pm, Wakasa arrived home from Kilimani Police Station where she worked in the traffic department. She found dinner ready and, together with her children, enjoyed the meal of ugali and sukumawiki.
At around 9.15pm, Wakise arrived at the house on the first floor of the new apartment block where his wife and children had moved in. He was welcomed into the dining room and food was served. Wakise had been off duty since April 1.
Wakasa and the children had lived in the new house for only five days after leaving her husband in their old house at the GSU headquarters.
George Mulongo, Wakasa's younger brother who also lived in the same house, told the police the couple started quarrelling.
There was a brief exchange of words after which Wakise left the house but returned shortly. The couple was in the sitting room, while Mulongo and the children were in the bedroom.
Mulongo recalls that in the midst of the bitter exchange of words, he heard gunshots in the sitting room.
He rushed there and found his sister lying in a pool of blood beside a couch, while the husband was lying on his back at a separate couch with blood oozing from his head.
Police said Wakise shot Wakasa three times in the chest and turned the gun on himself. He suffered a single bullet injury on his right chin into the head, according to police investigations.
The police report from Ruaraka Police Station to Vigilance House said the couple quarrelled over allegations of infidelity.
Yesterday, friends and family were in shock when they learnt of the deaths.
Ken Wakise, Hudson's elder brother, was among the first people to arrive at the couple's house yesterday morning when the news of their death became public.
Ken, who lives in Nairobi's Embakasi estate, said he had learnt from his sister who lives in Taita-Taveta of the death of his brother. The sister, Ken said, had seen the news on social media.
Ken said he did not know the couple had trouble in their marriage and that the last time he visited, everything was okay.
At Kilimani Police Station, Wakasa's colleagues were in a sombre mood. They described her as a social and hard working officer.
Interior CS Fred Matiang'i mourned the couple. He said on Facebook that the death of the two was "a rude awakening to pyschosocial challenges amongst some of our young officers that we have no choice but to now pay greater attention to".
Good times
Daniel Wayuu, a fellow officer who was among the last people to have spoken to Wakise, recalled the good times they shared both at work and outside office.
Wayuu, in a condolence message posted on Facebook, said the last time he spoke to Wakise was on Tuesday at 3.30pm when Wakise called him to say he was leaving work.
Wayuu described Wakise as a loving father and husband who was also deeply spiritual.
"I remember leading you into salvation, prayer after we survived the Dusit attack," he wrote.
In his last messages on Facebook, Wakise had a motivational message for his friends and family.
Inspector General of Police Hilary Mutyambai said the couple's neigbours were helping police with investigations.