President Uhuru extends curfew for another two months
President Uhuru Kenyatta has extended the nationwide night curfew for 60 days as part of measures aimed at containing the spread of Covid-19.
While making the announcement, Uhuru said the pandemic remains a threat to Kenyans health and livelihoods with positivity rate at 14 per cent, the highest this year.
The country on Thursday registered 829 new cases with a positivity rate of 13.2 per cent.
In January, Kenya's positivity rate was at 2 per cent but had drastically jumped to 14 percent, with the blame being laid on public gatherings and rallies.
Political gatherings have been banned for another 30 days effective today midnight, as police officers are urged to enforce the measures strictly regardless of the political class.
"Today I direct that all forms of political gatherings be and are hereby prohibited for a period of 30 days effective midnight on this March 12, 2021," he said.
Despite an earlier ban on rallies, politicians have been crisscrossing the country to campaign for the Building Bridges Initiative (BBI) and by-elections, with Uhuru insisting that the spread of the virus has been fueled by such gatherings.
The new measures, Uhuru said were guided by the science and evidence and despite the economy downturns occasioned by the pandemic.
"Because in the past our policy decisions have been guided by science, data and evidence, we will continue to be guided by the scientific evidence," he said.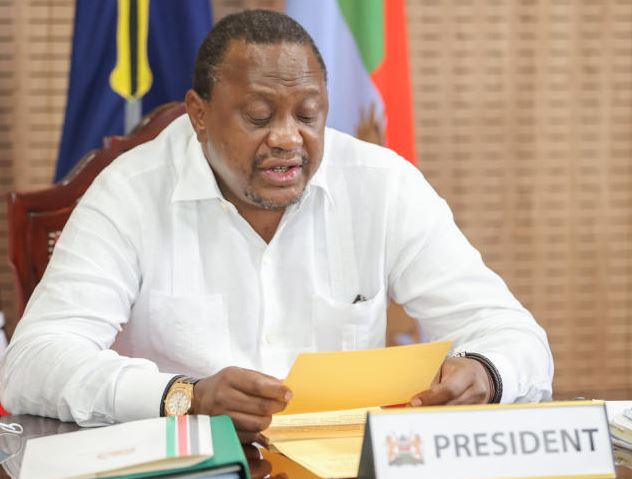 Bars and restaurant will be allowed to open until 9 pm as the president (pictured) urged public to continue adhering to the Covid-19 guidelines issued such as washing of hands and social distancing.
With a new strain of the virus, the looming third wave leading to a surge in fresh cases and thinning Intensive Care Units (ICU) beds, President Uhuru said civic duty and personal responsibility was key in emerging from the pandemic.
He directed that all the places of worship handle a third of their respective capacities with funerals and weddings reduced to at least 100 people.
"In regard to funerals, cremations and other interment ceremonies, it is directed that they shall be conducted strictly within 72 hours of confirmation of death. That attendees for funerals and gravesides/crematoria ceremonies shall be limited to the immediate family of the deceased," the president noted.
The Head of State also directed the Ministry of Health to work closely with the National Government Administration Officers (NGAO) to enhance and strictly enforce border health security, with a greater emphasis on informal entry points.
This is, as the country remains at high risk of importation of new variants of Covid-19 that have been reported in the United Kingdom, South Africa and Brazil.
"The Ministry of Health shall strengthen the existing Covid-19 surveillance so as to monitor the circulating strains in the country for the purpose of informing policy decisions and public health interventions," he said.
Kenya's caseload is now at 111,185 out of 1,352,126 tests conducted since March last year when the first case was reported.
Since Uhuru's last address on January 3, fatalities have increased to 1,899 from 1,685 over the same period, a difference of 214 deaths.
Counties preparedness
The president has further directed that all isolation facilities in the country be maintained at a high state of preparedness through continuous capacity-building and provision of adequate PPEs for healthcare workers.
Already, Kenya has lost 1,879 people to Covid-19 as hundreds of infections are registered daily.
He told counties to also enhance investment in piped and portable oxygen to isolation and critical care treatment facilities for the management of severe cases in order to save lives.
"The Counties Inter-Governmental Committee shall be convened at least once every week to assess the County specific compliance levels," he added.
On vaccines, Uhuru reiterated that it is safe and has been tested. "Our medical experts are persuaded that it's safety profile is bankable."
The vaccine rollout will be done in phases as guided by the National Deployment Vaccination Plan (NDVP), with the first phase targeting front line health workers, uniformed personnel, and teachers.
The second phase will target the elderly people and those with pre-existing conditions with the head of State saying that the vaccination is voluntary.
Covid-19 cases
Today, the Covid-19 positivity rate is at 11.9 per cent after 750 people tested positive for Covid-19 out of a sample size of 6,264 tested in the last 24 hours.
The country's total infections now stand at 111,935 out of 1,358,390 tests conducted since March 2020.
Two patients have also succumbed to the disease pushing the cumulative fatalities to 1,901.
According to the Health Ministry, a total of 632 patients are currently admitted to various health facilities countrywide, while 1,912 patients are on Home Based Isolation and Care.
96 patients are in the Intensive Care Unit (ICU), 23 of whom are on ventilatory support and 59 on supplemental oxygen. Fourteen patients are on observation.
"Another 40 patients are separately on supplementary oxygen with 38 of them in the general wards and 2 in the High Dependency Unit (HDU)."