First Lady urges women to go for elective, leadership posts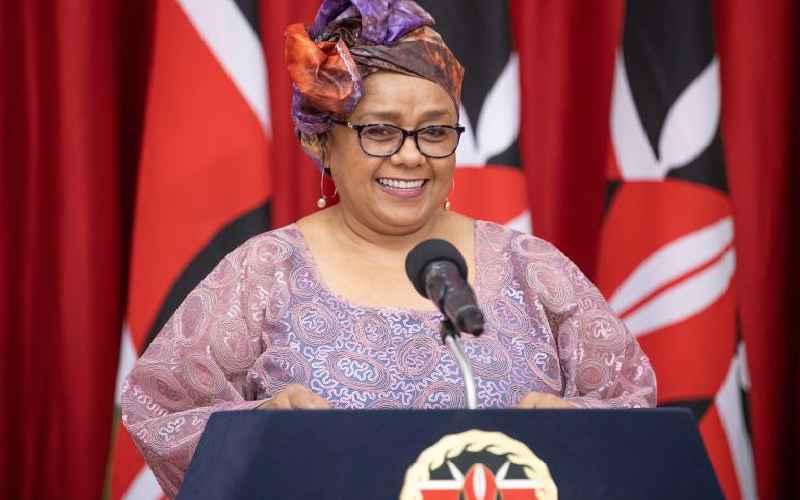 Calls for women to contest for political slots instead of awaiting nomination dominated celebrations to mark International Women's Day yesterday.
First Lady Margaret Kenyatta encouraged women to actively seek elective and other positions of leadership at the national and county levels.
While applauding the 23 per cent representation of women in the National Assembly, the First Lady said more needed to be done to achieve the two-thirds gender rule.
"Let us continue working together, for the progress we all believe in. And let us begin with ourselves, in our own spaces, in our homes, in our schools and with our children," she said.
She was speaking yesterday when she presided over virtual celebrations to mark International Women's Day under the theme 'Women in Leadership: Achieving an equal future in a Covid-19 world.'
The First Lady urged women to lend their voice to combating harmful cultural practices even as she expressed satisfaction that a lot of resources are being chanelled towards ensuring equity and justice.
"We also, as women, must continue to raise our voices and protect ourselves against harmful practices such as female genital mutilation (FGM) and early child marriage; these factors impede our pathway to reaching our gifted potential," she said.
She said the election of the first woman Vice President in the US should serve as an inspiration for women worldwide to aspire for leadership positions.
Prioritise empowerment
During the event, the First Lady conferred Annual Trailblazer Awards to several women and institutions in recognition of their outstanding achievements and contribution to advancing gender equality and women empowerment agenda. She also conferred certificates to graduands of the first cohort of the Women in Political Leadership Training Programme that she launched last year.
Public Service and Gender Cabinet Secretary Margaret Kobia said the theme of this year's International Women's Day illustrates the need to prioritise women empowerment in the face of Covid-19.
She noted that while the journey of women in leadership has been long and bumpy, their determination and commitment has yielded fruits. "Therefore, we celebrate the gains made and also reflect on the social, economic, political and cultural context in which women and girls live and work," Prof Kobia said.
In her address, Commonwealth Secretary-General Patricia Scotland noted that gender equality and women empowerment are essential components of human development and basic human rights.
Other speakers were Defence Cabinet Secretary Monica Juma, Maendeleo ya Wanawake Organisation Chairperson Rahab Muiu, European Union Ambassador to Kenya Simon Mordue and UN Resident Co-ordinator Stephen Jackson are among others.
The event saw the national launch of the continental digital platform dubbed 'the 50 Million African Women Speak'. The project is geared towards empowering women in Africa to start businesses by providing a one-stop shop. In Murang'a leaders led by Woman Representative Sabina Chege and Teachers Service Commission Executive Secretary Nancy Macharia urged women to rise to the occasion and go for elective slots.
Speaking at General Ihura stadium in Murang'a the leaders called on parents to ensure their children access the best education.
Ms Chege who was joined by female MCAs led by Jacinta Ng'ang'a warned that in future the women will suffer if they peg their political careers on nominations. "It is high time women come out in large numbers to contest for leadership positions," she said.
The Woman Rep called for protection of the girl child from sex pests who include some close relatives.
Ms Macharia said TSC considers gender balance during the recruitment of teachers. "The TSC is one of the institutions that has done very well on gender balancing," she said.
In Kisii, the day was marked by calls to women to regularly visit counsellors. Dr Edina Orina, a Radiologist at Kisii Teaching and Referral hospital said women tend to hide stress because of perceived stigmatisation and fear of ridicule.
"Women should not wait to be invited to the table. Men share their sorrows with their peers as women get out to gossip about failures of their own. We have allowed ourselves to live a negative life because of unnecessary competition," she said.
Edinah Kwangwana, the Administration and Stakeholder Management executive who has been leading the devolved unit's efforts to curb the spread of Covid-19 warned that mental health was now a major problem.
Suffering silently
Ms Kwangwana attributed this to loss of jobs, closure of businesses and too much workload coupled with high cases of domestic violence.
Judy Nyanchama, a consultant nurse said women bore the brunt of the pandemic. "We need some data collection on how the affected families are progressing. They could be suffering silently," she said.
Dr Doris Nyokangi, a lung cancer survivor who is the Chief Officer Education in Kisii County, said she spend time in her house for fear of contracting the virus.
"I have gathered courage to come out and speak to women on the need to face our challenges head on. My boss could always tell me to work from home but there is always that feeling of wanting to achieve our goals," she said.
The United Nations said women are on the front line of the Covid-19 crisis, as health care workers, caregivers, innovators and community organisers.
At the Coast Sadia Hussein, 34, a social worker from Gafuru village in Hola Tana River County, was awarded the Commonwealth Point of Light Award by Queen Elizabeth.
The award was presented by British High Commissioner to Kenya, Jane Marriot, on behalf of the queen during celebrations of the International Women's Day in Mombasa. The envoy said Ms Hussein was feted for her efforts to combat FGM in Tana River County.
Mombasa County Director of Gender, Esther Ingolo lauded the collaboration and support they receive from donor partners and the civil society in ensuring a peaceful and free society.
[Reports by Boniface Gikandi, Eric Abuga and Philip Mwakio]