Many Nairobi residents have probably heard about Mukuru Kwa Njenga slum in Embakasi South Constituency.
But perhaps few know the origins of the name and why a neighbouring slum was named Mukuru kwa Reuben.
'Mukuru' which means valley or quarry in Kikuyu, is one of the largest informal settlements in Kenya. It is divided into two by a railway line – carving out Mukuru Kwa Reuben to the west and Mukuru Kwa Njenga to the east.
But behind the name of the expansive slum or village (kijiji) as residents call it, lies the story of Mwenda Njenga Kariuki, who died last week on his way to hospital. He was buried on Wednesday at Lang'ata Cemetery.
Solomonic wisdom
Njenga was born in Ngarariga village in Limuru, Kiambu County and was among the few early settlers in the slum.
He came to the slum aged 22 and with no formal education. Some of his friends directed him to the quarries where menial jobs were readily available.
The slum can be traced back before independence when Njenga, a white settler who was also a farmer used the area of Mukuru to keep livestock. Njenga employed a few Kenyan workers, who built shelters on the land in the 1970s.
Njenga, after settling in the area, took bare land, filled it with rocks quarry pits and turned it into a village, which has over the years grown into a slum with a large population, majority working in nearby Industrial Area factories.
He later built several shanties, which he rented out to residents until his death.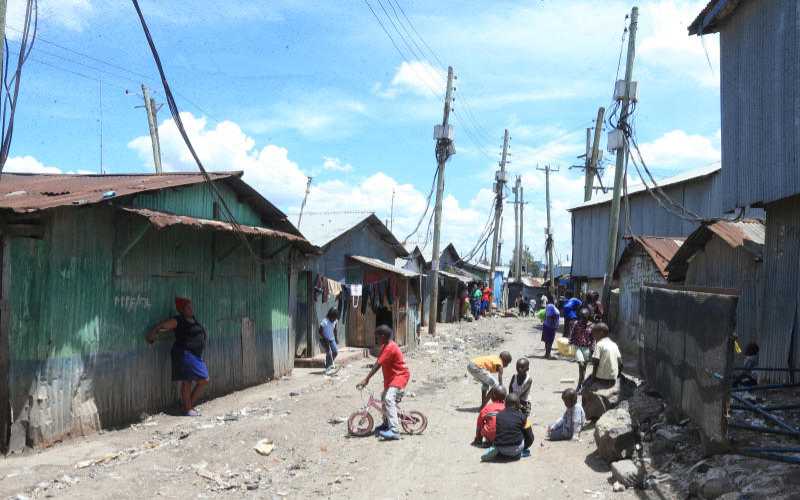 No project could be done in the slum without his involvement given that he was the chairman of the slum for more than 60 years. He has left behind 13 children from two wives who are also deceased.
During his burial on Wednesday, residents eulogised him for the many things he has done for the slum.
The 85-year-old was celebrated as a hero, mentor, counsellor and friend. He was a popular figure who helped solve disputes regarding marriages and even gave money for food to the poor, according to a Mrs Mwololo.
"I came to the village around 1984 when I was a girl and since that day, I have seen many women and sometimes their husbands visiting him to help them solve marriage disputes. As women, we shall miss his Solomonic wisdom," she said.
Mzee Njenga was also a darling of the youth, who mostly attended Kwa Njenga Primary School.
"Since I had no father and my mother could not afford rent, we lived in his houses free of charge, thus enabling my mother do menial jobs to educate me till I joined Aquinas High School," said Michael Omondi alias Drogba.
One of the persons who has felt the sting of Njenga's death is 76-year-old John Kariuki, his personal assistant for more than 17 years.
"He was more than a friend to me, a brother, a hero of the village. He had deeper love for all irrespective of tribe and was willing to help everyone. He helped bring Mukuru Kwa Njenga Police post and from there, other amenities like churches, schools, hospitals and mosques came to the slum. I will really miss him," said Kariuki.
"He was not greedy. If he were, he would have sold his piece of land and moved to affluent places like Karen. He even didn't bring his people from Limuru to 'grab' the slum land when it had few people in the 1980s," he said.
He was eulogised as a father to many.
"Today, we are burying the hero and legend of Mukuru Kwa Njenga slum. He was like a father figure to me. I will not forget how he has fought against the grabbing of the slum by cartels and wealthy people to develop it," said Irshad Sumra, former MP for Embakasi South.
Pipeline Ward MCA Stephen Gikonyo said he was a symbol of unity in the slum. For John Ochola, a politician who vied for an MCA seat sometime back, he was everything to him.
"He was like a father to me. I have lost a friend and mentor. I would not do anything before consulting him," said Ochola.
For Kware Ward MCA Rose Kula, Mzee Njenga will be remembered for helping her solve many tough cases.
"I urge the villagers not to allow development of the village into permanent houses because majority of slum dwellers are poor and will not be able to pay rent," she said.
The government has plans to develop city slums under Kenya Slum Upgrading Programme into modern permanent houses and the slum is one of the target projects.