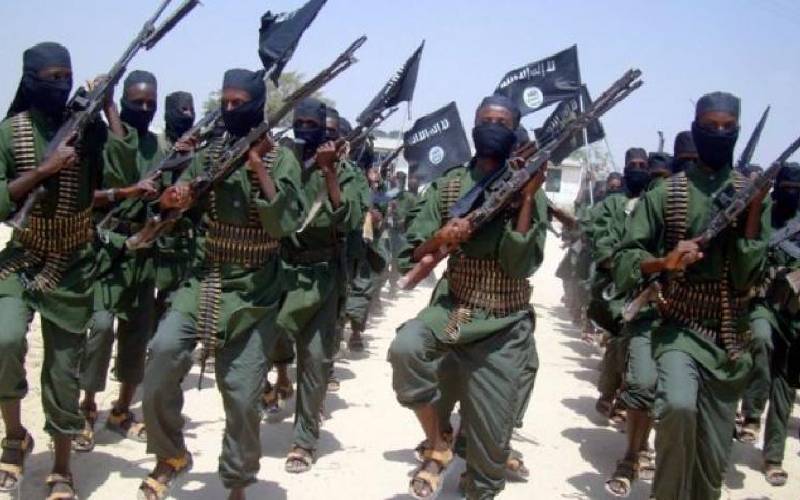 Kenya's north is once again in the limelight over insecurity fears, as Al Shabaab looks to reestablish itself in Mandera County. The county has over the years been the scene of some of the group's bloodiest attacks.
Over the past few months, residents say, the militants have taken over mosques, imposed a tax on local businessmen and destroyed crucial installation such as telecommunication masts in preparation for what many fear could be a major attack.
Now, members of Amniyat, the group's military intelligence wing, who are charged with planning and executing attacks, are launching assaults on targets hundreds of kilometres from their bases in neighbouring Somalia after months of calm and preemptive strikes by Kenyan security forces.
This month alone Mandera has suffered three attacks, attributed to the group.
Last week, suspected Al Shabaab militants attacked a Nairobi bound bus, prompting a shootout between the gunmen and security escort. Intelligence reports show that the bus from Mandera was stopped by six heavily armed men who proceeded to separate male from female passengers before demanding to know if any of them was a non-local or worked for government, an eerie reminder of the 2014 bus attack that saw 28 people killed.
Situation escalates
No casualty was reported from last week's incident.
Mandera and other parts of North Eastern Kenya continue to sag under the weight of the 2014 and past attacks. Schools in certain border regions have remained closed for years because government teachers have resisted deployment to the area.
Previous attacks have targeted civil servants in the teaching, medical and security professions.
Now gunfights, abductions and destruction of telecommunication equipment have resumed, and the county leadership says the national government is sitting back as the situation escalates.
"A serious security crisis is unfolding within Mandera County caused by undeterred movements of terror cells. This situation has been developing over the last three months, but has reached unprecedented levels," Mandera Governor Ali Roba said. "The terrorists are collecting livestock by force from helpless pastoralists in the name of zakat (offering). This requires radical approach to manage the trend, otherwise we will soon be under terror rule."
Mr Roba noted that Al Shabaab manages more than 60 per cent of Mandera, with the will of public suppressed by terror.
"They roam freely and the public has kept on reporting these movements (actionable intelligence), but unfortunately, the situation has been growing from bad to worse," he said.
In light of these revelations, the Ministry of Interior has come out strongly defending its track record against terror, falling short of terming Roba's recent statements untrue.
Interior Cabinet Secretary Fred Matiang'i on Tuesday said the claims by the county were an exaggeration and even fabrication.
"If you look at the investments that we have made in the Northern part of the country and in the war against terror, it speaks for itself. I will address some of those exaggerated comments when we have a security meeting in the North. Kenyans have nothing to worry about because some of the incidents are not true," he said.
He added: "The challenge and reality of terrorism is with us and we can't wish it away, but I do not think we have a challenge to the scale in which the leader was speaking."
In an interview with The Standard, Dr Matiang'i said police were foiling more attacks. "We have improved tremendously when you look at the number of terrorist activities we have foiled, the intelligence that has been gathered and shared, and steps taken to ensure our country is safe," he said.
Improved security
He attributed the improved security to better equipping, preparedness, intelligence-gathering and intra-sector collaboration.
Matiang'i's comments reinforce those made by North Eastern Regional Commissioner Nicodemus Musyoki Ndalana, who said security in the county had improved.
"There is no denying that the county still experiences daunting scenarios each day due to its proximity to the Al-Shabaab corridor, but it is no longer the enemy's stomping ground," he said.
Owing to Roba's claims, Mr Ndalana said, there was a risk of heightening tension and possibly placing lives at risks.
Nature of operations
"Given the sensitive and risky nature of our operations, it is highly regrettable that he chose to address such delicate and complex national security concerns in the manner he did," he said.
The police have indicated that the people behind the attacks in Banisa were homegrown terrorists who had been trained by the terror cell.
But the county is sticking by its estimation of the security situation.
Speaking during issuance of bursaries last Friday, Roba said terrorism was denying their children education.
"The impact of our children failing to access education is tantamount to socio-economic sabotage. Al-Shabaab has succeeded in stopping learning in our region. We risk having a generation of people who never acquired education. This is simply not acceptable," he said.
The governor estimates that the county has shortage of about 1,849 teachers for primary school while in secondary schools 517 teachers after the Teachers Service Commission withdrew non-locals.
Last Thursday police officers reported a shootout between suspected Al Shabaab militants and police reservists in Didkuro in Mandera West Sub County. Their target was reportedly a telecommunication mast.
Last week, a mast was destroyed by Al Shabaab militants in Kheira Ali village in Lafey Constituency, Mandera. A document released recently by the county government reinforces its stand that terror incidents in the county have increased, but are going unacknowledged.
Former Mandera Senator Billow Kerrow said it was the responsibility of the government to provide security, especially in the fight against terrorism. "Folks in the region provide information to security forces but there is no action. When terrorists move more than 200kms inside the county, the government cannot feign ignorance. It's a failure of the system," said Mr Kerrow.
He was responding to the Interior Principal Secretary Karanja Kibicho, who said the people had a part to play in the war against terror.