End of an era for the man who took DP Ruto head-on for grabbing his land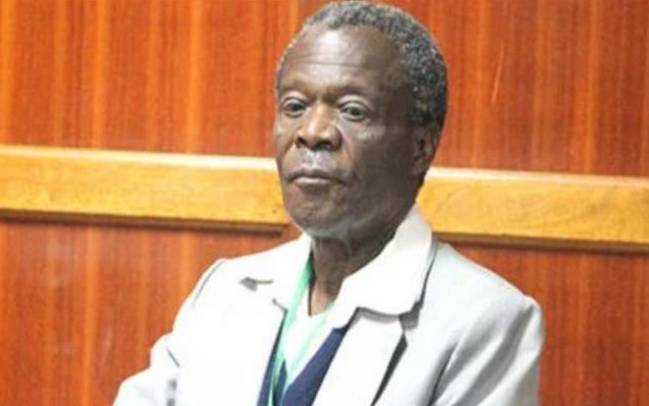 Were it not for the resilience and courage of Adrian Gilbert Muteshi, his 100-acre farm in Eldoret would have gone with the wind.
But the man who died Tuesday morning at the age of 86 would not allow his hard-earned property to be grabbed in the aftermath of the worst post-election violence that the country had witnessed.
Muteshi defied all odds and took on Deputy President William Ruto in a legal battle that lasted for three years.
He emerged victorious when the court-ordered Ruto to return the land and pay him Sh5 million as compensation.
"It is with a deep sense of gratitude to say farewell to our beloved Adrian who passed away on October 27 in Nairobi," read an obituary announcing his death.
No cause of death was given.
In his court papers, Muteshi argued that he acquired the land in Uasin Gishu County from a white settler in 1968 and was issued with the title in 1989.
He tilled the vast farm that was his home for 39 years until a fateful day in 2007 when the results of a disputed presidential election sparked widespread violence across the country.
Escape clashes
Muteshi joined thousands of residents in escaping from unprecedented clashes that rocked Eldoret and its environs.
After a peace deal was brokered between former President Mwai Kibaki and former Prime Minister Raila Odinga, Muteshi returned to his farm only to find that Ruto, who was the Eldoret North MP, had taken over his property.
Muteshi would later narrate the painful experience of being displaced twice from a place he had called home for four decades. First, by violent mobs and, second, by a politician who claimed to be an innocent buyer.
Aggrieved, he sued Ruto in 2010 for trespassing and taking over his land without his consent.
But in his defence, Ruto denied grabbing the land and instead said he had bought it from one Dorothy Jemutai Yator. He also offered to surrender it to Muteshi.
But Muteshi was determined to get justice for the suffering he had been subjected to, and was adamant that the DP must take full responsibility and compensate him.
At the end of the trial, he became one of a handful of people who have won a court battle against the DP when the High Court ordered him to vacate the farm in 2013.
Farm activities
Lady Justice Rose Ougo further ordered Ruto to compensate Muteshi for depriving him access to the land, and the benefits he would have accrued from his farming activities.
According to the judge, Ruto was a trespasser and was farming the land without the consent of its owner.
Ruto appealed against the decision but withdrew the case in 2017 thus marking the end of the protracted court battle.
Muteshi was born in Malinya village in Ikolomani, Kakamega County to the late Charles and Teresia Ayisi. He leaves behind a widow, Maria and six children.
Additional reporting by Titus Too