My last call with lawyer who always had time for journalists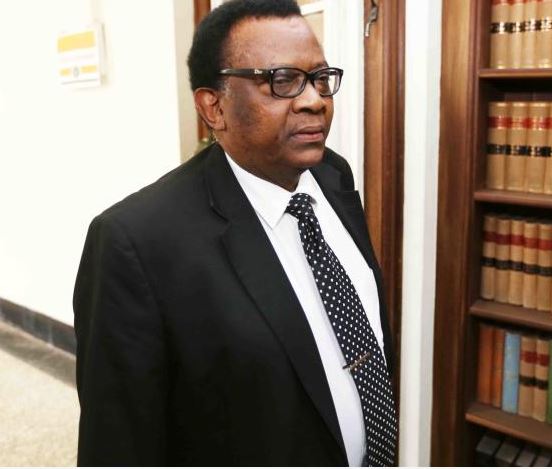 When I picked my phone to call former Chair of the Committee of Experts, Nzamba Kitonga on Saturday afternoon, I did not know that in a few hours he would be dead.
Together with colleagues Roselyne Obala and Jacob Ng'etich, we had been assigned a story on the ongoing Building Bridges Initiative (BBI) report debate.
And when the news editor said the story had to include the voice of a legal expert, Nzamba Kitonga (pictured) came to mind.
It was the norm. Every time we intended to publish a story on the constitution or the 'Bomas draft', the news editors would say "Get a word from Nzamba or Bobby Mkangi." After submitting the story, they would ask: "Uliweka quote ya Nzamba (did you include Nzamba's quote)?"
So this day was no different. The man was always ready to give insights and no one doubted his legal wisdom. After all, he was involved in the constitution-making process and thus was familiar with the fine print. For example, when there was disagreement in the newsroom on what the 99 year land leases in the 2010 Constitution meant, someone said: "Call Nzamba."
When he clarified, it was the following day's headline.
On the day he died, it fell on me to call him. It was at 1.40pm. I remember that exact time because I almost disconnected the call.
"This is not the right time to call him. He could be in the middle of a meal," I reasoned. But before I could disconnect, he picked.
He spoke of how some of the provisions in the BBI proposals were in the harmonised constitutional draft that never saw the light of day.
"All these proposals were in the harmonised draft. It makes the seat of MP more attractive, as someone not sure if they will win the presidency can run for MP post. It will also promote alliance-making in the run-up to 2022 elections," Nzamba said.
It was a short conversation. He did not sound like he wanted to speak much. I tried to prompt him to say more, but he sounded subdued. I thanked him and hung up.
That was uncharacteristic of him. I assumed he was in the middle of something. In the past he would go on and on.
I quoted him and submitted the story. I left for home, only to receive a call later and was informed that Nzamba had died.
Later, I learnt that editors had struggled with a decision on whether to remove the quote after news of his death broke. In the end the quote remained.
Incidentally, on the day he died, Nzamba was a most sought after man at The Standard.
Just an hour before I called him, another colleague, Brian Otieno, had sought his expertise, this time about the return of the Executive to Parliament, as proposed in the BBI report.
"He explained what having MPs as cabinet ministers meant and the role of the leader of Official Opposition," Mr Otieno recalls.
"If you called him and he was driving, he would say let's talk after 10 minutes. He would not call back after 10 minutes, so you had to call back," recalls Obala.
"Even when he was chair of Committee of Experts, you would find him walking in the streets without bodyguards," said another colleague.
Nzamba was a reliable source for politics reporters. Together with Bobby Mkangi, who was part of the Committee of Experts, they made our work easy as we sought knowledgeable voices to give our stories credibility. Go well Nzamba Gitonga.