Bungoma residents challenged to plant trees on private farms
COUNTIES
By Agency | October 18th 2020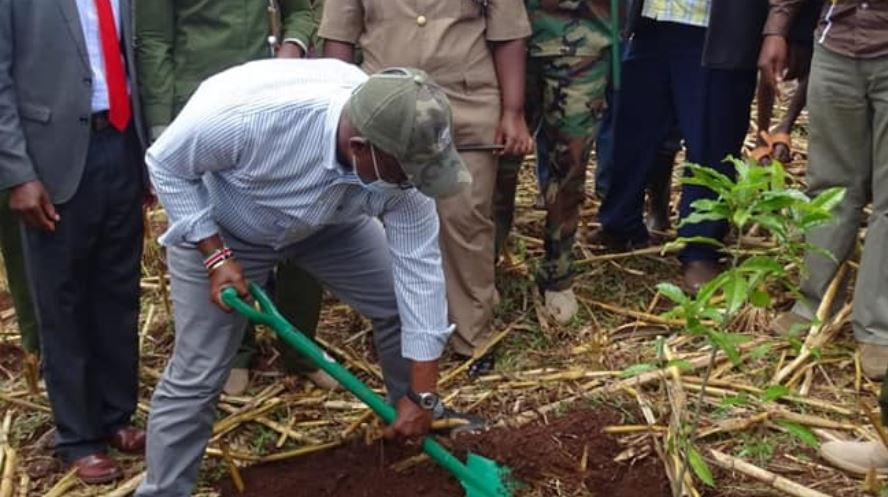 BUNGOMA, KENYA: The Kenya Forest Service is calling on Bungoma residents to embrace trees growing on private farms for their benefit.
Speaking last week where 11,000 indigenous trees were planted at Kaberwa forest, KFS also called on locals to ensure that the planted trees are well conserved to achieve 100 per cent survival rate.
A recent Kenya Forestry Research Institute (KEFRI) report says the country should plant at least 2 billion tree seedlings to reach the expected 10 percent forest cover by 2022.
Currently, the forest cover stands at 7.2 percent as stated by the Ministry of Environment and Forestry.
Currently, Bungoma County has a 14 per cent forest cover and commits to planting more trees to raise the National tree cover.
KFS Board Chairman Peter Kinyua thanked the County Government of Bungoma who pledged to support the construction of boreholes to help in nurturing the tree seedlings in the region.
The Bungoma County Executive Committee Member for Environment Arap Market appreciated the KFS Board Chairman for taking the initiative to come to Bungoma County to plant trees and applauded the partnership between national government through KFS and County Government in conservation efforts.
The call comes at a time when the Ministry of Environment and Forestry has firmed up the national tree planting and growing campaign through which it is seeking public support towards re-afforestation programs.
Through support from the United Nations Development Programme (UNDP), the Ministry has also strengthened policy and regulatory frameworks to ensure alignment with and responsiveness to emerging issues and needs at both national and sub-national levels.
"The surest way to combat climate change is through reforestation. The link between forests and climate change adaptation and mitigation has repeatedly been underlined in the United Nations (UN) climate talks. Kenya has recognized that combating climate change without slowing deforestation is a lost cause. At UNDP, we will continue investing in national efforts led by the government to ensure that the country remains on a sustainable development path by investing in initiatives that address the nexus between environmental, social, and economic considerations as we help the country build back better from Covid-19," UNDP Resident Representative in Kenya, Walid Badawi said in a recent interview.