LVSWWDA donates water tanks to bolster Covid-19 fight in Homa Bay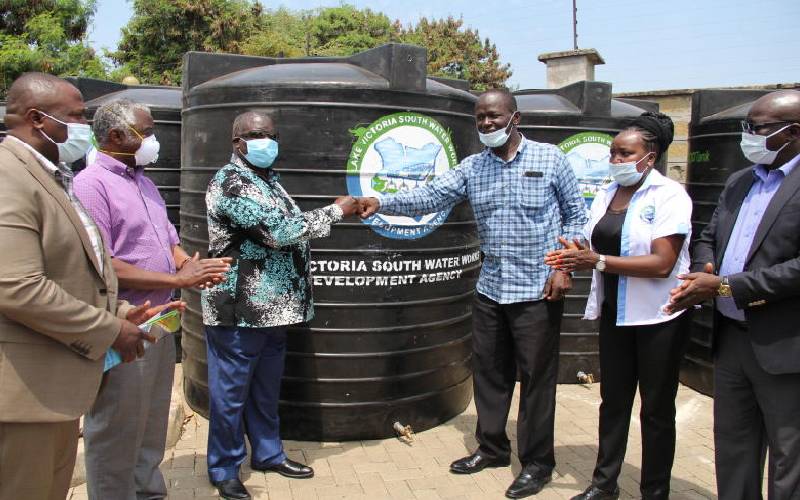 The Lake Victoria South Water Works Development Agency (LVSWWDA) has donated water tanks with a total capacity of 100, 000 litres to help fight Covid-19 infections in Homa Bay County.
While handing over the more than 20 tanks to Homa Bay Governor Cyprian Awiti, LVSWWDA chairman Dan Omino said they donated the tanks to improve the accessibility of water by county residents during the pandemic.
"Water is a key requirement in the prevention of Covid-19. We have donated these tanks to enable residents to fight the disease more effectively," Omino said.
Omino said the agency will bring more tanks to bolster the fight against diseases in Homa Bay County.
He said the tanks with a capacity of 5,000 litres each will be distributed to various parts of the county for water supply.
Omino said his organisation is currently undertaking a number of water projects in the county to ensure residents get clean water.
"We have the capacity of increasing production of water from the current 54 to 100 per cent in Homa Bay County. We have a number of water projects going in this county others are on the way," said Omino.
Governor Awiti who was accompanied by his deputy Hamilton Orata and Finance CECM Nicholas Koriko said his administration has plans of partnering with various development partners to improve services in the county.
"What LVSWWDA has done to us implies that they care for the health of Homa Bay residents. My administration will continue to partner with them," said Awiti.
The county bosses appealed to the LVSWWDA to help them supply clean water to residents of rural sub-counties such as Ndhiwa, Suba, Rangwe and Rachuonyo East.
Water distribution project
Awiti suggested that the water can be pumped from Lake Victoria to residents through the gravitational force to make it more efficient for residents to get water.
"I am appealing to the authority to distribute water from Lake Victoria to the residents. The project can be done by pumping water to a hill before it flows to beneficiaries through gravitational force," said Awiti.
Orata said the plan will cushion residents from the adverse impact of climate change.
"There is a serious water problem especially in Ndhiwa where residents are currently relying on boreholes which are prone to drying up due to the adverse impact of climate change. The agency can help us a lot if it intervenes with a giant water project in Ndhiwa and the other constituencies affected by serious water shortage," Orata said.