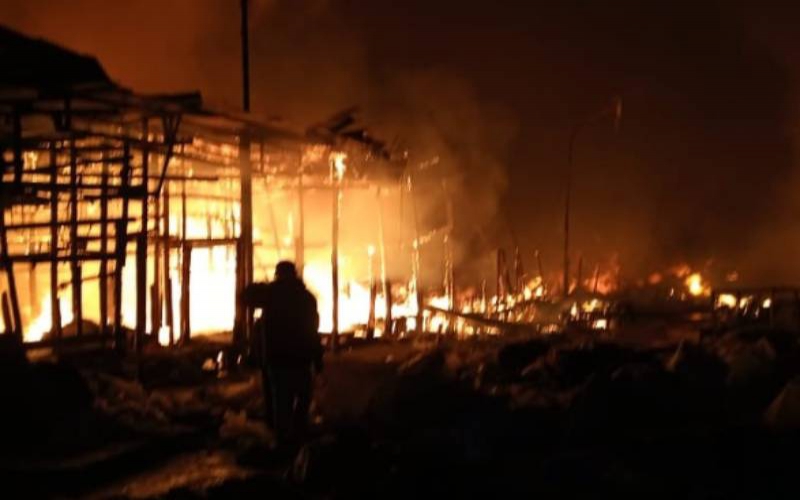 Like a dark spirit of death, the infernos at Gikomba market have stubbornly blotted every year's calendar with pain, anguish and losses worth millions of shillings as fires ravage business structures in the largest mitumba market in Kenya.

For the second time this year, the second-hand open-air market has been struck by its most common plague leaving traders with little to do but watch their source of livelihood turn to ash. The fire which started at 2am, scorched the poultry section eating its way to the cereal section and by morning it had engulfed part of the clothing section.

Even though the fire brigade with assistance from KDF tried to wage a fight, traders have expressed disappointment that their help came too late.

"The military who came with fire extinguishers came too late. They came two hours late when thing had been burnt and they couldn't help," cries Chrispin Onyango, a trader at Gikomba.

There is a pattern

In the past decade, Gikomba has burnt every year except 2011, 2013 and 2016. The market has burnt at least 10 times from 2010 with three of the incidents taking place in June of 2015, 2018 and 2020. Two other incidents took place in February; one in 2019 and another in 2020. Three other incidents took place in June including today's inferno with the one in 2018 causing 15 deaths. Two other cases happened in October; one in 2014 and 2017. Interestingly, almost all the fires start in the wee hours of the night.

Other incidents took place in September 2010, March 2012 and May 2014.

Even though President Uhuru Kenyatta issued a directive to investigate the cause of the fires in 2017, those mandated with the task together with the proceeds of their investigation (if it was ever done) have gone dark.

Such have been the stories of fire and the market as many conspiracies surrounding who or what causes the fires and why help never reaches on time despite the crisis happening almost every year. Traders and residents of the area have for a long linked the fires to arson attacks instead of accidents.

Gikomba market fires were reported as early as in the 1980s and have always been surrounded by speculations of business rivalry and land dispute given the market's strategic position in the country's capital city, Nairobi.

Over the years, firefighters have also complained about congestion, lack of space for fire trucks and sometimes lack of water in the area but traders have blamed them for inefficiency in responding to emergencies.

With little lessons learned by the authorities on how to mitigate the fire crisis in the market, traders are left to bear the brunt of the uninvited ghost dressed in flames who visits every year carrying doom and pain.