Wrong thermometer gun readings: The user could be the problem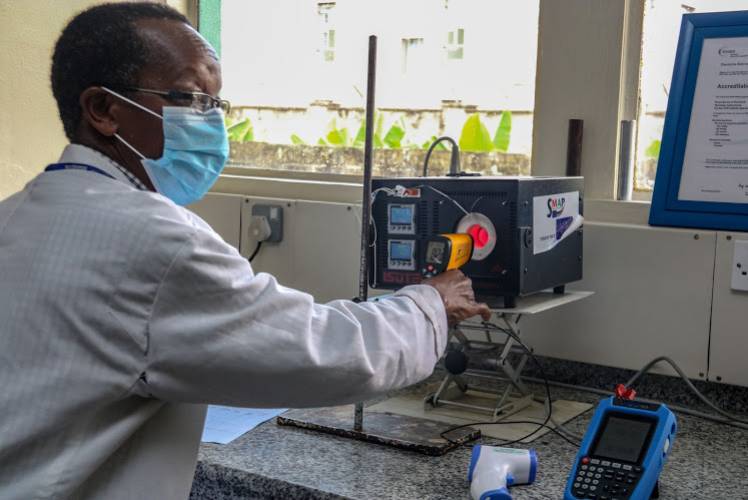 Since the first Coronavirus case was reported in the country, thermometer guns have remained essential instruments use to detect one of the symptoms of Covid-19. Body temperature.
It is now a new normal to be stopped at the entrance of any building, sanitize, and get your temperature checked before access is granted.
From malls to offices to restaurants and hotels, Kenyans are monitoring their body temperatures. It is a mandatory requirement.
The results from those gadgets, have been used to bar people from accessing their works places, supermarkets, and even appointments. Some have been put into forced quarantine for further monitoring.
however, there have been cases of discrepancies in results from these crucial devices that have caused serious repercussions.
"Any staff member or reveller with a temperature above 37.5 degrees shall not be allowed entry into the premises, and the premises shall immediately notify the Ministry of Health," said CS Kagwe, while explaining the directives for reopening eateries in the country.
These are among the key guidelines outlined by the ministry of health on combating Covid-19 in the country.
While high body temperature is one of the key symptoms of Covid-19, some of the appliances used to determine that, are either faulty, inaccurate, or unreliable.
"Most of those gadgets do not work…I have been tested before by two gun thermometers at one point but I got two different results, "says John Angatia, a resident in Nairobi.
"I think some of those gadgets are needed to be re-checked," adds David Kariuki, a businessman in the City.
But according to the Kenya Bureau of Standards, KEBS, the differences emanate from two basic reasons. Lack of calibration and poor understanding from the user.
"We have realized that many people operating the thermometers do not have adequate training on the ways to handle the equipment. There are modes that one needs to set before appropriate use. Additionally, some of those gadgets are not well calibrated and have not been approved by KEBS," explains Dr. Henry Rotich, Director Metrology at KEBS.
Metrology is the scientific study of measurement. This should not be confused with meteorology which the study of atmosphere and issues to do with climate.
These factors have been attributed to the faulty "gunshots" experienced in day-to-day testing in the country.
Some of the things to check out in order to differentiate between a standardized thermometer and one which has not been cleared for use, is to look out for a KEBS sticker on the side of the thermometer.
A user is also supposed to check for a clearance certificate of use from KEBS. One can also call the bureau's help desk for clarification.
According to Dr. Rotich, Kenyans need to first take their equipment for standardization before use. This will help increase the confidence in the testing equipment.
"Do not just buy and use a thermometer. Bring it to us for calibration. This is because we are the custodians of measurements in the country and sure of accuracy. We have are also pleased that many have heeded to that call and we encourage more to do so. It is always good to get it right," expounds Dr. Rotich.
KEBS now plans to take a cue from other budding innovators who have seen an oasis in the Covid-19 desert. Many inventions such as ventilators and other mobile applications have been invented to ease the burden of the pandemic that is transforming to an endemic
"We have plans in the pipeline to invent a mobile phone Application to measure temperature. This will help people check their levels of temperature comfortably and safely. To that end, we have put up incentives and grants for aspiring inventors to check out for in our website," says Dr Rotich
.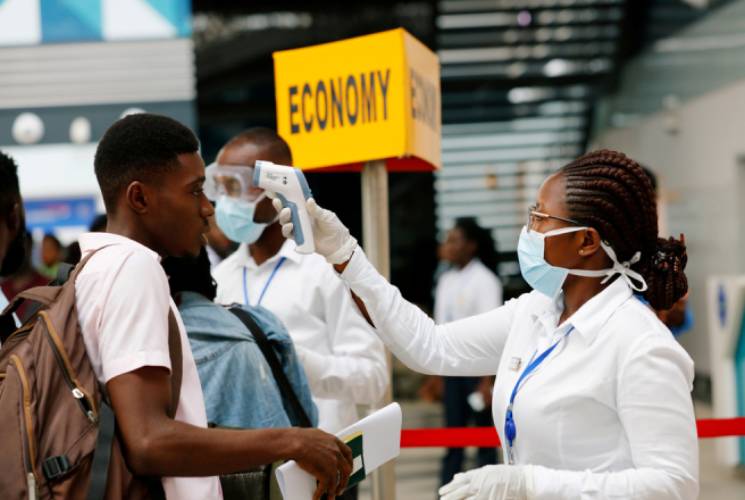 While high fever is associated with Coronavirus, the metrologist explains that it is not necessarily a reason for concern. This is because a high fever could also be associated with some other illnesses.
Alfred Obengo, who is the President of the National Nurses Association of Kenya alludes to that statement.
"High temperature is just one of the signs of Coronavirus. But it does not necessarily mean one is infected with the virus due to high temperature. It could be that a person is suffering from malaria, fever, or something else. Still, once one's temperature is high, it is advisable to seek medical assistance for help," says Obengo.
This comes as the recent statistics of the Covid-19 in the country revealed that seven out of ten people in the current statistics do not show any signs for the coronavirus disease. Thus, obscuring the main signs of the deadly virus.
37°C-38°C has been put by doctors as the acceptable normal human body temperature range. The temperature has been in existence for centuries in the medical industry.
Body temperature has extensively been used as a key indicator of health. Apart from being the standard quantity, human body temperature is enormously variable and can vary depending on a number of factors.
They include age, sex, time of the day, and the environment and whether one's body was active or not when temperatures were taken, among others.
While children have a high metabolism, meaning their bodies are most active, they tend to have high body temperatures. On the opposite side, the elderly, above 65 years old, have the opposite results.
Alfred Obengo says the use of thermometers in the fight against Covid-19 is crucial. Thus the gadgets, which are the first tools in hand, in combating the deadly virus, have to be accurate and reliable.