Floods kill five as landslides render hundreds homeless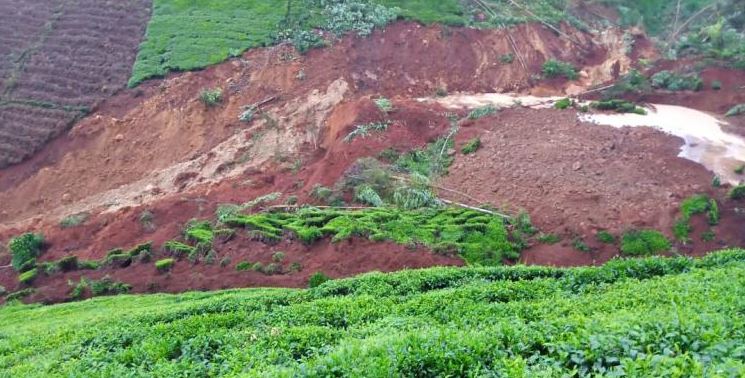 Five people were killed and property and crops destroyed by floods in Embu County.
In Murang'a County, hundreds of people have been left homeless due to mudslide.
At Iriari area of Manyatta Constituency, Embu County, several households have been rendered homeless after their houses were flooded by the ongoing heavy rains.
Farmers in the area are counting losses after their crops were swept away by rain waters.
Embu County Commissioner Abdulahi Galgallo confirmed the five deaths and appealed to drivers and boda boda riders to avoid crossing swollen seasonal rivers.
He said the Government was committed to mitigating the effects of the heavy rains pounding the area.
Njagi Kanake, a peasant farmer from Iriari village which is on the edge of Mt Kenya Forest, was cut off from his wooden house after it was submerged in flood water.
He lost three acres of maize crop and cabbages that were nearing maturity.
The father of five has sent his children to live with relatives to shield them from contracting water borne diseases. Embu Agriculture Executive Dr Jamleck Muturi said he was aware several farmers had lost their crops and were in need of relief food.
In Murang'a, homes of 30 households were destroyed by landslide. In the neighbouring Kagari village, an acre of tea bushes belonging to James Kamau Mbugua were swept away by floods.
Two houses were left hanging dangerously, with occupants evacuated at night to a safer place. Gatanga Deputy County Commissioner David Rotich asked those in areas listed as risky to relocate to safer grounds.
"We have relocated eight families to safer grounds. Chiefs and members of the sub-county disaster response committee are assessing the situation," said Mr Rotich.
At the same time, Kenya Rural Roads Authority manager in charge of Murang'a County said all the roads closed due to landslides had been reopened. Joseph Wanjohi said crews worked overnight in Gatanga and Mathioya to clear the debris and boulders from the roads in upper parts of Murang'a.
Meanwhile, hundreds of flood victims in Garissa County yesterday decried the State's slow pace in responding to their plight amidst fears of coronavirus.
With about four households living in one classroom, they said social distancing and other measures put in place by Health ministry to curb the spread of the virus were difficult to observe.
They also fear a possible outbreak of cholera as their latrines have collapsed.
(Reports by Joseph Muchiri, Boniface Gikandi and Abdimalik Hajir)