Six killed as heavy rains wreak havoc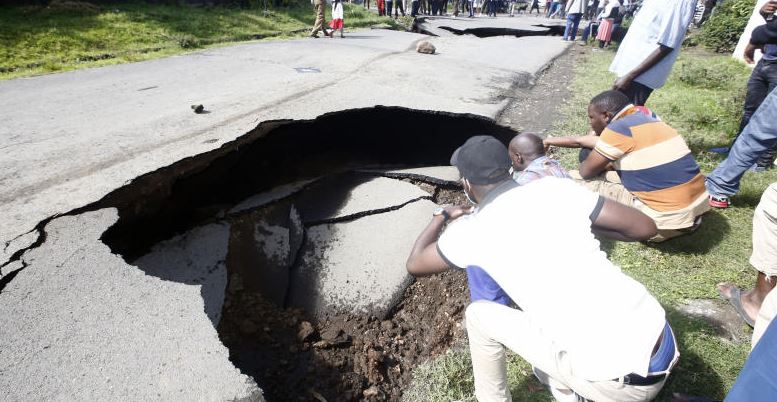 Five people drowned yesterday in Turkana as torrential rains pounded the county.
Three construction workers attached to a Chinese company drowned while driving across a bridge on the Lokichogio-South Sudan border at dawn. Their bodies were found metres away from the bridge.
The two were part of a team of nine construction workers travelling in a vehicle when they were swept away as they crossed Lomenyenkirionok River along the Kakuma-South Sudan border road in Turkana West.
The body of the driver was still missing by yesterday afternoon and County Police Commander Samuel Ndanyi led operations to retrieve his body.
Yesterday afternoon, bodies of two people swept away while crossing River Kawalase in Lodwar on Saturday were also recovered.
Turkana Central Sub-county police commander David Mborokwa cautioned motorists driving in and out of Lodwar to be cautious while crossing the swollen River Kalawase.
Elsewhere, there was a traffic snarl-up on the Mumias-Bungoma road after River Nzoia bridge at Shibale developed cracks on Saturday night.
As a result, motorists were forced to use one lane as the police moved in to control traffic.
Submerged villages
The Kenya National Highways Authority (KeNHA) asked motorists using the road to be careful as they await repair works. The bridge was built in 1972.
Two thousand people in Kakamega County are living in schools after they were evacuated when two major rivers burst their banks.
Residents living close to rivers Nzoia and Lusumu were displaced from their homes after over 100 houses were submerged.
Yesterday, Governor Wycliffe Oparanya accompanied by the county disaster management team visited the schools where the displaced are living in Mumias West and distributed mattresses, blankets and cash to the flood victims.
In Budalang'i, residents are opposed to the national government's directive to move to higher grounds.
The locals fear they risk losing their property to land grabbers should they move out of their homes because of the raging floods.
They were speaking a day after County Commissioner Joseph Kanyiri led the evacuation exercise for the people living in high-risk places.
By Friday, over 2,000 people had already been moved from their homes to local schools.
In the Nyanza counties of Siaya, Kisumu, Homa Bay and Migori, up to 20,000 families have been rendered hungry and homeless by the floods.
Raging flood waters have submerged entire villages, sending residents fleeing with their sick relatives and animals into already crowded schools and churches.
The national and county governments were yesterday using canoes to evacuate hapless villagers.
Kenya Red Cross Society Secretary General Asha Mohammed toured the effected areas on Thursday and said the situation is "worrying."
Flood waters from swollen rivers Yala, Nzoia, Nyando and Awach have turned villagers into lakes, killing hundreds of livestock and uprooting acres of crop in Nyadorera, Alego, Bondo, Kolwa, Nyando, Sango Rota, Kobala and Nyatike.
The Kisumu County government yesterday sent rescue teams to the affected areas in Nyando and Nyakach, with Governor Anyang' Nyong'o directing the country's disaster department to distribute food, blankets and medicine to the affected.
In Homa Bay, more than 640 families in Rachuonyo North sub-County have been displaced by floods after River Miriu broke its banks.
The families hail from Osodo, Kowuor Agindo, Konyango, Komenya and Kasirawa villages in Wang'chieng' location and a number of villages in Kobuya location.
In Nyeri, one person died and at least 50 families were displaced from their homes, following floods and mudslides.
In Nyeri town, Residents of Chania, Witemere, Kangemi, Skuta, Ruringu, Kiamwathi and MoW estates woke up to find their homes flooded.
And in Baringo, the ongoing heavy rains have continued to dim the search and rescue of one of the missing seven Anti-Stock Theft Unit officers who were swept away by floods at River Kagir on Thursday.
(By Bakari Ang'ela, Brian Kisanji, James Omoro, Isiah Gwengi, Lydia Nyawira, Ignatius Odanga and Caroline Chebet)