KFS, GBM lead nation in marking the Earth Day
Kenya on Wednesday joined rest of the world in marking this year's Earth Day celebrations at Wangari Maathai Corner in Karura Forest.
The observance of the day was created to increase public awareness of environmental issues.
By 1990, Earth Day had gone global, mobilising millions of people in more than 140 countries to take up environmental issues and turn them into a worldwide movement.
The Chief Conservator of Forests (CCF) Mr Julius Kamau, together with the Wangari Maathai founded Green Belt Movement Kenya, joined the rest of the world in marking the day whose theme was climate action.
A total of 50 assorted indigenous commemorative tree seedlings were planted to mark the 50th anniversary since Earth day was first celebrated in 1970. This activity was conducted with strict adherence to guidelines outlined by the National Emergency Response Committee on the COVID-19 pandemic.
In his remarks, the CCF encouraged Kenyans across the country to undertake tree planting on their farms and gardens during this rainy season in support of mitigating the adverse effects of climate change such as floods and landslides being witnessed in the country and across the world.
"It is crucial for Kenyans to rally together to heal planet earth by planting trees so that it can heal us in return," noted the CCF.
To demonstrate this, Mr Kamau planted Warbugia ugandenis commonly known as "Muthiga"; a tree species known for its medicinal value.
"By planting this medicinal tree, nature will heal, and in the same breath, it's my prayer that the same healing spirit will heal Kenya and indeed the entire world from the current Corona pandemic," added the CCF.
Present during the exercise was the GBM-Kenya Board Chair Ms Marion Kamau and Karura Forest Station Manager Mr P Musembi, among others.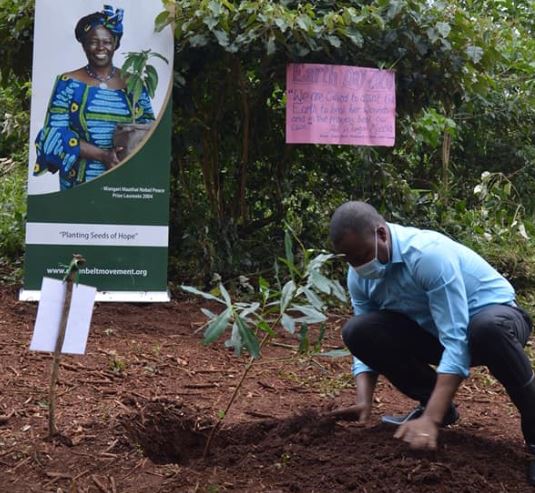 Following the coronavirus pandemic, Thomson Reuters Foundation reported that green activists marked the day online globally urging environmental action through apps, webinars and digital campaigns.
Environmentalists pushed ahead with celebrations this year with low-carbon digital tools.
One, Earth Challenge 2020, is a mobile phone app that allows users to take photos and upload them to provide local data on key environmental issues, from air quality to plastic pollution.
Its backers - the Earth Day Network, organiser of the original Earth Day, as well as the U.S. Department of State and Washington-based think tank the Wilson Center - say the information can help create up-to-date assessments on the state of the environment around the world.
Creators of the app hope in coming months it can be expanded to help contributors report on insect populations and verify satellite data on what crops are being grown around the world, to better fight hunger.