FAO: Coronavirus disrupts East Africa's fight on locusts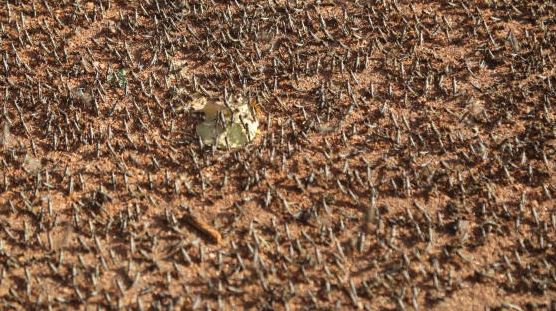 Coronavirus-linked flight restrictions are hampering efforts to wipe out locust swarms on the verge of devastating crops in East Africa.
In a statement, the United Nations Food and Agriculture Organisation (FAO) said the desert locust upsurge continues to remain alarming, particularly in Ethiopia, Kenya and Somalia, where it poses an unprecedented threat to food security and livelihoods.
Cyril Ferrand, FAO's head of resilience for Eastern Africa, said the controls have delayed deliveries of pesticides and, at the current rate of spraying, stocks in Kenya will soon run out if they haven't already.
In the six East African countries worst affected or at risk of locusts - Ethiopia, Kenya, Somalia, South Sudan, Uganda and Tanzania - around 20 million people are already experiencing acute food insecurity, and a further 15 million in Yemen, which is also being affected by the pest.
"The biggest challenge we are facing at the moment is the supply of pesticides and we have delays because global air freight has been reduced significantly," Ferrand said.
"Our absolute priority is to prevent a breakdown in pesticide stocks in each country. That would be dramatic for rural populations whose livelihoods and food security depend on the success of our control campaign," he said.
As Covid-19 restricts the movement of personnel in the field, FAO said it is intensifying remote data collection and the network of partners, civil society, extension workers and grassroots organisations is critical for providing information from remote locations especially in Ethiopia, Kenya, Somalia and South Sudan.
FAO encouraged all countries to use eLocust3, a rugged handheld tablet and app, which records and transmits data in real time via satellite to national locust centres and to the Desert Locust Information Service based at FAO headquarters in Rome.
"We need to rely on a network of partners in the field in order to collect vital information because we cannot go everywhere due to Covid-19," Ferrand said.