Murang'a leaders left with huge shoes to fill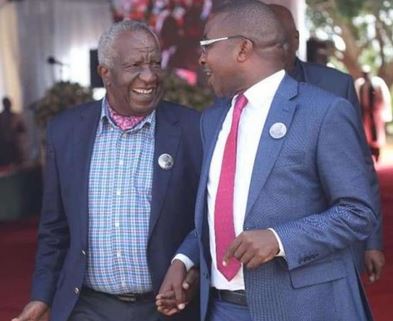 Murang'a County is struggling to fill the shoes of its eminent sons who dominated politics in past years.
After the exit of multi-party heroes Kenneth Matiba and Charles Rubia, as well as the tough-talking John Michuki, the region's leaders are yet to find a way to step out of the long shadows cast by these political giants.
At Rubia's funeral service on Monday, speakers decried the leadership 'vacuum' and urged the current leadership to step up their game.
Rubia was the first African mayor of Nairobi and served as a Cabinet minister in the Moi government.
Matiba, who is remembered for agitating for an expanded democratic space, was certain he was robbed of the presidency in 1992.
Michuki, who died in 2012, was a long-serving civil servant and later an astute politician and businessman.
All three men never shied away from speaking their minds, and for Matiba and Rubia it would come at an enormous cost to their wealth and health.
Murang'a, interestingly, is yet to produce a president. Some of its current leading lights include Peter Kenneth, Governor Mwangi wa Iria and Senator Irungu Kang'ata.
Kenneth is a former Gatanga MP who has close connections with grassroots leaders in the county. He contested for the presidency in 2013 and also served in Parliament for two terms.
He was assistant minister for Co-operatives and later joined the Planning docket in Mwai Kibaki's government.
Exemplary record
The former Kenya Football Federation chairman is credited with an exemplary record during his tenure as Gatanga MP, where he also served as patron of the Constituency Development Fund.
Kenneth is a close ally of President Uhuru Kenyatta but the president's allies said he had been "slow to utilise the helping hand that has been extended to him".
"He has good prospects of making it in mainstream politics," said a source with knowledge of the inner workings of Uhuru's government.
Mr Iria, who is serving his second term, wields great influence on the ground that is attributed to his effective grassroots mobilisation skills.
He floored former Kigumo MP Jamleck Kamau in the Jubilee nominations and defeated Moses Mwangi during the main poll.
Under his administration, Iria has established the Murang'a County Cooperative Creameries that processes between 30,000 and 50,000 litres of milk daily.
And after several false starts, the processor is now packaging products for shop shelves.
Iria also formed the Murang'a County Women Sacco with a membership of more than 28,000 members.
It is not clear what his next political stop will be after he completes his second term.
Mr Kang'ata, who entered politics at the age of 20 as a councillor in the defunct Municipal Council of Murang'a, has risen through the ranks and is also among those intent on inheriting the big shoes left by the fallen giants.
Grassroots mobiliser
The senator, who is a prominent lawyer, was elected as a councillor after being suspended from the University of Nairobi.
Kang'ata is also a grassroots mobiliser and he has been organising free medical camps in the sub-counties that reach hundreds of residents.
A good orator, Kang'ata is believed to be preparing to plunge into the 2022 gubernatorial race that is already crowded by top technocrats.
The senator is a close ally of Kiharu MP Ndindi Nyoro who is remembered for staking a claim for the top seat during Matiba's burial last year, though few took him seriously.
The MP has built a name as one of the foremost backers of Deputy President William Ruto's 2022 presidential bid.
Other contenders are MPs Alice Wahome (Kandara) and Woman Rep Sabina Chege, two of the most visible women in the county.
Succession debate
Muthoni Likimani, an educationist and member of the Council of Eminent Persons of Murang'a, kicked off the succession debate during Rubia's burial by decrying the county's loss.
"Murang'a is crying for vibrant leadership that would match the values and principles our departed lights stood for," said Ms Likimani.
She urged Iria to visit Nairobi and "see the late Rubia's vision for Kenyans", which she said should be emulated in the county.
During the burial, leaders also spoke of the recent demise of leading musicians Joseph Kamaru and John Ng'ang'a alias De'Mathew.
The singers were renowned for advising the Gikuyu community socially and politically.
Murang'a South ACK Bishop Julius Karanu described Rubia as a 'unique' person, saying that in his final days, he visited Karigu-ini ACK to inspect a building he had helped construct.
"He was on the site on Saturday before he was reported dead on Monday afternoon," said the bishop.
On Murang'a politics, Karanu said Iria was "packaged well and could assume the position of president".
"As the former chairman of Equity Bank Peter Munga said, our governor has the capacity to take up the presidency."
President Kenyatta challenged the county leadership to look for resources and emulate the defunct municipal council which loaned money to the national government in the 1980s.
"If the leaders can emulate the values and principles the late Rubia stood for, Kenya can be a great nation," Uhuru said.