Leaders warn of crisis as locusts raid region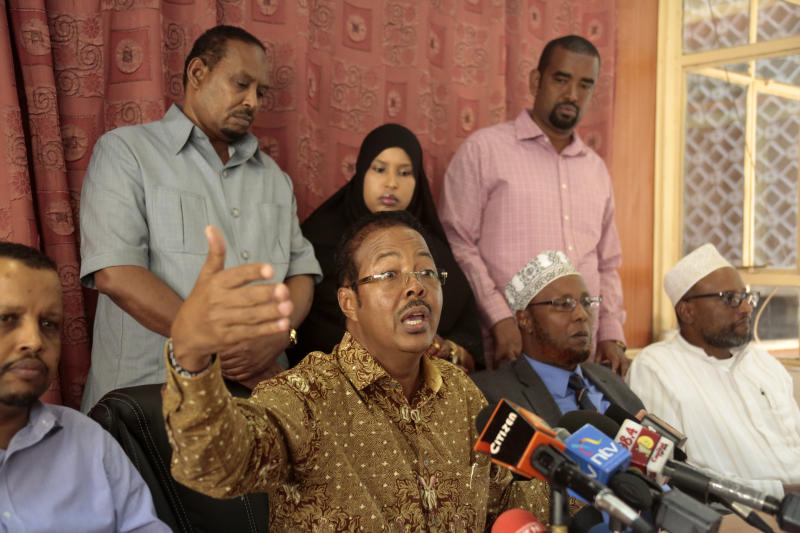 Legislators from northern Kenya have warned of an imminent food crisis in the region due to destruction of pasture and crops by locusts.
Swarms of desert locusts invaded Mandera and Wajir counties at the weekend, devouring crops and pasture.
Yesterday, nine MPs from the region convened a press conference at Parliament Buildings where they decried neglect by national and county governments.
Citing statistics by Food and Agriculture Organisation (FAO) indicating that that the insects were capable of consuming 1.8 million tonnes of vegetation each day, the MPs said their constituents were staring at a serious crisis.
On December 18, FAO in its update predicted an invasion of locusts beyond Ethiopia and Somalia into neighbouring countries, including Kenya.
"Some of these swarms are likely to move south towards northeast Kenya and adjacent areas of southern Somalia," FAO indicated.
The organisation indicated that one invasion was likely to generate a loss of about 170,000 tonnes of grain, an amount that can feed over one million people in a year.
It further said the insects reproduce fast to form large swarms and migrate over long distances, leaving a trail of destruction along the way.
If rainfall and ecological conditions become favourable, FAO indicated, the insects rapidly reproduce and increase 20-fold in three months.
"If infestations are not detected and controlled, devastating plagues can develop that often take several years and hundreds of millions of dollars to bring under control with severe consequences on food security and livelihood," FAO reported.
Cognisant of the imminent crisis, the northern Kenyan leaders led by Eldas MP Adan Keynan pleaded with President Uhuru Kenyatta to direct relevant ministries to start aerial spraying of the insects to avoid further destruction.
"We ask the government and other agencies, local and international, to facilitate aerial spraying using drones. That is the only way to deal with the deadly swarms," said Dr Keynan.
Keynan said lack of national disaster preparedness at both levels of governments had rendered the northern region vulnerable, noting the impending attack by locusts had been announced earlier when the insects invaded Djibouti, Ethiopia and Eritrea.
"There was a warning. Our neighbour Ethiopia heeded it and intervened with the help of the international community. Here, nothing was done and nothing is being done now and if it continues, we shall not be having any vegetation in a few days to come. We shall be forced to call for food donations," said Keynan.
"This is not political. If we do not deal with it, all the gains made after the experience of drought and floods will be in vain," added Wajir East MP Rashid Amin.
"If additional control measures fail, then the locusts could continue moving within Ethiopia and invade north-eastern Kenya, parts of Eritrea, and Sudan's southern coast," FAO reported in their website.
As destruction by the locusts continued in the northern region, calls were made on the locals to contain by consuming them, a move dismissed by legislators yesterday as impractical.
"How do you capture over 40 million flying insects? Let us work on the practical method of aerial spraying that we are recommending. The rate at which they are destroying crops and pasture is so fast and quick action is necessary," said Keynan.
The damage caused by locusts is an additional blow to the region that was recovering from losses caused by drought and recent floods.