Harsh economic times suck the fanfare out of Christmas season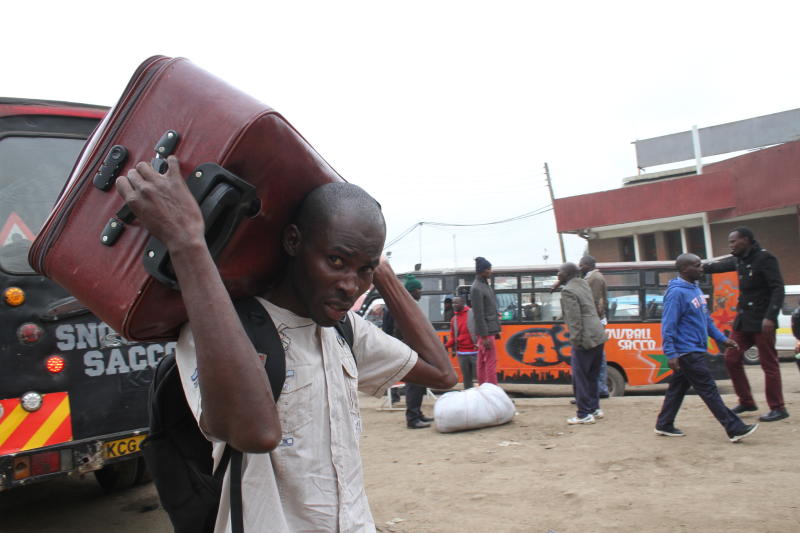 Not everyone has a slush fund to finance festivities, but this is not to say that even with little resources one cannot have their family enjoy in the merrymaking.
Necessity being the mother of invention, some have come up with their convenient financial management tricks to beat the inflation nightmare.
Not everyone is worrying about raising huge budgets to finance their celebrations either at home or in exotic camps locally or abroad.
"What is in Christmas? It is Jesus Christ being born as routine annual vigilance day. Who said I must be travelling and living large so as to identify with the day? About New Year, why should I be bothered that calendars for 2019 will be becoming obsolete…? My major worry is how to survive as a hustler. I only need Sh500 to sail me through the festive season here in Kiandutu, Kiambu County," says Fred Ogutu, a loader in Makongeni market.
He says the budget is enough to buy his two children 10 chapatis from the local baker at Sh100, buy two kilogrammes of 'secondhand' meat worth another Sh100 and his Christmas day is dealt with. Replicated for New Year celebrations, the budget rises to Sh400 and the Sh100 balance is enough to have him get some chang'aa distilled by his local mama pima.
For those not travelling, they do not have to worry that the Matatu Owners Association (MOA) has since announced a fare hike of between 150 and 300 per cent for upcountry commuters.
The association said the adjustments reflect the cost of operation arising from inflation, more so in the cost of fuel and spare parts.
Demand and supply
Announcing the move in Murang'a, MOA Vice Chairman Steve Murunga said the formula to come up with the guidelines was above board and realistic.
The fare for a trip to Murang'a from Nairobi immediately shot to Sh700 from Sh200 whereas travelling to Nanyuki from the city will now set you back Sh1,200 up from Sh400.
A spot check by The Standard in other Nairobi termini revealed a ticket to Kakamega has shot to Sh1,800 up from Sh600.
"It is not unusual and travellers were expecting it. All what we have done is to make sure that the adjustments are not oppressive and strictly adhere to the principle of demand and supply," he said.
Mr Murunga said the announcement was only a probability, and that should they record low demand for transport services, the fares will come down and vice versa.
He said transport needs on such high peak period are very difficult "since travellers seek transport towards one direction without any guarantee of a return journey".
Under such circumstances, he added, a vehicle will leave Nairobi or any other place to take travellers to their destinations but the return journey will be a major loss to the operator.
"To cover the costs of the return journey, it is only fair that we factor in that cost to the consumer," he said.
The hikes were also supported by the Matatu Drivers and Touts Association (MDTA).
MDTA Chairman Samson Wakaba said: "There was nothing unusual in the move since even other business enterprises have set for themselves higher revenue targets this festive season."
Avoiding holiday travel will save on runaway fares while the posho mill is another feature that keeps kitchens with low grade flour at fair prices.
Those who rely on the posho mill do not have to worry too much about the rising cost of a packet of flour because with Sh40, one can mill an average two kilogrammes of flour as opposed to Sh140 currently prevailing in retail shops.
For Mary Mwende, who checked into an iron-sheet single room rental house in Eastleigh Section IV immediately she landed her first job as an attendant in a city cyber café, she does not have elaborate plans for the holiday season.
Ms Mwende will not travel and she doesn't have a Christmas budget.
"My greatest celebration is good health and hope for a better tomorrow. God in His most timely manner is working on the magnitude of my blessings for my next level," she says.
Her monthly salary is Sh4,000 and rent sets her back Sh1,500. The house has no electricity and water is rationed.
Transport to and from her workstation is Sh1,040 for the 26 days she works in a month. Rent and fare amount to Sh2,540, leaving her with Sh1,460 for all other needs. And she is not complaining, she says she is doing fine.
She is sometimes forced to take an advance and this, coupled with the tips she gets, helps her get by. With that small adjustment, she can even afford to treat herself.
For others, when life gets harder and rent is not easily raised, they invite other friends into the house where rent expense is distributed equally.
For instance, if Mwende was to invite three more boarders into her room, her rent would go down to Sh375 from Sh1,500.
That would also come with a shared burden of shopping for household items and this will find the team now even cooking their meals in the house.
Further, more comrades in the house means there is an opportunity of borrowing amongst themselves, hence easing the burden further.