Snake bites instil fear among locals
COUNTIES
By Fred Kibor | Nov 22nd 2019 | 4 min read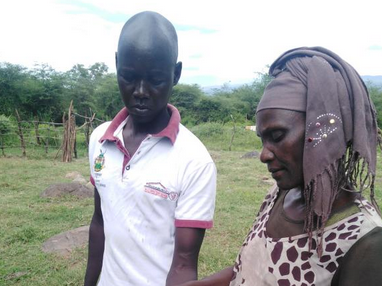 One evening in September 2019, Sharon Murgor was heading home from work when she felt an excruciating pain in her left leg.
Her head began to spin and her body felt numb. All that time, she was not aware a venomous snake had bitten her before it slithered into the bushes.
"I started screaming and when neighbours came, they found me writhing in pain. It is they who realised I had been bitten by a snake. They carried out some first aid on me using traditional medicine before I was rushed to Cheptebo dispensary," Ms Murgor said.
Murgor, who was speaking from her Rokocho home, added that at the dispensary, doctors quickly injected her with anti-venom. It helped her recover.
"The traditional medicine helped me. Some victims of snake bites have died before getting to hospital," said Murgor.
Unlike Murgor, Samuel Kanda, 65, succumbed to the deadly venom. He, too, had been bitten by a snake as he entered his homestead in Kapchebar last month.
The traditional medicine was not available. Joseph Chepkiyeng, Kanda's son, remembers clearly the day his father was bitten: "It was around 7 o'clock when we heard wails at the gate. When we responded, we found our father groaning in pain. He said he had been bitten by a snake."
Deadliest snakes
They hurried to Arror Mission Hospital but due to the poor road network, it took two hours to get there.
"Unfortunately he died as he was being taken to Kapsowar Mission Hospital where he had been referred to. Snakes are lurking everywhere in the Kerio Valley," Mr Chepkiyeng said.
The scenic Elgeyo escarpment belies the danger snakes pose to unsuspecting residents. Life has turned into a nightmare especially when the dry spell kicks in.
The searing heat forces the deadly reptiles to slither into people's homesteads in search of water. Kerio Valley harbours some of the deadliest snakes, which kill their victims within a very short time.
Snakes found in the area include black and green mamba, puff adder and several species of cobra, including the red and black-necked spitting cobras.
The black mamba is one of the most venomous snakes in the world. Pythons are also common in the area, although they rarely attack people. They mostly attack animals.
A traditional concoction called 'the black stone' has, however, proved helpful when snake bites occur.
Stephen Cheruiyot, a local Community Health Volunteer (CHV) said the black stone was a life saver for the locals.
"Initially, there was high fatality rate among residents due to snake bites. This is because there was no locally available anti-venom at the health facilities. The black stone is saving many lives," said Mr Cheruiyot.
He explained that the black stone slows the body metabolism and prevents the snake venom from circulating in the body.
"Several cuts are made on the body and the black stone is rubbed on them. It leads to the thickening of blood, which slows its circulation," said Cheruiyot.
He, however, cautioned that the application of the black stone should be left to CHVs who have the training on how to use it. If used poorly, it can lead to death.
"Since the concoction slows blood circulation, it should not be applied in huge amounts," he explained.
Cheruiyot said most of the ingredients used to create the black stone are sourced from the eastern parts of the country.
CHV training
Jane Kiptoo lost her father to a snake bite some time back. She has decided to train as a CHV to help others in similar circumstances.
"Years ago, people who were bitten by snakes would certainly die because the black stone was not easily accessible. My father's death made me enroll as a CHV. I have since saved many people," Ms Kiptoo said.
She further explained that all villages have CHVs and the people have their mobile phones. They walk around with the black stone to promptly help anyone in need.
Elgeyo Marakwet KWS warden John Ngalia said snake attacks account for more than 90 per cent of human-wildlife conflict cases in the region.
"We had over 30 cases of snake bites recorded last year. Four of these were fatal," said Mr Ngalia. To keep the reptiles away, Ngalia advised residents to place tins with water outside their homes at night to prevent the reptiles from entering their houses.