Monica's brother testifies how he discovered her body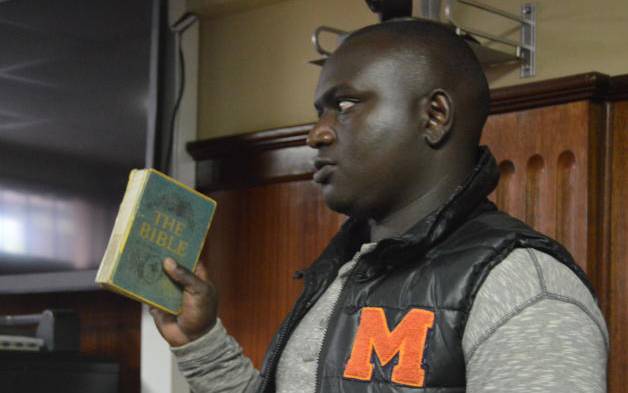 A brother of Monica Kimani yesterday fought back tears as he narrated how he discovered her lifeless body in a bathtub.
George Kimani (pictured) testified of the pain the family endured after losing Monica, who managed their business affairs.
"She was our firstborn and the driver behind the family business in South Sudan where she was the managing director of our company. She was my boss, a good friend and hardworking. It was painful losing her in that cruel manner," Mr Kimani told the court.
Kimani was testifying in the trial of Joseph Irungu alias Jowie and his girlfriend, Jacque Maribe, who are charged with the murder of Monica on September 19 last year at her Lamuria Gardens Apartment in Kilimani. He broke down when shown the gory pictures of his dead sister and State prosecutor Wangui Gichui had to console him, saying it was crucial to tell what he witnessed to help the court find justice for his sister.
Kimani told Justice James Wakiaga that his sister lived in the apartment with her Sudanese boyfriend, Yasin Mohamed, who was based in Dubai.
He said his last communication with Monica was on the night of September 19, a few hours after she arrived from South Sudan. Kimani told the court that she had promised they would talk the following day before she left for Dubai.
But when he failed to reach her on phone the next day, their mother told him to go check if she was fine. Kimani said he found her door locked but the television was on.
He got help from the landlord and caretaker and they managed to break the door. "We rushed to the bathroom and I saw my sister lying dead in the bathtub. She was dressed halfway, her hands and legs tied with white straps and blood oozing from her mouth and nose. Her neck was cut," he testified.
Grim news
Things moved fast, he said, as he called his father with the grim news while the landlord called the police.
Kimani told the court he still could not believe that the person he called for help was Jowie, who turned out to be the key suspect.
Kimani said he knew Jowie from back in 2012 when they were classmates at Kenya Polytechnic, and that he was very close to Monica.
"He asked me if I knew the killers. He said he had a security company which could help us find those who killed her. It hurt when I discovered later that he was the last person in my sister's house before we found her dead," he said.
The hearing was adjourned to November 26.