Mariga's star-studded team ruled midfield but could not hit the target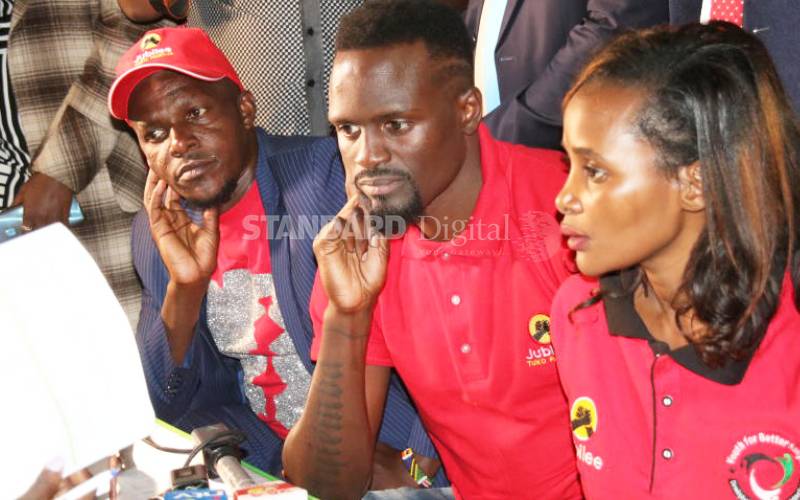 In his footballing career, McDonald Mariga, one of the country's best-known football exports, has found himself in precarious positions.
He has played out of position, he has warmed the bench in several teams, he has been relegated, he has played in nondescript divisions of Spanish football, he has even been without a team for months, as his peers and former teammates thrived.
But in all that, Mariga has, somehow, like an extremely skilled free-kick taker who finds the tiniest of spaces to thread the ball through in a 10-man wall, managed to land on his feet.
There is something in him that people continuously overlook. His naming as the Jubilee candidate in the Kibra by-election was met with jeers. There was nothing political about Mariga, known only for his football and more recently, for his endorsement of a betting company.
Somewhere under those heels that have played barefoot in the dirt fields of Muthurwa and worn the most expensive of football boots in the Italian city of Milan lies a steely determination that saw him wade through the murky waters of Kenyan politics and emerge unscathed, at least for now.
There were challenges though. His first public appearance after the infamous 'kuvalishwa kofia' moment was a disaster of sorts.
He could not string two sentences together, in any language. He fumbled, struggled his way through a brief appearance holding on to the mic too long, throwing looks at his handlers as if waiting for a signal to drop the mic and walk away.
There was no help. Unlike his footballing years, there was no agent to deflect questions from the press and issue well-choreographed tweets and Instagram posts to endear Mariga to the Kibra voters.
Mariga might have missed the chance to join Real Madrid's famous Galacticos in his playing years, but as the campaign wore on, he surrounded himself with his own version of superstars.
As a defender, the ever-energetic Boni Khalwale covered his midfield. On his flanks were Nickson Korir and ex-comedian John Kiarie. Minding his goal was heavyweight rapper Charles Njagua.
Some talent was also poached from rival teams. Dan Wanyama, with his steely hands, was surprisingly deployed as a striker and Aden Duale, the self-styled "majority leader", as a full back.
Jubilee had quite the talent. Like Arab and Chinese backed clubs in some of the world's best football leagues, they had a transfer budget to die for.
They outspent their nearest rivals Orange Democratic Movement (ODM) in the campaigns 3-1, and completely humiliated opponents with no budgets. Others, like Amani National Congress, resembling small communal clubs, had the hearts of the fans, but soon realised that hearts do not win championships.
Something else has to give.
After the signing of a superstar and an incredible transfer budget, the next question for Jubilee was to get a coach who could match the ambitions of the players hungry for success. And it did. William Ruto, the Jubilee Coach, ticked all the boxes.
New blood. New tactics. Enviable budget. A new, excitable star player. Ruto engineered Mariga's transfer from Betin, a team well past its glory years in light of the government clampdown on betting, to the more illustrious Jubilee Party.
His new team had pedigree. In addition, Jubilee had what every top athlete lives for: ambition to challenge for the top trophy of Kibra MP.
As they say nowadays, things are different on the ground. When the whistle sounded, Mariga realised that what he was presented with at signing was completely different from the realities on match day.
First, he was not a registered player in Kibra grounds. And so on the actual match day, and despite winning the initial battles, the player could not take a shot for himself.
He may have been a new face, but he was not necessarily a fan favourite. There were others ahead of him in the pecking order. Homegrown academy players were light years ahead of him in terms of popularity, and not even his sheng' could help him.
His rallying calls "we want" instead of "we will", the curse of expectancy politics did not help matters.
"Wakiturushia matusi, sisi tunawapiga na business. Wakitutupia mawe tunawapiga na miradi (If they insult us, we hit back with business ideas. If they hit us with stones we respond with projects)."
His club's big money, he realised, only attracted journeying fans who sang his team's name during one half of the matches and sang the opposing team's name during the second half.
Plus, the new coach had come with tactics that some senior players disagreed with. When Mariga was named captain, a couple of senior players walked out in protest and signed for rival teams. The former Harambee Stars number 17 did not give up and his team fought for the title to the very end.
Too bad though, that boardroom wars, player disquiet and a lack of clear direction and stewardship from his club's chairman all conspired to make winning almost impossible. Although Jubilee put up a gallant challenge, Mariga knows all too well that titles are won or lost on fine margins. In the course of the campaign, Jubilee dropped too many points.
In the few weeks that Mariga walked the alleys of Kibra, he seemed to have found his groove. What he said is what politicians say. What he did is what those who have walked the corridors of power do. By learning from the best, he promised the impossible to his would-be voters.
Were he to walk into Parliament, he would have blended right in with the rest of his peers.