Six arrested over Sh100m IFMIS software scam as 10 remain at large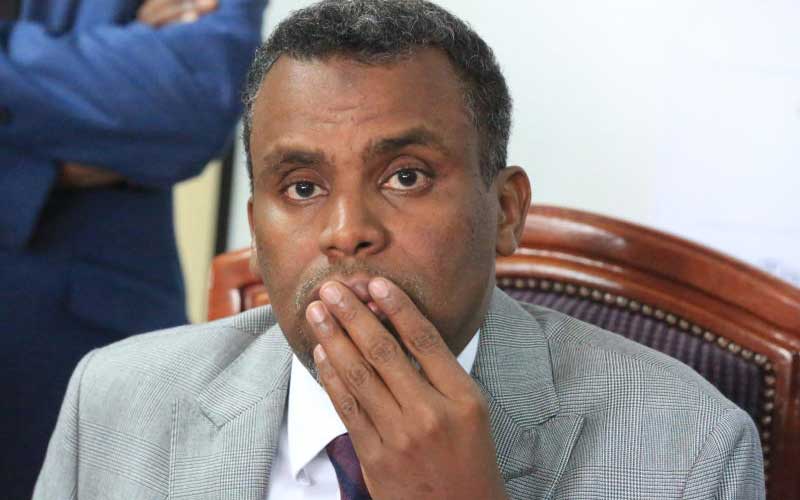 Six suspects were arrested yesterday over the more than Sh100 million audit vault scam at the Office of the Auditor General.
Those arrested by the Ethics and Anti-Corruption (EACC) detectives were former Deputy Auditor General Stephen Kinuthia, Director ICT Justus Ongera, Manager ICT Department Annette Mwangi, two directors at Enkei Holdings Limited, Desmond Kinuthia and Nelson Kinuthia, and Charles Njuguna of Njuguna and Partners.
The six are among 16 suspects whose prosecution over the irregular procurement of the audit vault software was approved yesterday by the Director Public Prosecutions (DPP) Noordin Haji.
They will face five charges of conspiracy to commit an economic crime, conflict of interest, unlawful acquisition of public property, dealing with suspect property and money-laundering.
The EACC directed the 10 still at large, mainly from Oracle Systems Kenya Limited, Open Systems Integration Kenya, Enkei Holdings Limited and Mars Technology Limited to immediately present themselves at its Integrity Centre offices in Nairobi.
Haji said the 16 have a case to answer and will be arraigned immediately they are processed.
The others sought are Sales Executive at Oracle Systems Kenya Limited Charles Gichohi, two non-executive directors at Open Systems Integration Kenya, Ephantus Kahwae and Sylvester Kiplaga, and managing director Patrick Maina.
Also wanted are Enkei Holdings Limited Director Charmine Kinuthia, two directors at Mars Technology Limited, Edward Mwachinga and Charles Mwaduna, two directors at Nanazi Investment Limited, Jane Kinuthia and Florence Kinuthia and James Gachoka of Partner Amolo Gachoka and Company Advocates.
The software to audit financial transactions using the Integrated Financial Management Information System (IFMIS) platform was purchased from Open Systems Integration (OSI) Kenya through direct procurement, purporting to be the only accredited partner of Oracle to supply the software.
"The commission established that there was no justification for single-sourcing, the payment was grossly exaggerated and that out of Sh100.7 million paid, only Sh36 million was legitimately paid to Oracle for the software," said EACC Chief Executive Officer Twalib Mbarak.
Kickbacks
The balance of Sh64 million, according to the EACC boss, was paid as kickbacks to public officials, private persons and their associated companies.
"Those in our custody might stay with us until Tuesday to be arraigned in court.
"Depending on circumstances, since some are not feeling well, they might be released on bond to appear in court on Tuesday," an official at the EACC told the Saturday Standard.
Before he left office two years ago, former DPP Keriako Tobiko, now a CS, had narrowed down on former deputy AG Kinuthia as the "prime mover" of the deal.
In a money trail released at the time, the proceeds of the deal were captured being used to buy a car for Kinuthia's daughter, millions stashed in an investment bank and parcels of land being bought.
In the investigations, Tobiko had cleared then Auditor General Edward Ouko, saying he was a victim of a deception ring involving a web of OAG staff and officials of companies involved in the supply of the software.
"Stephen Kinuthia was the prime mover of this transaction, which culminated in the procurement of the vault. Stephen Kinuthia is the one who approached OSI Slovenia and subsequently OSI Kenya, disclosing to them the need for OAG to make a proposal to supply the audit software to Kenya National Audit Office (Kenao)," reads Tobiko's letter.
When OSI Kenya received the money, it transferred the same to four different entities who then moved some of it back to Kinuthia.
The first amount, $361,300.25 (Sh37.3 million) allegedly went to Westcorn Africa UK Ltd for "oracle related costs", $20,000 (Sh2.07 million) to MihaCesta Na Svetje for "travel costs", $10,682.75 (Sh1.1 million) to Valuateq Trading Co. for "consultation services" and Sh36,089,966 to Mars Ltd/Njuguna & Co. Advocates for "consultancy".
When Njuguna & Co Advocates received Sh36 million on December 22, 2013 for Mars, it is claimed the money was paid out to five different entities: Sh7.9 million to Gachoka Advocates for paying Mr Mwaduna of OSI Kenya - the company which had paid out the money in the first place; Sh232,000 to Njuguna & Company as "fees" and Sh16.2 million was retained for Kinuthia for no known purpose.
The fourth payment of Sh1.7 million was made to Car Master for purpose of buying a car for Kinuthia's daughter, while the last payment of Sh10 million was paid to Faida Investment for purposes of investing for Kinuthia and Nanazi Ltd, the DPP illustrated then.