New hi-tech kits to give DNA results fast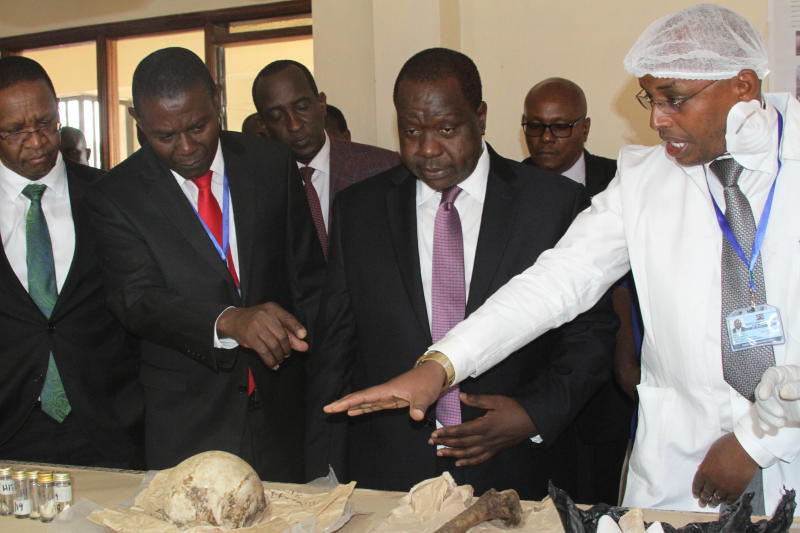 It will now take a shorter time to get DNA results from the Government Chemist.
This follows acquisition of new hi-tech machines that will enhance analysis of samples collected from various scenes.
The 3500 Series Genetic Analysers that have been installed in Nairobi, Kisumu and Mombasa offices will also help in clearing backlog of cases that have been pending due to lack of capacity.
Chief Government Chemist Ali Gakweli revealed that his team intends to work long hours to clear cases that are pending before courts given the new machines can analyse many stains within a short time.
"The new machine can handle 24 stains within 35 minutes and this means the output is enhanced," said Gakweli.
The earlier machine used to handle 16 stains in 45 minutes.
He added that with devolved services, they will be able to solve cases in regions within a short period.
New office
Gakweli revealed plan to open a new office in Isiolo to address cases in the northern region.
He said his office will now need steady flow of reagents to be able to address the issues at hand.
He added his office is the only one that has the capacity to conduct skeleton remains analysis.
The machines acquired at Sh40 million are the first genetic analysers designed with a specific feature set and workflow for human identification application.
This means they can now conduct DNA analysis within a short period of time, Gakweli said.
"We handle public and private cases. Let those intending to conduct DNA tests come to us now as it will take a shorter period to get results," he said.
The machines will be used to resolve cases including murder, robbery with violence, rape, child theft and trafficking, hit and run accidents, species identification and housebreaking among others.
The department also tests narcotics, handles arson cases, toxicology issues and explosive substances.
Gakweli said they have hundreds of pending cases and promised to make arrangements to have his staff work for six days a week to resolve them.
Interior Cabinet Secretary Fred Matiang'i unveiled the equipment and promised to increase funding to the agency to help it achieve its goals.
"Solution of crimes within a short time is one of the best thing any government can do and we are happy with these machines, we will be able to address some of the challenges we face," he said.
Dr Matiang'i added the department will get more vehicles to help in mobility of staff to courts where they are supposed to give evidence.
The Government Chemist was recently moved from Ministry of Health to Interior where the office will be working with Directorate of Criminal Investigation's forensic department.
Defined roles
The department is handling the forensic chemistry and forensic biology which are more complicated while the DCI is handling fingerprints, cyber crime, ballistics and handwriting analysis.
"We are now working with DCI and other departments well in efforts to solve many cases that are emerging and pending," said the CS.
He added the agency will no longer send samples out of the country for analysis given the upgrade of the machines.
Among others, the department handles foods, drugs and other industrial substances for chemical composition.
Many crimes go unsolved because the police lack a laboratory or capacity to help them in handling some of the complicated ones that need forensic analysis within a short period.
The police forensic laboratory is based at the DCI headquarters.
According to a strategic plan launched recently, the DCI plans to spend Sh7.6 billion to upgrade its forensic laboratory.
The money is part of the Sh38.5 billion DCI will use to revamp its operations in the next three years.
The department plans to spend Sh14.2 million in training and developing specialised investigative capacity, Sh1.6 billion in completion of the construction of the forensic laboratory, Sh4 billion in equipping it and Sh2 billion in devolving forensic services to counties and sub-counties in the period.
This will, among others, see its staff increased from current 5,436 to 10,500 as DCI seeks to expand its services to all counties.
A new 2015-2020 strategic plan launched in Nairobi says the focus will be on four main areas including building institutional capacity, strengthening crime management, co-operating locally and internationally and establishing robust processes and systems.