Tobiko says forests are being cut at high rate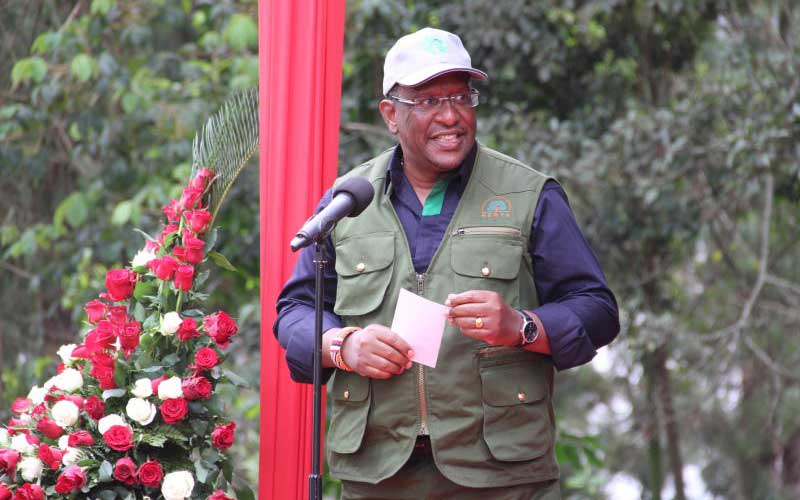 The Government has warned that the country is losing its forest cover a lot faster than should be happening.
Environment and Forestry Cabinet Secretary Keriako Tobiko said this is happening despite surrounding communities being educated on the importance of conservation.
"Capacity building is not lacking. It is sufficient, it is doable and it has been done. Let us get down to work," Mr Tobiko said at a three-day regional conference in Nairobi, last week.
But according to the implementors of a World Bank-funded project on Forest Carbon Partnership Facility (FCPF), capacity development targeting women, youth and the rest of the community on the conservation of forests, and increasing carbon stocks, has been insufficient.
The implementors of the project in Africa, South America and the Asia Pacific, who are gathered in Nairobi to review the performance of the programme since its launch in 2009, are now calling for increased involvement of women and people living with disabilities for maximum results to be achieved.
The conference, which is dubbed Regional Dialogue for Indigenous People (IPs) and Southern Civil Society Organisations (CSOs) on REDD+, was launched by Tobiko last week.
The focus of the meeting has been on capacity building around conservation of forests and carbon emissions, especially for communities living in and around forests.
The minister called on the CSOs to work with governments in achieving the REDD+ goals.
REDD+, which stands for Reducing Emissions from Deforestation and forest Degradation, is a United Nations initiative started in 2008 with the aim of reducing forest emissions and enhancing carbon stocks in forests "while contributing to sustainable development goals".
It has been running in tandem with several government policies from different years.
Participants at the conference, which had more than 100 individuals from over 18 countries in Africa and representatives of several other CSOs from southern America and the Asia Pacific, resolved that there was urgent need to transition to tangible projects in the grassroots, especially because the capacity building on REDD+ focused on knowledge dissemination and sharing.
FCPF team leader Nicholas Soikan told participants that even though the World Bank funded the project, its staff members were also "enlightened" in many ways, with the project informing a lot of their future work.