Governor hands over newly-built police houses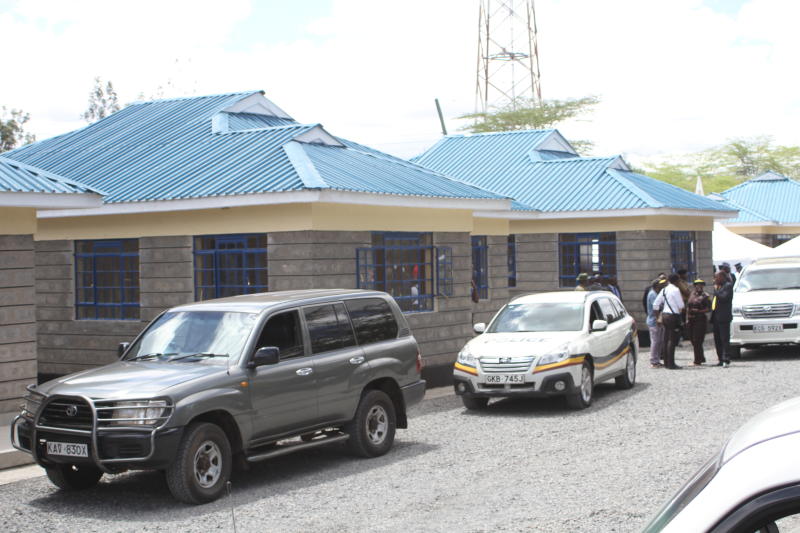 The Government should increase police officers' house allowances if it can afford to pay MPs additional perks, Machakos Governor Alfred Mutua has said.
Dr Mutua said pay increments should not only benefit those in power.
"If the country cannot afford to increase police officers' house allowances, then it follows that it cannot also afford to increase house allowances for MPs, governors or even the President," he said.
The governor spoke when he handed over newly-built police houses in Athi River to Inspector General of Police Hillary Mutyambai.
Mutua said police service is reflected in the motivation of officers.
"Yes, their salaries have been increased but when you consider that these officers are at the receiving end of bullets and other ordinance, they are not paid enough," the county chief said.
"In all honesty, the conversation in the country should be about adding housing allowances to the police and not to us politicians who they protect while we lie warm in bed every night."
The houses will house senior police officers in Mavoko sub-county.
Fair country
"Kenya needs to be a fair country that takes care of all of us and not just leaders," Mutua added.
The governor said although security was a national function, the county had worked together with the national government to provide officers with decent housing.
"Due to the respect we have for police, (we) decided to build good houses for our officers based in Athi River. My heart has always been torn when I see the living conditions of some of our officers," he said.
Mutua promised to refurbish police stations across the county.
Good service
"My government has offered to revamp all police stations in Machakos County to bring them to international standards. That way, our police officers work in conducive environments and our people receive good service in clean and modern facilities when they visit police stations," he said.
County Assembly Speaker Florence Mutua and Deputy Inspector General of Kenya Police Edward Mbugua attended the function.
"These five bungalows you have constructed for the officers will make them work in an environment that promotes comfort and efficiency. This is a great milestone towards the realisation of one of the key pillars in police reforms," Mr Mutyambai said.
The IG said police would use instant fines on traffic law offenders as a way to fight corruption.
He said this willould lead to a reduction in the number of police roadblocks on major highways.
"I don't see the logic in having more than four roadblocks in one highway that covers a short distance, this idea has been promoting corruption among our officers and this is the time to stop it," Mutyambai said.
The county has installed CCTV cameras and provided vehicles for police. "Our interest as Machakos is to provide a county that is secure where business can thrive and our people get to make money in harmony," he said.
Microbank seeks Sh1b new capital
Maisha's provision for loan impairment last year increased to Sh61 million from Sh7.7 million in the financial year ending December 2017.