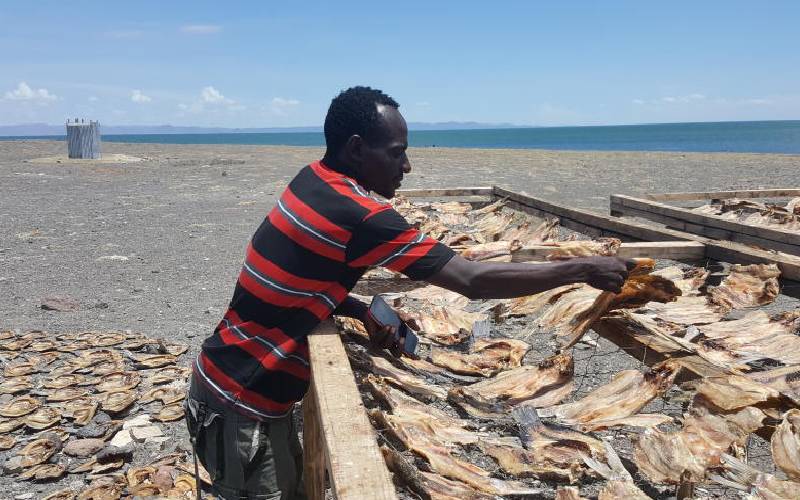 On a typical day, Lake Turkana's Loiyangalani fish landing bay is awash with activity.
Men, women and children offload fish from boats, sun dry the catch on raised wire mesh before loading them onto lorries or repair boats.
Julius Looya has fished in the waters of the lake for 17 years, yet in the near two decades, he has struggled to remain afloat as poor returns threaten his and hundreds of other fishermen's livelihood.
"If you own a boat you have to buy fuel for it, pay the people who work on it and maintain your net. If you add the cost of running a boat against the price we are selling the catch, we only make about Sh2 profit per fish," explained Looya.
Lake Turkana is the largest lake in Kenya, but due to its remoteness the lake in Marsabit and Turkana counties remains largely underexploited.
The dwindling fish stocks in Lake Victoria and Lake Naivasha and an increasing appetite for fish among Kenyans are driving up the demand for fish.
Despite the demand, numerous factors have conspired to make fishing on Lake Turkana little more than a labour of love.
Fishermen are earning a pittance due to poor handling and lack of storage facilities. Majority still rely on smoking, salting and sun drying as the primary means of preservation.
In Loiyangalani on the south eastern shore of the lake, there was no storage facility for raw fish until recently when the county set up a cold storage room.
Dried fish fetches very little in the market. Looya explains that a small fish goes for Sh35 while a big one could fetch Sh75.
Looya said that the majority of fishermen in the area were small scale fishermen who ply their trade with handmade nets on rafts made from palm trees with discarded plastic bottles used as floats.
"The ones that do it from the big boats earn more, they can catch sometimes even 300 fish, the small fishermen have only about 50 fish," he said.
When The Standard visited fish warehouses in Loiyangalani in Marsabit County, we found stacks of sun-dried fish packed for transportation to Kisumu, Bumala and Busia – towns that are on the shores of Lake Victoria, and surprisingly even Congo and Tanzania.
Martha Ochieng', a fish trader in Loiyangalani for the past year, explained that two lorries full of fish leave the fishing town each week for the markets.
Ochieng' said she left her home in Kisumu to live in Loiyangalani so she could trade in fish.
"There is more fish here than Lake Victoria, sometimes we fill a 20-tonne lorry. Most of it I sell in Busia and Kisumu but some I sell in Congo. If we can sell fresh fish that will be even better for us," she said.
The logic behind selling dried fish is sound.
"We fish far away from the shore, sometimes up to Mugur, and it will take two days to get back to Loiyangalani. On the way we have to cut open the fish and start drying them because fish is very perishable," Looya said.
He is among hundreds of fishermen from Loiyangalani who are hopeful that their fortunes will look up once a planned fish factory is completed.
"We will be able to also sell fresh fish to markets in Nairobi, Meru and Marsabit for a better price," he added.
Looya's remarks embody the feelings of an entire community.
"The factory will be more help to those who fish near the shores because they will catch the fish and immediately take it for storage. Those of us who fish farther away still have to solve the problem of getting the fish to the factory," he said.
Marsabit Governor Mohamud Ali last Thursday launched the construction of Loiyangalani Fish Factory, a processing plant that will cost Sh200 million once complete. The project will take one and a half years.
The plant would enable farmers process their fish into fillet that will be packaged and shipped to markets in the south.
"The local community here do a lot of fishing but unfortunately there was no place to store or process, so we had to come up with a value addition mechanism," Mr Ali said.
The county, he said, will lobby for the upgrade of the Loiyangalani airstrip and completion of the road linking the town to the Isiolo-Marsabit Highway.
Other than the factory, the European Union has contributed Sh70 million for construction of cold rooms and purchase of security motorboats. It is set to release another Sh40 million for purchasing of fishing gear.