Why it will be hard for families to find closure on plane crash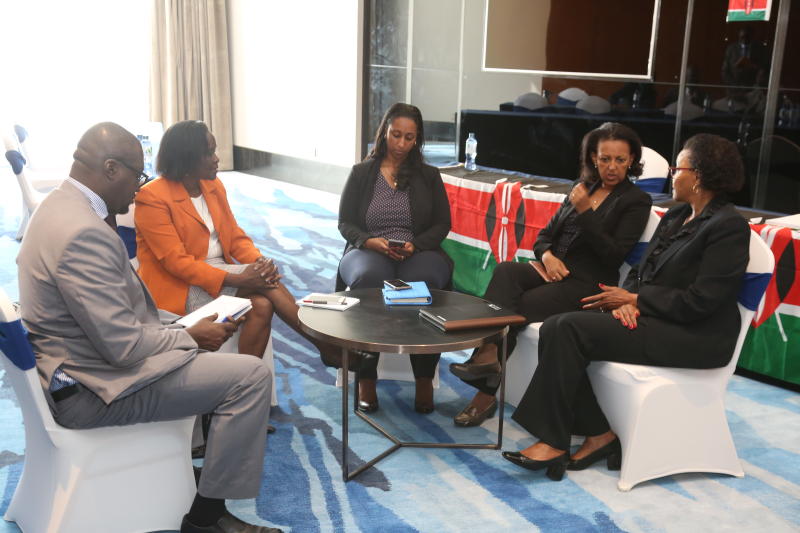 The hope of finding closure for families of those who died in the Ethiopian Airlines plane crash appeared uncertain following reports that it will be difficult to match remains to DNA samples.
According to the authorities, it could take months for analysts to match the body parts recovered from the crash scene to DNA samples family members will provide.
Yesterday, the Ethiopian authorities kept a tight lid on information on the recovery process.
Senior Kenyan officials, including Transport PS Esther Koimett left Ethiopia last night, in the clearest indication yet that there is no-end in sight into investigations into the crash whose reverberations have left permanent scars on hundreds of families.
With the information blackout, family members have been left to their own devices in Addis Ababa – the Ethiopian capital where information flow remains slow and scarce, exacerbating the pain of already distressed relatives.
Close relatives
Relatives of one of the victims, Mama Sahra Hassan, for instance, camped at the Kenyan Embassy help desk.
Her son, Khalid Abdikadir Mohamed shared his frustration over the slow release of information on his mother and brother.
"We are here hoping that we would have a clear indication of where matters stand but we cannot even get a confirmation if we will be taken to the accident scene," said Mohamed.
About 20 of his relatives had travelled from South Africa, with the hope of seeing and perhaps carrying home the remains of their loved ones for burial.
Yesterday, they, like many other families, camped at the Ethiopian Airlines-owned Skylight Hotel near Bole International Airport.
Mohamed's younger brother and father broke down in the middle of a press interview, an indication of pain and frustration. The long wait to bury their kin clashes with their religious belief that requires prompt burial of the dead.
Islam requires one to be interred within 24 hours. Judaism – the Jewish religion, gives 72-hour window which expires on Thursday morning.
Opher Dach, a senior diplomat working in the Israeli Embassy in Addis, was frustrated.
While he did not lose any immediate family member in the crash, the fact that Ethiopian authorities had not released to his team remains of two Israelis on the ill-fated flight, frustrated him a lot.
Mr Dach shared the pain of failing to live up to the Judaism teachings on treating the dead, unable to comprehend that there would be no remains to take back home after all.
"We are here to help find our people, among the others, so that we can bury them according to our religion," Dach said.
He protested that air crash investigators from his country had not been granted access to the hangar where the debris of the crashed debris is kept.
An Israeli search and rescue organisation that includes priests, known as Rabbi, had unsuccessfully tried to find anybody parts belonging to Jews, despite their despatch hours after the Sunday morning crash.
A requiem mass is scheduled for Thursday morning in Addis Ababa, a largely Christian community to celebrate lives of the victims.
Free flights
A visit by the affected families was also scheduled for yesterday, but it did not happen with hopes that it might have been pushed forward to accommodate the families that had not arrived.
Free flights and accommodation are available to family members of those who perished in the crash.
But as the investigations into the crash entered a crucial stage with the arrival of engineers from plane manufacturer, Boeing and US National Transport Safety Board, it was clear that answers may not be forthcoming in at least a month - according to people previously involved in such probes.
And as it would appear, it may have been a lot worse for Kenya, if the Sunday air crash happened any other day of the week. While this may do nothing to console the tens of families who lost their loved ones - all on connecting flights to Nairobi, typical journeys originating from the Ethiopian capital have many more Kenyans on board.
Addis Ababa is a second home for the huge Kenyan population including diplomatic corps who regularly shuttle to Nairobi and back – for work and family.
As the harsh reality of deaths starts sinking in, Ijera village, the site of the crash, will have a huge new meaning. It is likely to be the final resting place for the lost souls. Officially, a decision is yet to be taken on how to handle the remains of the victims. Images from the accident scene show metallic parts of the plane and personal effects were shredded to bits.
Accounts of witnesses say it all – a white bolt to the ground, a bang then dust. One engine broke apart on impact and caught fire.