Over a million Kenyans on the brink of hunger, report warns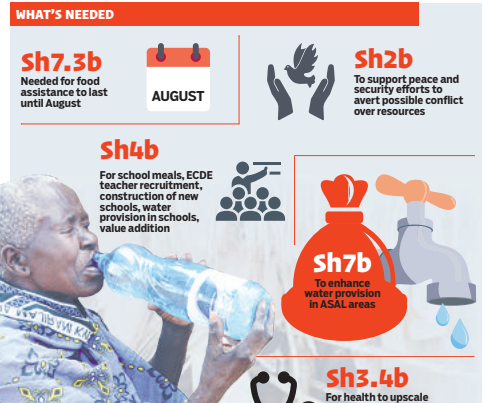 An estimated 1.1 million Kenyans mostly living in arid and semi-arid regions are on the brink of starvation and require intervention.
According to the Short Rains Assessment report released yesterday, the food crisis is expected to last until the end of August when some farmers will have harvested after utilising the expected long rains.
From the figure, about 800,000 victims are from arid and semi-arid counties and translate to six per cent of the Arid and Semi-arid Lands (ASAL) entire population.
Poor harvests
The remaining 300,000 come from marginal agricultural counties.
The report indicates that according to the Integrated Food Security Phase (IPC) classification, food shortage hit the pastoral and marginal agriculture livelihoods due to poor performance in farming during the short rains between October and December last year.
"The below normal performance of the rainfall affected crop production in the agro-pastoral and marginal agriculture livelihood zones, with all the areas reporting 50 per cent below the expected harvest," says the report conducted in 23 arid and semi-arid counties.
The report, whose assessment was chaired by the National Drought Management Authority and the World Food Programme, warns that over 541,000 children aged between six months and five years also require urgent treatment for acute malnutrition.
At the same time, over 30,000 pregnant and lactating mothers are also in dire need of the same treatment.
"Counties in the pastoral northeast and northwest continue to face increased levels of stressed conditions and have populations within the livelihoods who are already in the crisis food security levels," reads the report.
The situation of malnutrition is expected to deteriorate to critical levels in Wajir followed by Tana River counties.
Malnutrition
Other counties that have places with serious levels of malnutrition include Turkana, Samburu and Mandera as well as East Pokot and North Horr sub-counties.
Wajir, Tana River, West Pokot and Marsabit (specifically Laisamis sub-county) have been categorised as requiring serious attention while Isiolo and Moyale have been put on alert.
The research recommends that those facing starvation be provided with food for the next six months as an immediate remedy.
In the long term, the report pushes for asset creation to build resilience to future stocks to avert shortage.