Minister's fate hangs in balance as he is grilled again over dams scandal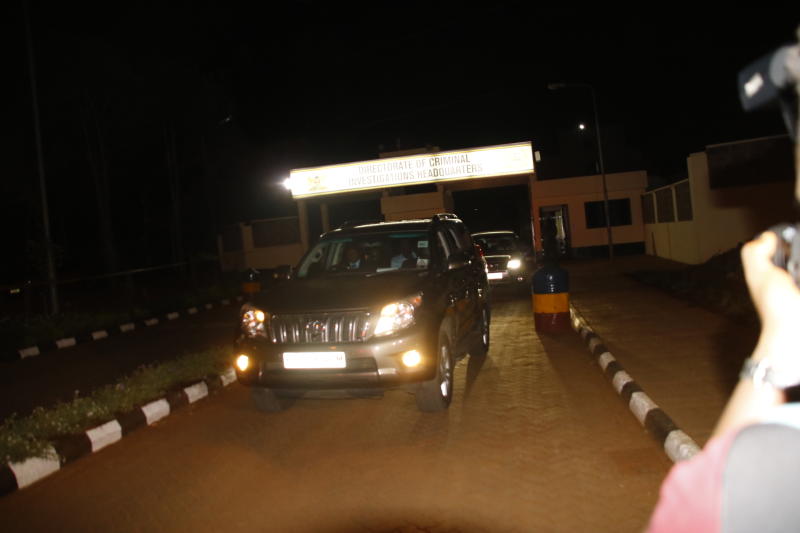 Treasury Cabinet Secretary Henry Rotich spent the second day with detectives, answering questions on his role in the controversial dam projects.
Detectives handling investigations into the stalled Arror and Kimwarer dams in Elgeyo Marakwet County said the CS responded to 301 questions -which he was supposed to answer yes or no- before further explaining the responses.
Those aware of the probe said the questions were on more than 200 pages and ranged from why payments were made without proper paper work and safeguards to concerns about high premiums for loans.
The CS was asked to explain why billions of shillings were paid to an Italian firm before the two projects commenced.
Rotich was also questioned on the signing off of the projects with a company that is now grappling with financial constraints.
He was asked to explain how and why payments were made without project designs, bill of quantity and due diligence.
The CS was also asked about missing National Environment Management Authority reports and lack of public participation in the projects.
It was the third time he was appearing before the team investigating claims of fraud in the two projects that are yet to kick off since 2017, when they were paid for.
The CS was first questioned by detectives on February 18.
Yesterday, Rotich arrived at the Directorate of Criminal Investigations (DCI) at 6am, accompanied by his lawyer Katwa Kigen, to continue with the questioning after spending 12 hours with the detectives on Tuesday.
Sources said the CS responded to 152 questions on Tuesday before being allowed to go home at 7.40pm and returned yesterday.
The files on the probe will now be sent to the Director of Public Prosecutions who will then decide the fate of the CS and several other senior officials from Treasury, Kerio Valley Development Authority (KVDA) and a number of suppliers.
Police have so far questioned close to 100 people. According to DCI director, George Kinoti, a decision on whether or not to charge them in court will be made once investigations are completed.
"The investigation is progressing well, we want to cover all the angles," he said.
According to insiders, the CS was cautioned that whatever he said in his statement might be used against him.
The probe was triggered by a letter from Italy to President Kenyatta, saying the Italian company had difficulties in continuing with the project.
It was then that the President demanded to know what had happened amid revelations that part of the initial payments for the projects were kickbacks.
The contractors had told the investigators they used the Itare Dam project and another dam in South Africa as their due diligence check to start Arror and Kimwarer.
A team was sent to South Africa last Thursday to establish if there was such a dam and came back on Saturday. It is not clear what they found out.
Earlier, KVDA had said that only Sh7.8 billion had been paid for the project, while DCI insisted only Sh20.5 billion had been paid, so far.