Ruling in case facing 'fake' cop and former senior officers to be delayed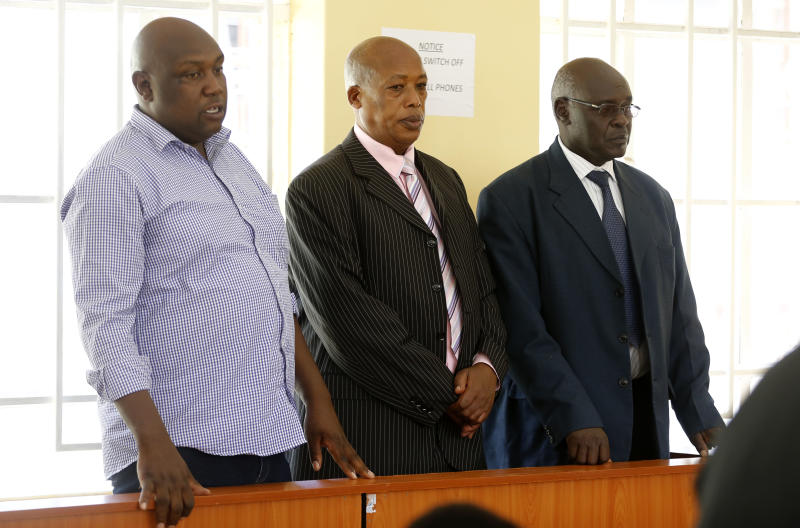 A ruling in a case facing alleged olice imposter Joshua Waiganjo and two former senior police officers may be dealt a blow.
This is after a High Court called for the file to be presented to it following an application by the Director of Public Prosecution.
Waiganjo is charged alongside former Rift Valley Provincial Police boss John M'mbijiwe and Anti-stock Theft Unit boss Remi Ngugi who are also facing abuse of office charges.
Justice Joel Ngugi ordered to have the file presented before him today at 9:00AM.
The High Court Judge also ordered the DPP to serve the three with the application.
The DPP under certificate of urgency moved to court seeking to have the delivery of the ruling halted claiming they were not allowed to allow the investigating officer testify.
Daniel Karuri, the Senior Assistant Director of Public Prosecution in their application is seeking to be allowed to re-open the case.
Karuri is seeking to have three other police officers testify. He named the officers as Superintendent of Police Fatuma Hadi, Mr Gideon Kimilu and Mr Joseph Ngisa.
"That the applicant is praying for a stay of delivery of the said ruling and if the matter is not certified as urgent and exparte stay orders on the delivery of ruling granted this application shall be rendered nugatory," read part of the application.
The high court however declined to issue the orders and instead ordered to have the file presented before it. It however certified the application as urgent.
"In the circumstances of this case, I certify the application as urgent. I hereby call for the lower court's file in the Criminal case No.3195 of 2014. Republic vs Michael Remi Ngugi and others," read an order fo the court.
"The same to be brought to the High Court tomorrow at 9:00AM. The DPP to serve the respondents, Directions in Court 1 tomorrow," continued the ruling.