Businesses affected in demos over illicit brews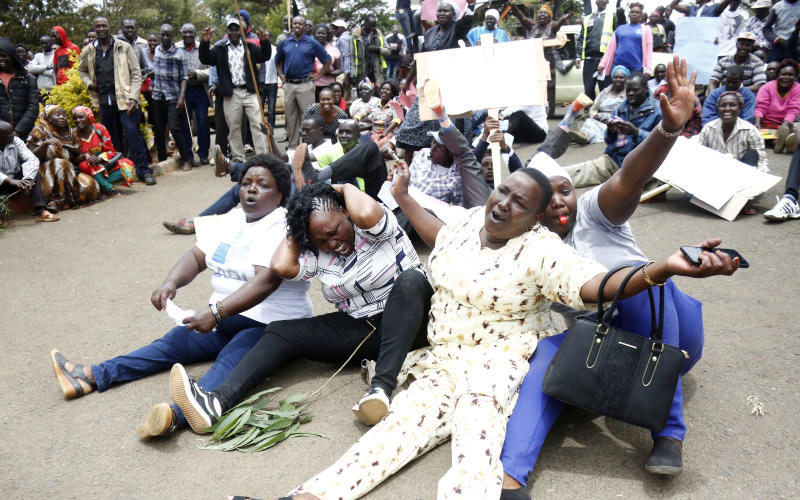 Residents of Eldama Ravine have protested the increased sale of illicit brews locally.
Business in local trading centres came to a standstill as the residents demanded to know why local security personnel had failed to curb sale of illicit liquor.
They claimed senior police officers were protecting brewers in exchange for bribes.
The residents said their efforts to fight brewing and consumption of illicit alcohol had failed, as security personnel turned against whistle blowers.
The villagers cited a recent case where three youths who had gone to hand over a brewer to the police were arrested and later accused of robbing the brewer. They are out on bond.
"The three are in a team that has been helping us fight consumption of illicit brew here. We were surprised to learn they had been taken to court on allegations of robbery," said a local preacher, Rev Samson Kiptoo.
The brew, locally known as Tatu bora, is said to be stronger than other illicit liquors such as chang'aa, as one glass is enough to get three people drunk.
Some of the areas most affected by consumption of the brews are Shauri, Bondeni, Kaplelechwa and Kwa Wanubi.
No action
Rev Kiptoo claimed many had in the last three years died after consuming the brew, yet no action had been taken against the brewers.
Caleb Chemirmir, a resident, said consumption of the alcoholic drink had spread to others parts of the county, including Mogotio.
Lembus Council of Elders chairman Joseph Leboo said: "It is sad the community is losing youths who are key to nation building. I also condemn arrest of those who have been helping the fight against illicit brews."
Former area MP Musa Sirma urged Inspector General Joseph Boinnet and Interior CS Fred Matiang'i to intervene. "We are asking Matiang'i and Boinnet to deal with officers who are party to production of illicit brews in this area. They have become an impediment to the fight against illicit brews," he said.
Governor Stanley Kiptis said they will ensure illegally operated breweries are closed down.
County police boss Robinson Ndiwa said: "We will not allow our people to die because of illicit brews. We'll fight this war together."