Three CSs in trouble for 'pocketing kickbacks'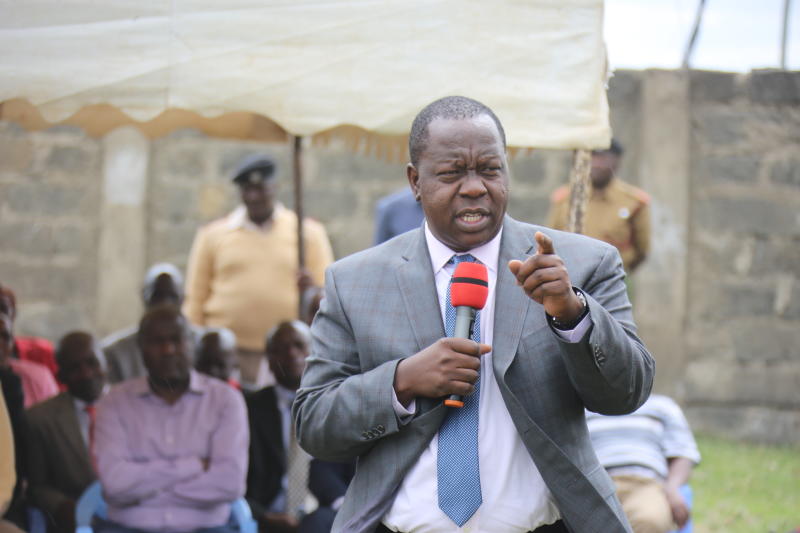 At least three Cabinet secretaries are under investigation for receiving kickbacks from contractors engaged in State projects.
According to sources, the three were in a group of Government officials that flew to Rome, Italy, to receive kickbacks from a contractor who was controversially paid Sh7 billion.
The directors of an Italian firm have recorded a statement with the Directorate of Criminal Investigations (DCI) in connection with the allegations.
This was among the stunning revelations that were made during a meeting between contractors, top Government officials and bosses of investigative agencies on Tuesday.
The disclosure lifted the lid on the extent of the unofficial 10 per cent kickback payments blamed for stalling mega Government projects.
"Some of you contractors pay tickets for Government officers to travel to European capitals to receive the kickbacks and we know," said one of the top officials, according to a person present at the meeting.
A source explained that the official cited a case where a State agency paid a contractor Sh7 billion in advance, yet the process of acquiring the land for the project had not been concluded.
Contractors and senior State officials have come under investigation over a growing trend where hefty bribes are paid out, mostly in foreign capitals, to influence peddlers.
The money involved is normally from projects funded by international donors and financiers, where crooked public officers facilitate advance payments (mobilisation fee) that are then wired back home.
Powerful individuals, including members of the Cabinet, principal secretaries and parastatal chiefs mainly handling key infrastructural projects, are in a spot.
Interior Cabinet Secretary Fred Matiang'i chaired the meeting that brought together his colleagues James Macharia (Roads), Simon Chelugui (Water), Raychelle Omamo (Defence), 19 principal secretaries, Attorney General Paul Kariuki, Director of Public Prosecutions Noordin Haji, Director of Criminal Investigations George Kinoti, Ethics and Anti-Corruption Commission (EACC) CEO Twalib Mbarak and chief executives of State agencies under the infrastructural ministries.
Jailed or deported
Over 500 contractors attended the meeting in which the Government warned foreign contractors that they would be jailed or deported for bribing public officers.
Mr Haji told the forum that he would nail those implicated in corrupt deals.
During the closed-door meeting at the Kenya School of Monetary Studies in Nairobi the people in attendance were asked to surrender their phones.
"We were frisked at the entrance and asked to hand over our phones to security. Interior PS Karanja Kibicho was the master of ceremonies," a contractor told The Standard, describing the session as "candid talk".
Dr Kibicho would read out the name of a project then call the respective CEO or PS and contractor to explain the progress and the challenges causing delays.
AG Kariuki warned about attempts to bribe officers in his office to approve contracts before they were sealed, saying those found engaging in such schemes would be exposed soon.
Haji yesterday confirmed that he had told the contractors, especially the foreign ones, to respect Kenya.
"Some of the things they do in Kenya they can't do in their own countries," he said. He added that his office was investigating several claims by the contractors and the allegations against them, including corruption and blackmail.
Mr Kinoti said the DCI was looking into contracts that had stalled at various stages.
"We don't understand why some of these contracts are not moving, yet money has been paid," he said.
Mr Mbarak said the anti-graft agency would use all means available to it to stop corruption, which he said was rampant in some sectors and was hurting the country's growth.
EACC Chairman Eliud Wabukala said no one would be spared if they were found to have received kickbacks and occasioned the public to lose money.
"There will be no mercy on looters of public money no matter the position they hold in public. Be it a minister, principal secretary, chief executive or any other powerful position; EACC will pursue them to recover the last coin of whatever they have misappropriated," Reverend Wabukala said.
Tax waivers
The contractors complained about their frustration due to Government bureaucracy, which they said contributed to delays in their work.
They cited Kenya Revenue Authority and Treasury's delay in facilitating tax waivers. "You have a situation where the period of the contract is 18 months, yet to secure the waiver, it takes not less than nine months. This means the project will not be completed on time," one contractor said.
Dr Matiang'i and his team promised to hold another meeting in three months to review the progress.
Local contractors complained about the Government's preference for foreign firms, saying even the 40 per cent local content requirement was never adhered to.