Manguo, endangered wetland dying from human activities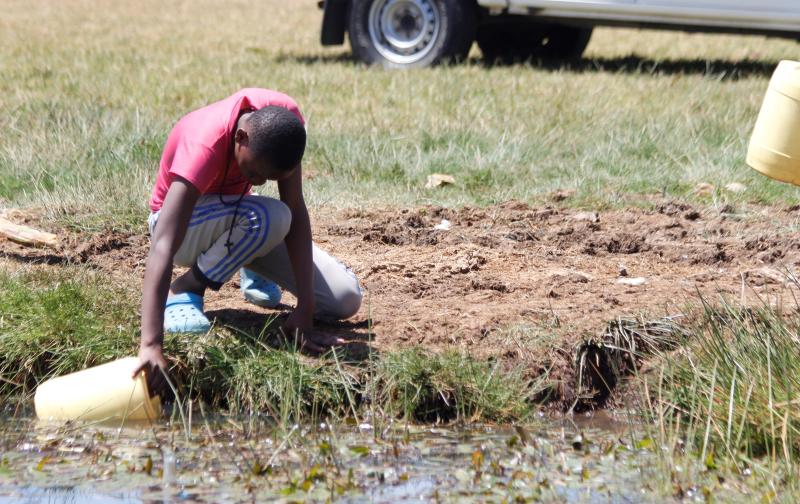 At 10am, birds of different colours and species peck grass and reeds while others swim in the little waters left at the Manguoswamp located in Limuru, along Nairobi-Naivasha highway.
But with little water, occupying less than quarter of the swamp, and plenty of human activities around it, experts now warn the swamp is in serious danger. This is the fate of the many of the remaining Kenyan swamps, most of them located close to urban centres, which are closing in on them.
Dr Titus Imboma, an Ornithologist and Research scientist at National Museum of Kenya, says being a fresh water swamp, Manguohas been a magnet of local and foreign birds.
He also discloses, initially, forested with reeds and other tall grasses that made it fertile breeding ground for birds, is one of few swamps in the Rift Valley used in counting of birds (birds census).
However, this has since been destroyed, as locals cut reeds, trapped and killed birds in addition to picking their eggs.
"The destruction of breeding ground has forced birds to leave, especially those that cannot breed in areas with little water. We now have few birds remaining," he says.
Currently, various human activities are synonymous with the swamp such as swimming, grazing of cattle, drawing water for domestic and agricultural activities and as a playing field. Today, as the world commemorates Wetlands Day 2019, with the theme 'Wetlands and climate change,' experts say it is also an ideal moment to reflect on importance of wetlands and how they can be protected from further destruction.
Dan Ashitiva, a Wetlands Officer at the National Environment Management Authority (Nema) says time has come to implement various laws among them; The Wetlands Regulations and Water Resources Act, to redeem the glory of wetlands across the country.
"Wetlands in Kenya are not economically valued; we may not know what we are losing but definitely there is a loss in their disappearance, especially in terms of water positioning services that swamps offer to locals living around or down the swamp," he says.
Ashitiva warns eucalyptus around the Manguo swamp are not friendly and contribute to drying up of the swamp.
In Kikuyu, Manguo means hippo. "Hippos lived here long time ago, but no one can tell where they went to," says Christopher Kang'ethe, born in the area in 1955.
He recalls that during their childhood in the 60s, they would trap birds and also collect tens of eggs in the swamp. Kang'ethe also recalls how tourists came to hunt birds. "They employed and gave us money to go into the thickets to collect birds after shooting them," he says.
Paul Kiruji cannot believe the area where they collected fish in the 60s has dried up. "The many boreholes dug around this area are killing the swamp," he says.
But some laud drying of Manguo. "The area that has dried up has provided pasture for our livestock. And, they access water here," says David Kariuki.
Dr Paul Matiku, Executive Director at Nature Kenya says the unfortunate status of Manguo swamp is indication of threats facing other wetlands such as Tana Delta, Yala and Turkana.
"Wetlands provide us with water, protect us from floods, droughts and provide food and livelihoods to millions of people. They support a rich biodiversity, and store more carbon than any other ecosystem. Yet, their value remains largely unrecognised by policy and decision makers," he says.
He says wetlands soak up rain, reduce flooding and delay onset of droughts. "They are critical for climate adaptation and building resilience," he says.
Experts root for creation of awareness among communities living around wetlands.