Uhuru reads riot act to CSs as anxiety mounts over changes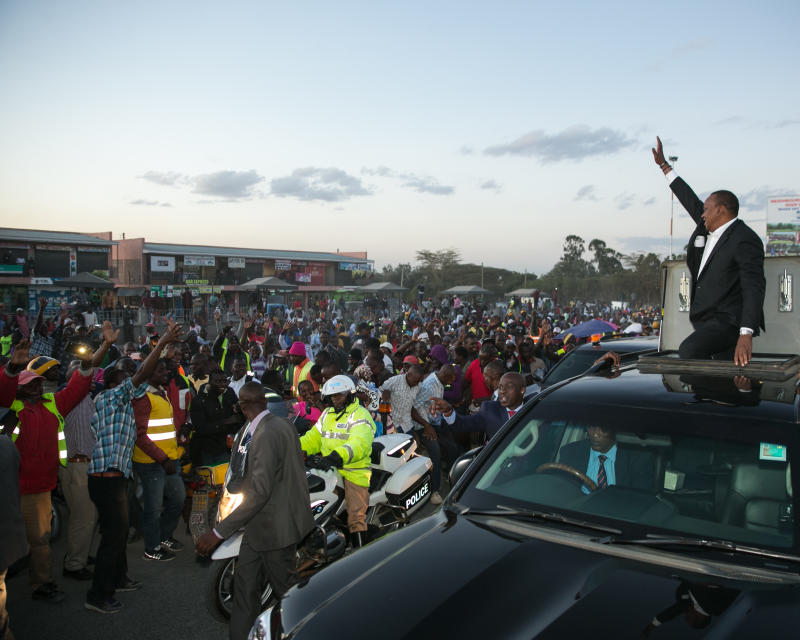 Anxiety heightened within the Cabinet following President Uhuru Kenyatta's blanket and public condemnation of the Cabinet Secretaries over early campaigns or ignoring his Executive Order.
Determined to ensure his Cabinet toes the line, President Kenyatta seems ready to offload some of his ministers - telling them off in private before setting them up in public through a roadside rally on Thursday evening.
Although he did not name them, a number of his CSs have in recent past engaged in heightened political activities which the President believes could affect his government's delivery.
"He wants us to prioritise his Big Four Agenda, fight corruption within our ministries, engage in the Building Bridges Initiative (BBI) and steer clear of political engagement unless it's a government event," a CS told the Saturday Standard.
At the Cabinet meeting ahead of the road trip to Arusha, the President is said to have spoken tough on his Executive Order elevating Interior CS Fred Matiang'i as the 'chief minister' supervising his colleagues.
"You must work with all your colleagues, especially Dr Matiang'i and National Treasury Henry Rotich, there is no two ways about it," Kenyatta is said to have told his team.
There had been murmurs that some CSs were quietly rebelling against Matiang'i.
Going forward, prioritisation of government programmes will only come from the President himself, communication will strictly flow from Matiang'i and those who miss cabinet or its committee meetings will have to explain.
Issues raised will be discussed first by the coordination committee and resolved at that level; if not, then escalated to the President/ Cabinet.
But it was the attempt by CS's to make political capital out of their positions or government projects that the president was most passionately against in the meeting.
In the recent past, a number of them have openly dabbled in politics either through their pronouncements, activities or associations.
Sports Cabinet Secretary Rashid Echesa has never shied from political controversy and has rubbed political nemesis the wrong way including former Prime Minister Raila Odinga.
Devolution's Eugene Wamalwa has also made pronouncement on succession politics.
"I have no reason to believe the President was talking about me. Indeed it cannot have been me," a CS, told the Saturday Standard.
According to a senior civil servant the President's was irked by those riding on his Cabinet for selfish reasons.
"Some of the CSs have let him down and their ministries turned into a den of graft. He had hope in some of the CSs who have turn out a disappointment," the source said.
Yesterday, National assembly Majority leader Aden Duale welcomed Kenyatta's directive as long overdue.
"There some CSs who are in funerals every weekend in Western Kenya polititicking, you cannot have your cake and eat it, they should either toe the line or quit and join politics," said Duale.
One leg in the executive
According to Duale, though a big percentage of the CSs were technocrats as required by the Constitution, there were a number of them who had one leg in the executive and the other in politics and this had hampered service delivery to Kenyans.
"They should now chose to quit and politic in funerals or heed the president's directive and deliver on Jubilee government's pledges," he said.
National Assembly Minority Whip Junet Mohamed said that the shots had been fired by the President and those who do not tore the line would soon be jobless. Junet said; "The employer has said work or I sack you, they now have a choice."