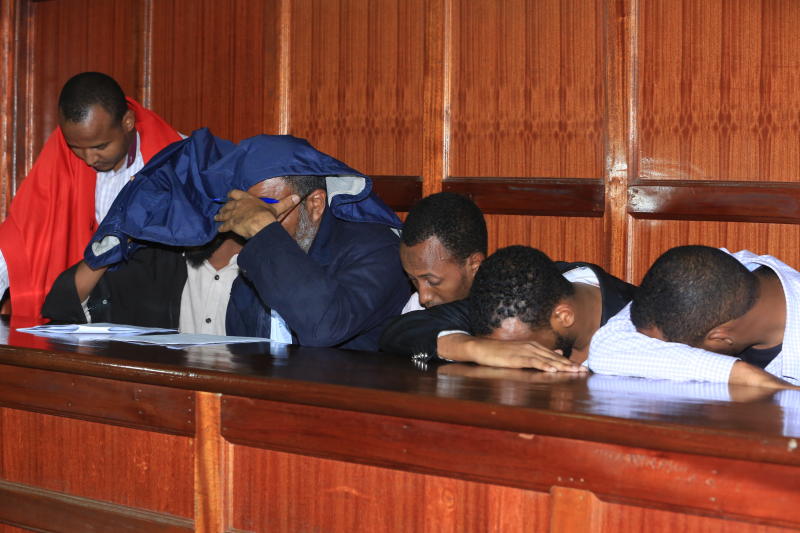 One of the seven suspects arraigned following the Dusit terror attack has denied allegations that he used Sh100 million to fund terrorism.
The lawyer further defended his financial transactions as legitimate.
Through his lawyer Danson Omari, Abdinoor Maalim Osman said he had not registered several mobile phone numbers and the allegations by investigators were out of ignorance.
"I have M-Pesa tills registered by Safaricom for purposes of carrying out M-Pesa business," said Mr Maalim.
Maalim said the investigators did not disclose to him the specific till or sub-agents that received Sh100 million to enable him know the nature of the allegations.
"Each till issued to a third party can transact a maximum of Sh1 million daily, hence the alleged Sh100 million may as well be ordinary and lawful transactions by third parties' sub-contractors, who I have issued and operate aggregated tills," added Maalim.
The suspect said the only way he could know of a wrongdoing by a third party was through notification by Safaricom PlC, but which he had not received.
"The allegations that I have received Sh100 million are baseless and are formed out of lack of understanding of how the tills work," the lawyer said in his replying affidavit.
He said the application to detain him for a further 30 days was unjustifiable, as his phone was in police custody and the alleged analysis and investigation could be conducted while out of custody since his detention will not serve any purpose.
Mr Omari said police officers were holding Maalim's passport and travel documents, but he is willing and ready to present himself to court and to the investigating agencies as directed by court.
Inspector Monica Githaiga of the Anti-Terrorism Police Unit had told the court Maalim received the cash in the past few months.
The money is suspected to have been meant for funding terrorism.
The prosecution made an application to detain, for 30 days, six people suspected to be linked to dusitD2 Hotel on 14 Riverside Drive in Nairobi.
The case will be heard tomorrow.