Bad maize could find its way into your plate amid cover-up claims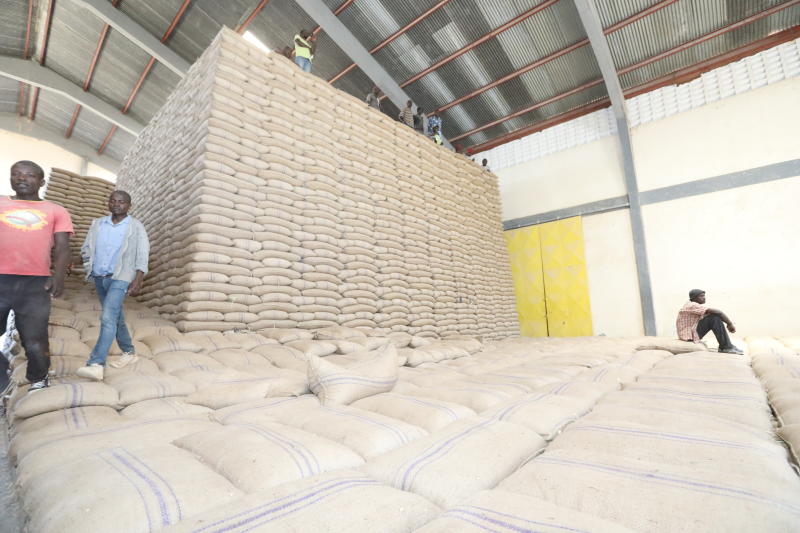 Fresh tests on maize already declared unfit for human consumption are raising eyebrows, with industry players alleging a cover-up plot by top government officials to have the maize back on Kenyan's dinner tables.
Investigations by The Sunday Standard show that government operatives are jittery over the recommendations by top state testing facilities to have the maize destroyed.
The destruction of millions of bags of maize, they fear, might leave a gaping hole in the country's food security plans, and further embarrass a government that paid out billions of shillings to brokers for supplying tainted maize.
To understand the depths of the unraveling scandal, some background on how Kenyans find themselves at the mercy of a government that might look the other side and push rotten maize down the throats of its citizens.
Early last year, President Uhuru Kenyatta, concerned over the damaging effects that a raging drought was having on the country, hurriedly convened a Cabinet meeting to address a situation that threatened to grow into something worse. At the time, 23 counties were affected. Millions of Kenyans were at risk of starving.
Presentations from his Cabinet Secretaries in charge of food security painted a picture of a country facing a serious food crisis so early in the year. The February 10 meeting resolved that he had to declare the drought a national disaster. And he did.
To deal with the disaster, the Head of State announced that an immediate Sh11 billion had been allocated to cater for urgent intervention.
Arid and semi-arid counties were facing the biggest risk of starvation.
This saw county government's pledge an additional Sh2 billion on the day the President also launched a formal appeal to local and international partners to support his efforts to contain the situation which was not just affecting human beings and livestock but also wildlife.
The meeting attended by Head of Public Service Joseph Kinyua and Cabinet Secretaries in charge of the National Treasury, Agriculture, Devolution, East African Community, Labour among others also resolved to open the duty free window for maize.
As this was happening, traders, brokers and politicians who knew how the system worked were arming themselves in the background, waiting for the whistle to blow to make a killing.
The Kenya Revenue Authority (KRA) immediately swung into action to implement the directive that also allowed importers to bring in yellow maize alongside the white maize tax free.
The National Treasury would later extend the duty free period one more time to end of September.
Hunger pangs
But as the country fought to keep its citizens from the pangs of starvation, at least 4.4million bags of bad maize found their way into the National Cereals and Produce Board (NCPB) silos across the country.
By October last year, a 90kg bag of maize was selling at a premium and was fetching a handsome Sh3,200.
This saw politicians and influential businessmen double their efforts to squeeze into NCPB as much maize as possible, often using their muscle to jump the queues at the warehouses before the window closed.
Maize came in from Uganda, Ethiopia and Zambia and as far as Mexico, Ukraine and Russia.
Everything had gone as planned until about six months later when maize in thousands of bags discoloured. Kenya Bureau of Standards (Kebs) was called in to carry out tests on the maize and returned with stinging results.
Majority of the 256 samples collected from depots in 37 counties was found unfit for human consumption, triggering a series of events that have now led to cover up allegations.
The findings caused a flurry of meetings within the agriculture ministry. The biggest puzzle was just how would maize that was required to have a shelf life of 24 months go bad in less than a third of that period?
NCPB says four government agencies are now conducting fresh tests on discoloured maize to be certain.
Sunday Standard has established that officers from the Ministry of Health, Kenya Plant Health Inspectorate Service (Kephis), Kenya Agricultural and Livestock Research Organisation (Kalro) and Kebs went back to the silos this week to do the new tests. But an insider says the fresh testing is part of a cover up plot that seeks to overturn the initial report done by Kebs which has the most advanced testing equipment in the region.
"Given the huge quantities of maize involved, top officials felt it was too much to go to waste and the new process is an attempt to water down Kebs' findings and take away the spotlight from NCPB which hurriedly purchased imported badmaize from brokers," the source said.
NCPB was the first to poke holes in the Kebs report that found at least two toxins in the maize. Majority of the 256 samples also failed the discolouration test.
NCPB has maintained that the maize in its silos was not as bad as Kebs had portrayed and it is counting on the tests to vindicate its position.
"We had two tests done by other organisations and they told us the maize was good for consumption," acting NCPB Managing Director Albin Sang said. But he asked us to wait for results of the fresh tests being done.
"The verification teams are still out. It is a team from Health, Kebs, Kephis, Kalro and NCPB. Hold your horses. The report will be out on Tuesday next week," Sang said but declined to comment on how much maize is in question and where it was imported from.
Kebs laboratories
Most of the bad maize is understood to have come in as part of the four million bags consignment brought in from Uganda as traders rushed to cash in on the import window.
Kebs says it is stands by its initial report given that everything was done by the book and the integrity of its processes is beyond question.
"Kebs stands by the report presented to the Senate on white maize quality at NCPB depots country wide. Sampling of the white maize was done as per the relevant sampling standard, EAS 900:2017 and these were agreed in advance in a meeting with NCPB management," Kebs spokesperson Phoebe Gituku said.
"Our competent officers were dispatched countrywide and were able to sample from more than 80 NCPB depots in 37 counties collecting a total of 256 samples," she said, adding that its testing department is headed by a PHD holder and the testing is free from human interference.
Kebs maintained that all analysis was carried out at itslaboratories at the headquarters as per the relevant standards focusing on maize grading, mycotoxins test and heavy metals.
"Kebs boasts of state of the art modern equipment and highly qualified and competent personnel. Our laboratories undergo internal and external quality checks in all test procedures carried out and the laboratories are accredited," she said, adding that majority of the maize was found not to comply with the standards.
Most failed in discolouration but no heavy metals were detected.
Kebs had sampled maize from several silos and had checked about 10 areas among them moisture content, browning and presence of foreign matter. The toxins found include aflatoxin and fumonisin.
Aflatoxins are toxins produced by certain fungi found on crops such as maize, peanuts, cottonseed and tree nuts. Exposure to aflatoxins is associated with an increased risk of liver cancer and it causes stunted growth, delayed growth and liver damage in children.
Sang, who holds a Master's Degree in Management of Agricultural Knowledge Systems fell short of telling Sunday Standard that the report by Kebs was poorly done and did not reflect the actual state of the maize in their silos.
The findings of the inter-ministerial committee will inform the next course of action that will either see more than Sh4 billion taxpayer's money go down the drain if the findings by Kebs are upheld or Kenyans fed with the yellowing maize that has also been badly attacked by weevils due to poor storage.
A source from Kebs said the Ministry of Agriculture was infuriated by their initial findings and had asked for the report to be amended before they settled on fresh testing.
Sensitive matter
The source, who requested not to be quoted to protect his job, said there was no way Kebs would get it wrong on basic tests like those done on maize and other cereals imported into the country.
He also said Kebs had no motive to lie on such a sensitive matter as maize, which is the country's staple meal.
"Kebs has far superior testing equipment and our technicians are some of the best in the industry. I know the new tests are just an excuse to declare the maize as not harmful and change its status to safe for consumption," he said.
But as scientists and egos of different government clash, the credibility of the country's testing agency is back on the line, if Tuesday's report would overturn its findings.
One thing is certain, though. Either the bad maize will find itsway to the tables of Kenyans in coming months or the maizewill be destroyed, at another loss to taxpayers.