'We have reformed but our scars will never heal'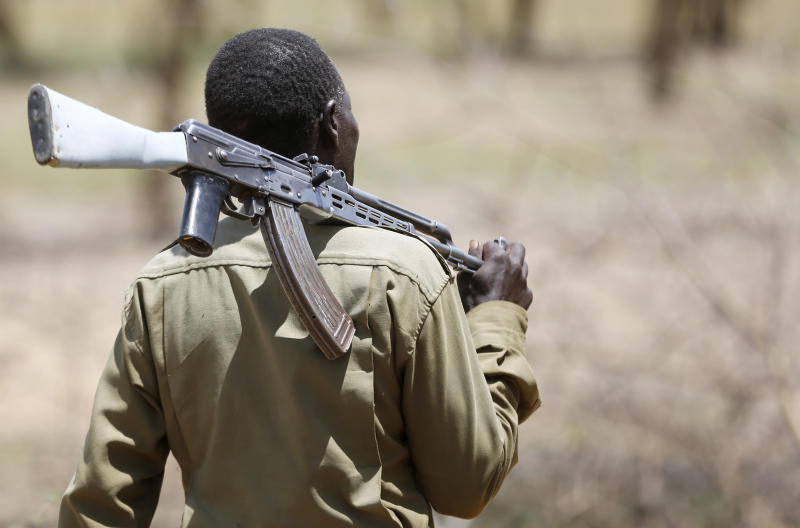 Even the beauty of the scenic Kerio Valley has been unable to silence the guns, with each sound of a blazing muzzle leaving behind a scar, a tale and in many cases a fatality. Those who survive this ultimate outcome are left with wounds both physical and emotional.
Loreta Siwareng has both. Despite being in his mid 20s, he walks with the stoop of an old man. A deadly cattle raid in a neighbouring county in February this year not only left him without his prized animals, it also tore away a huge part of him.
"Part of my stomach was cut and badly damaged by bullets," Siwareng says. "It is by sheer luck that I survived after being in a coma for several months."
The raid took its toll. The fighting was so bad that after he got hit, his friends left him for dead. Part of his intestines were removed following a series of reconstructive surgeries. "When I regained consciousness, I crawled out of the grazing field and found myself near a road. A passer-by who heard my groans assisted me but I had passed out by the time I reached hospital," he says.
His upper abdomen and shoulders are a mosaic of scars, each telling its own story.
Siwareng's story is deeply familiar to that of Benson Kwemoi. At 48, Kwemoi too has lived a troubled life, going from one raid to another, living on the edge and at the mercy of the enemy's bad aim.
"I participated in the many cattle raids reported between the Pokot and Turkana communities. Some were bloody, very horrible scenes," says Kwemoi.
The father of nine says he has scars all over his body as a result of injuries picked during gun battles.
He is among reformed cattle rustlers who migrated from Masol village bordering Turkana County to venture into farming. "We had several close shaves with death and I decided to quit after one bizarre raid. I have since surrendered my AK-47 rifle, which I had bought from a neighbouring country. I want to begin a new life through farming," says Kwemoi. Not everyone is happy to talk about the past though.
Tuliangura Lomoru, 27, gets uneasy when prodded on what led him to engage in cattle raids. When he eventually opens up: "We were on a revenge mission against Turkana herdsmen. I also wanted to increase my herd and gain status in the community."
Good returns
"But I have since realised farming is less tasking and has good returns. I cannot compare it to the 70km or more I used to walk to engage in nasty raids," says Lomoru.
The rustlers say they have since abandoned the vice and are now engaging in farming, warning the raids have never benefited them. A report by the Kenya National Commission on Human Rights (KNCHR) blames systemic failure by successive governments to address recurrence of the outdated practice that has held back socio-economic development in the region.
"The cultural causes include high bride price and high expectations set by traditional rituals by Pokot and Turkana communities, that compel young men to acquire or own large herds of cattle," says KNCHR chairperson Kagwiria Mbogori in the report released after a public inquest in the troubled region.
The report also blames systemic absence of infrastructure in most areas of North Rift region, coupled with insignificant presence of government security and dilapidated roads.
"The marginalisation of the Pokot community by successive governments from 1950 to the present day also emerged as a key cause of conflict in region. The drive from ethnic inclusion to ethnic exclusion is a dominant theme in the conflict in the region, especially after the discovery of mineral wealth in some areas," says the report.